Kalawin - stock.adobe.com
Google's Elastifile buy shows need for cloud file storage
Google buys partner Elastifile's scale-out file system to bolster options for enterprises looking to shift NFS-based applications to public cloud storage.
Google's acquisition of startup Elastifile underscored the increasing importance of enterprise-class file storage in the public cloud.
Major cloud providers have long offered block storage for applications that customers run on their compute services and focused on scale-out object storage for the massively growing volumes of colder unstructured data. Now they're also shoring up file storage as enterprises look to shift more workloads to the cloud.
Google disclosed its intention to purchase Elastifile for an undisclosed sum after collaborating with the startup on a fully managed file storage service that launched early in 2019 on its cloud platform. At the time, Elastifile's CEO, Erwan Menard, positioned the service as a complement to the Google Cloud Filestore, saying his company's technology would provide higher performance, scale-out capacity and enterprise-grade features than the Google option.
Integration plans
In a blog post on the acquisition, Google Cloud CEO Thomas Kurian said the teams would join together to integrate the Elastifile technology with Google Cloud Filestore. Kurian wrote that Elastifile's pioneering software-defined approach would address the challenges of file storage for enterprise-grade applications running at scale in the cloud.
"Google now has the opportunity to create hybrid cloud file services to connect the growing unstructured data at the edge or core data centers to the public cloud for processing," said Julia Palmer, a vice president at Gartner. She said Google could have needed considerably more time to develop and perfect a scale-out file system if not for the Elastifile acquisition.
Building an enterprise-level, high-performance NFS file system from scratch is "insanely difficult," said Scott Sinclair, a senior analyst at Enterprise Strategy Group. He said Google had several months to "put Elastifile through its paces," see that the technology looked good, and opt to buy rather than build the sort of file system that is "essential for the modern application environments that Google wants to sell into."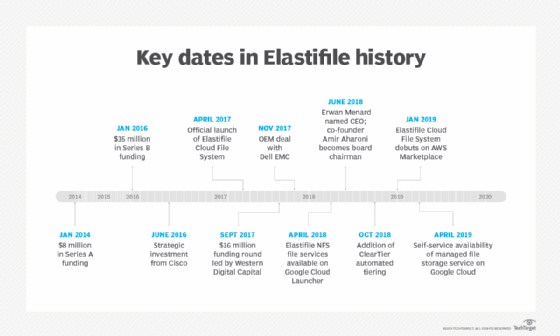 Target workloads
Kurian cited examples of companies running SAP and developers building stateful container-based applications that require natively compatible file storage. He noted customers such as Appsbroker, eSilicon and Forbes that use the Elastifile Cloud File Service on Google Cloud Platform (GCP). In the case of eSilicon, the company bursts semiconductor design workflows to Google Cloud when it needs extra compute and storage capacity during peak times, Elastifile has said.
"The combination of Elastifile and Google Cloud will support bringing traditional workloads into GCP faster and simplify the management and scaling of data and compute intensive workloads," Kurian wrote. "Furthermore, we believe this combination will empower businesses to build industry-specific, high performance applications that need petabyte-scale file storage more quickly and easily."
Elastifile's Israel-based engineering team spent four years developing the distributed Elastifile Cloud File System (ECFS). They designed ECFS for hybrid and public cloud use and banked on high-speed flash hardware to prevent metadata server bottlenecks and facilitate consistent performance.
Elastifile emerged from stealth in April 2017, claiming 25 customers, including 16 service providers. Target use cases it cited for ECFS included high-performance NAS, workload consolidation in virtualized environments, big data analytics, relational and NoSQL databases, high-performance computing, and the lift and shift of data and applications to the cloud. Elastifile raised $74 million over four funding rounds, including strategic investments from Dell Technologies, Cisco and Western Digital.
One open question is the degree to which Google will support Elastifile's existing customers, especially those with hybrid cloud deployments that did not run on GCP. Both Google and Elastifile declined to respond.
Cloud NAS competition
The competitive landscape for the Elastifile Cloud File Service on GCP has included Amazon's Elastic File System (EFS), Dell EMC's Isilon on GCP, Microsoft's Azure NetApp Files, and NetApp on GCP.
"Cloud NAS and cloud file systems are the last mile for cloud storage. Everybody does block. Everybody does object. NAS and file services were kind of an afterthought," said Henry Baltazar, research director of storage at 451 Research.
But Baltazar said as more companies are thinking about moving their NFS-based legacy applications to the cloud, they don't want to go through the pain and the cost of rewriting them for object storage or building a virtual file service. He sees Google's acquisition of Elastifile as "a good sign for customers that more of these services will be available" for cloud NAS.
"Google doesn't really make infrastructure acquisitions, so it says something that Google would make a deal like this," Baltazar said. "It just shows that there's a need."