everythingpossible - Fotolia
Elastifile adds NFS file services to Google Cloud Launcher
Startup Elastifile makes available push-button option to deploy its NFS-based scale-out file system on hourly or long-term basis with fast solid-state drives on Google Cloud Platform.
Startup Elastifile is making it easier for its customers to use its distributed file system in the cloud through a partnership with Google.
Elastifile's NFS-based file services are available through the Google Cloud Platform (GCP) Launcher. Elastifile did the necessary integration and validation work so enterprises won't have to do any manual configuration for the Elastifile Cloud File System on the Google cloud.
The Elastifile Cloud File System uses Google solid-state drive persistent disk nodes or local SSDs attached directly to a VM instance. The Elastifile software can aggregate the SSD storage capacity and present it as a single namespace to the customer. A minimum of three storage nodes is required, and Elastifile's Distributed File System can scale across hundreds of nodes.
Elastifile pricing
The estimated cost of an Elastifile license for a 10 TB SSD persistent disk node is $1.68 per hour or 50 cents per hour for a 3 TB local SSD node. Monthly pricing is also available. Customers have the option to shift data to cheaper, object-based storage using Elastifile's CloudConnect.
The Elastifile NFS file service option on Google takes aim at enterprises that want to shift or burst their data-intensive application workloads to the cloud when they lack the necessary on-premises resources.
"It's architected in the way that organizations really want to interact with storage," said Scott Sinclair, an enterprise analyst at Enterprise Strategy Group. "They just want a big, flexible pool that they can spin up on the cloud when they need it, destroy it when they don't need it and only pay for what they use."
IT organizations have been reluctant to rewrite file-based applications to use object-based cloud storage, Sinclair said. "There is a significant portion of workloads out there that still want to talk to a file system," he said.
Marc Staimer, president of Dragon Slayer Consulting, said Elastifile's partnership with Google gives the startup a "big-name channel" to sell its software and the major cloud provider "a viable service to entice enterprises."
Deepak Mohan, a research director at IDC, said Google has offered a single-node file server based on open source ZFS through its Launcher. It also offers Avere's FXT Edge Filer on GCP and the open source Gluster file system on Google Compute Engine. Microsoft acquired Avere last January.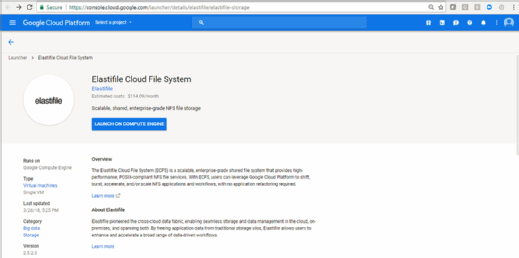 Limited file options in cloud
"There aren't a lot of options for file services in the cloud, especially commercially supported ones," Mohan said. He cited SoftNAS and NetApp Cloud OnTap as examples with other major cloud providers. "Elastifile now joins that subset of options. They're going to see a lot of business because file services in the cloud are going to grow."
Mohan said it's much easier for enterprises to move their enterprise applications to the cloud if they don't have to rewrite them to be able to natively use object storage.
"In my mind, all of this falls under this bucket of steps that both cloud providers and cloud partners have taken in the last two or three years in particular to make the enterprise applications move easier and easier," Mohan said. "I expect the file space to be part of the activities for the next year or so because it's still not as mature as some of the other services in the cloud."
Elastifile is a member of the Google Cloud Platform Partner Program.
Jerome McFarland, marketing director at Elastifile, said the company plans to offer a similar option through the Amazon Web Services (AWS) Marketplace soon. McFarland noted that Elastifile can run on compute instances in AWS and Microsoft Azure through a bring-your-own-license model, but there are no automated deployment options such as the Google Launcher offering yet.
McFarland said Elastifile's NFS file services available through Google Launcher differ from the cloud offerings of major storage vendors such as NetApp. Those options "operate the same way that a monolithic box would operate on premises -- without the scalability and the elasticity that you really want in a cloud environment," he said.
Microsoft's Avere also takes a different approach, relying on caching more than Elastifile does, according to McFarland. He said the only area where Elastifile has encountered Avere to a small degree in competitive scenarios is with media and entertainment companies.