kentoh - Fotolia
Komprise launches NAS migration tool, user-driven archiving
Komprise says customers wanted NAS migration as a separate tool, so it now makes it available even if you don't buy its full Intelligent Data Management platform.
Requests for NAS-to-NAS migration capabilities spurred Komprise to break out the feature from its Intelligent Data Management software and add a stand-alone product.
The startup, based in Campbell, Calif., introduced NAS migration in 2018 to enable customers to shift NFS- or SMB/CIFS-based data from one storage system to another, leaving no data behind on the source filer. The feature is useful to replace old NAS boxes or consolidate data, and some asked for a stand-alone option for one-off projects that don't require Komprise's full capabilities, according to Krishna Subramanian, Komprise's president and chief operating officer.
Subramanian said customer feedback also led a new user-driven archiving feature in Komprise's core Intelligent Data Management product. Administrators could already set broad policies to archive data, but customers also wanted the option to let end users designate specific projects for long-term storage, she said.
Painful NAS migrations
Enrico Signoretti, a senior data storage analyst at Gigaom, said migrations are "always painful," especially when moving multiple petabytes (PB) and billions of files. He said tool choices tend to be limited, because vendors can't derive enough revenue from products that customers don't use every day.
Sometimes NAS migrations can be nightmares, because you're involving hundreds if not thousands of end users.

Matt Madill Storage systems administrator, Duquesne University.
Komprise customer Matt Madill, a Duquesne University storage systems administrator, said the NAS-to-NAS migration tool provides a "nice safety net" if the IT staff has to do a mass migration.
"Sometimes NAS migrations can be nightmares," Madill said, "because you're involving hundreds if not thousands of end users."
However, Madill did not use Komprise's tool last fall when Duquesne migrated data from an older NetApp array to a new flash array. He said Duquesne used NetApp's storage virtual machine disaster recovery tools because it also needed to test the failover disaster recovery to satisfy an audit request. Madill may have more use for the new Komprise user-driven archiving feature, which he said can provide researchers with more control when they archive data.
Insight into stale data
Duquesne has used Komprise for nearly two years to gain insight into its data. Madill said the IT staff shares the information about stale and "dead" data with users for full transparency. Komprise can enable administrators to set policies to move cold or inactive data from expensive flash storage to cheaper disks located on premises or in the cloud.
The university currently stores about 2 TB of deduplicated, compressed and encrypted data in Amazon, but hopes to shift more files, including rarely viewed videos of class lectures. Duquesne is weighing cloud storage options from Komprise partner Wasabi Technologies.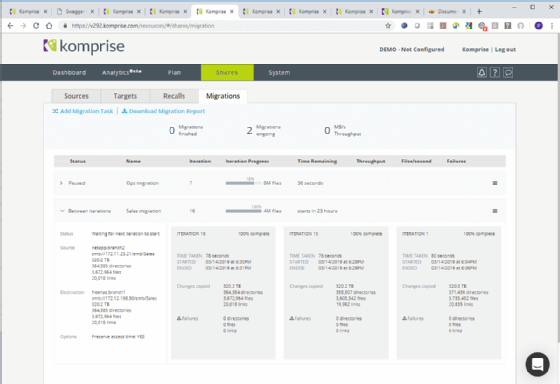 "We've had ridiculous requests where a researcher says, 'We want 100 TB tomorrow.' We don't have that capacity, but with the cloud, we have unlimited capacity. Komprise is that vehicle that gets us there," Madill said.
Pricing for the new Komprise NAS migration tool is $60 per terabyte, including three years of maintenance. Volume discounts are available for customers that move more than 1 PB of data. NAS migration is also available at no additional fee for customers of Komprise's Intelligent Data Management software. The subscription list price for the full product is $7 per terabyte, per month to manage, analyze, migrate and replicate data. Komprise also offers the option for a perpetual license of $150 per terabyte, with a 20% maintenance fee. Volume discounts are available.
Data management competition
Subramanian said Komprise has more than 150 enterprise customers. Komprise competitors include Aparavi, Data Dynamics, InfiniteIO and StrongBox Data Solutions Inc. For file transfers, it also competes with Datadobi and free tools such as robocopy and rsync.
Marc Staimer, president of Dragon Slayer Consulting, said the free file transfer tools are error-prone and lack automation. Komprise faces tougher competition from archiving vendors such as Aparavi and StrongBox, which Staimer said could be less expensive than Komprise. Subramanian said some competitors have hidden costs because they sit in the hot data/metadata path, require beefy hardware with lots of CPU and RAM to overcome performance limitations or charge separately for different features, rather than an all-inclusive price.