sdecoret - stock.adobe.com
Datadobi locks critical data in an air-gapped vault
Datadobi's DobiProtect replication product lets customers store business-critical unstructured data in its native format in an air-gapped, limited-access vault.
Datadobi wants customers to hide away their most valuable data inside a secret bunker.
DobiProtect enables customers to replicate a copy of business-critical unstructured data to a manually air-gapped environment. This would help protect businesses that heavily rely on unstructured data such as invoices, purchase orders and contracts from ransomware, insider threats and natural disasters. The software is installed on the storage target, which can be on premises or in the cloud. A manual air gap lets customers control when DobiProtect pulls data from the primary source into the target environment, and the source has no trace of DobiProtect on it. When needed, DobiProtect can restore the replicated data to any SMB, NFS or S3-compatible storage. The storage environment DobiProtect is installed on can also be used as a failover site.
DobiProtect isn't itself a data protection product but is meant to supplement products from vendors such as Veeam or Acronis. It is better described as a data management and migration tool that provides extra protection for business-critical unstructured data. Customers choose what data to put into air-gapped and limited access "bunkers," using the same data migration technology found in Datadobi's DobiMigrate product. A customer could limit the number of staff members who know about the bunker for extra security.
DobiProtect combines DobiReplicate and DobiSync under a single product name. DobiReplicate performs NAS-to-NAS and S3-to-S3 replication, and DobiSync handles NAS-to-S3. Combining the two allows customers to replicate NAS-to-NAS-to-cloud without using separate products.
Datadobi CTO Carl D'Halluin said DobiProtect and its data vaulting emerged as a result of what Datadobi customers were doing with DobiMigrate. A common data protection use case of the migration tool was to point copies within a heterogeneous system, such as leftover NAS devices from after an acquisition. The need for a way to quickly set up an air-gapped environment emerged and Datadobi developed around it.
D'Halluin said most customers already know what data they want to lock inside the bunker and aren't asking for any tools for identifying critical data. Nevertheless, the ability to find out the age and ownership of data is on DobiProtect's roadmap.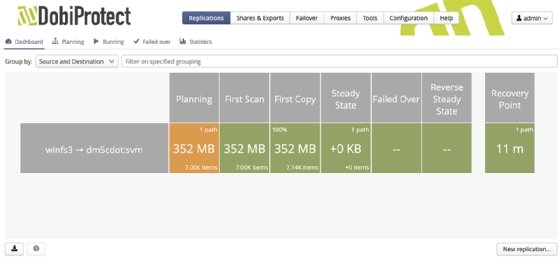 Tom Smith, digital analyst and strategist at Insights From Analytics, said DobiProtect is a logical evolution of Datadobi's migration capabilities. Since the COVID-19 pandemic, businesses have become increasingly worried about business continuity and disaster recovery (BC/DR), to the point that executives and decision-makers outside of IT have started to care. They've warmed up to the idea of segmenting out the data that the business cannot survive without and storing it in a secret server that only the company's lawyers and CISO (chief information security officer) know about.
"A year ago, there probably wasn't a demand. But now, the C-level cares," Smith said about BC/DR.
Smith added that this capability isn't unique to Datadobi, as any data mover could be used to create air-gapped data bunkers if customers know how to set it up themselves. He said now that there is new demand for this capability, he wouldn't be surprised if other vendors change their marketing emphasis toward it.
Marc Staimer, president of Dragon Slayer Consulting, said companies such as StrongBox Data Solutions and Hammerspace have products that can accomplish what DobiProtect does. The real value of these tools comes from their ability to work across multivendor environments. Staimer said most storage replication tools can only do like-for-like, and it's unreasonable to think all businesses will use the same storage vendor throughout its whole life. Leftover storage devices from an acquisition is just one common example.
Staimer said DobiProtect's use case is niche. While 80% of data is unstructured, a large majority of that data is cold. The total amount of unstructured data that organizations would consider critical enough to lock in a special-access vault is small, and disaster recovery as a service is a better BC/DR option for quickly restoring entire production environments in case of a truly catastrophic outage. Still, Staimer said DobiProtect has an important role to play for organizations with heterogeneous storage that need that extra layer of data protection.
"DobiProtect is a narrow-use product, but that's not a bad thing. There's a fit for it," Staimer said.