tiero - Fotolia
BackupAssist ER offers a cheaper, slower path to DRaaS
BackupAssist ER offers disk-to-disk-to-cloud replication as a low-cost alternative to DRaaS, but lacks the recovery speed of DRaaS. It is suited for small enterprises willing to make that tradeoff.
BackupAssist is banking on small enterprises not needing the absolute fastest recovery, but something between traditional backup and full-blown DRaaS.

BackupAssist ER (Express Recovery) launched on Tuesday and is meant to be that middle ground between recovery speed and cost. The software simultaneously replicates data to another on-premises device and to the cloud, and both copies are bare-metal recoverable. The local copy provides near-instant recovery through a VM instant boot feature, and the cloud copy provides offsite recovery. Customers can restore backups to any DAS, NAS or SAN device, S3-compatible private cloud or public clouds including AWS, Azure, Wasabi and Digital Ocean.

Recovering from the cloud using BackupAssist ER can take hours, unlike the near-instant recovery time objectives (RTOs) of DRaaS. DRaaS delivers low RTOs because customers pay for a cloud that is always on standby, incurring storage and compute costs even when it's not being used. BackupAssist ER offers a tradeoff -- slower recovery from the cloud, but taking advantage of low-cost blob storage and only incurring compute charges on demand.

BackupAssist's suite of backup products for small enterprises only works with Windows devices. It includes BackupAssist Classic, which provides traditional backup for Windows servers, BackupAssist Desktop for at-home workers and BackupAssist 365 for Office 365 and mail servers. CEO Linus Chang said the majority of the company's customers have fewer than 500 employees and include police departments, small government agencies and universities.

Chang said BackupAssist ER is a direct response to current small enterprise needs. He said COVID-19 has caused an increase in ransomware attacks, and small enterprises are looking beyond protecting their data from loss or theft -- they are looking to protect their businesses against prolonged outages. According to Chang, small enterprises are currently most in need of automatic offsite backups, fast local recovery and the option to recover to the cloud, all at an affordable price. DRaaS provides all but that last part.
"DRaaS is very appealing, but it is a very big jump to make in terms of cost," said Chang, who considers BackupAssist ER a bridge between traditional backup and DRaaS rather than an outright replacement. "We're trying to be the best fit, not the best."

BackupAssist ER might steer some customers away from DRaaS vendors such as Datto and Iland, but Chang said it's not meant to be a direct competitor to DRaaS. He views Acronis, which recently launched an all-in-one antimalware and backup product for consumers and small businesses, as BackupAssist's top competitor. BackupAssist ER has some built-in security features of its own, such as data encryption and CryptoSafeGuard, a tool that scans backups for signs of ransomware and prevents infected copies from overwriting the previous backup. Other backup vendors serving the small enterprise market include Arcserve, Barracuda and Carbonite.

BackupAssist ER is sold as a per-year subscription license directly through BackupAssist or through its channel partners. There are three licensing models: $399 per physical machine, $199 per virtual guest machine or $699 per virtual host machine. Discounts are also offered for multiyear subscriptions and bulk purchases.

Christophe Bertrand, senior analyst at Enterprise Strategy Group, said ransomware is a big problem for businesses of all sizes, and BackupAssist ER does a good job focusing on the specific needs of small enterprises. Both Bertrand and Chang described the war between businesses and cybercriminal as asymmetrical, where the "good guys" could be underfunded government agencies or a small dental office and the "bad guys" are state-sponsored hackers. Large enterprises have recently shown a willingness to pay a premium for faster recoveries, but small enterprises are looking for a balance between cost and speed.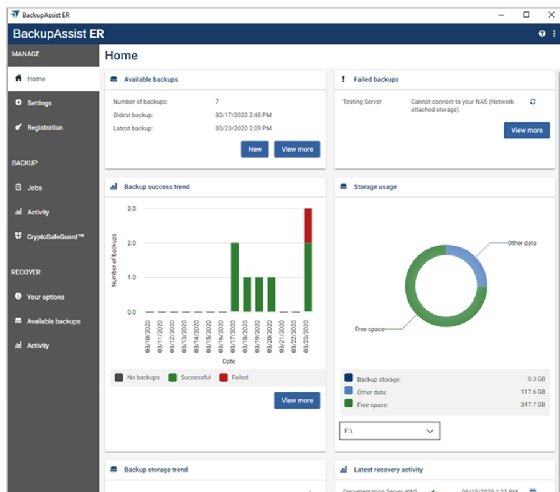 Bertrand said BackupAssist ER provides an important trade-off. It offers decent recovery time objectives and recovery point objectives for its price, and that's probably good enough for a lot of organizations. COVID-19's two biggest impacts on IT are increased ransomware attacks and more employees working remotely. Bertrand stressed that unlike large enterprises, small enterprises lack the financial resources to just "ride it out," so they must be careful with where they spend their money.

"SMEs [small and medium-sized enterprises] aren't looking for the high-end BMW that can go 100 miles per hour. They're looking for the reliable, feature-rich Honda or Toyota," Bertrand said.

Bertrand said the line between backup and disaster recovery is often blurred in the small enterprise market, where IT budgets and staff are smaller than in large enterprises. Organizations often want to handle both with a single product. Bertrand added that businesses of all sizes are now less concerned about the backup half of the equation and more worried about recovery. He said BackupAssist ER's high flexibility on where to recover to and from can prove valuable, as businesses' recovery needs differ by situation and can change quickly.

Bertrand said BackupAssist ER's features aren't groundbreaking from a technology standpoint, and its laser-focus on the Windows small enterprise market will shut out some customers. However, the packaging and pricing are extremely attractive to small enterprises and demonstrates a deep understanding of the market. Most businesses run Windows servers and desktops, and most small enterprises don't need the full capabilities of DRaaS.

"They're not trying to be everything to everybody. They're just providing a very focused, credible solution to one of the biggest problems of today," Bertrand said.