Demand for Azure consulting helps fuel M&A surge
Companies that specialize in the Microsoft cloud ecosystem are very much in demand as the IT services merger and acquisition market kicks into higher gear.
Merger and acquisition activity in the IT services market is roaring back, with buyers seeking growth opportunities in cloud computing and specific niches such as Microsoft Azure consulting.
While 2019 was a banner year for IT services deals, the transaction pipeline froze in March amid the onset of the COVID-19 pandemic. But in the second half of 2020, interest among buyers has rebounded. Buyers that entered the market, perhaps initially looking for fire sales, have hung around, finding reassurance in the resiliency of service providers.
"Certainly, the market came back with a vengeance," said Mike Harvath, president and CEO at Revenue Rocket Consulting Group, a mergers and acquisitions (M&A) advisory firm in the IT services sector based in Bloomington, Minn. Harvath said tech companies came through the second quarter better than most people anticipated. As a result, valuations have held up "exceptionally well" and are poised to move higher, he added.
"I think buyers are seeing an accelerating market form a valuation perspective and they want to get in before valuations continue to go up," Harvath said. "We are doing a record number of transactions right now, with a record number of people coming into the market."
Focus on Azure consulting, Microsoft cloud
Merger and acquisition deals in recent weeks have focused on cloud expertise, with skills in Azure consulting, Microsoft 365 and Microsoft Dynamics particularly prized. Cognizant Technology Solution Corp.'s agreement earlier this week to acquire 10th Magnitude, an Azure consulting firm based in Chicago, coupled with its August purchase of New Signature, which also focusing on the Microsoft cloud business, provides a case in point.
A spokesperson for Cognizant, a $16.8 billion professional services firm based in Teaneck, N.J., said the New Signature acquisition and the pending 10th Magnitude deal would bring more than 600 Microsoft cloud specialists into Cognizant's Microsoft Business Group.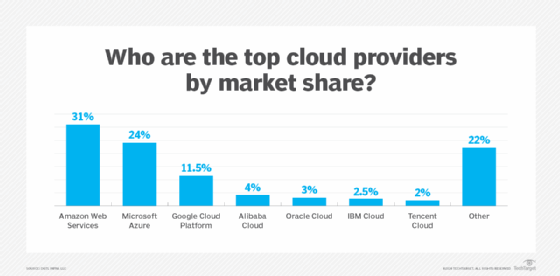 Another example: Core BTS, an MSP based in Indianapolis, in August acquired Blue Chip Consulting Group, which offers Microsoft cloud consulting and managed services. Core BTS said the deal will "greatly expand its Microsoft practice" and Azure capabilities.
"There is a huge need for skills across that ecosystem," Harvath said of Microsoft partners.
For buyers, time-to-market considerations and the difficulty of finding cloud talent make M&A an attractive approach for building a business or practice area.
"It's always faster and cheaper to acquire a business than to grow it from scratch," he said.
Cloud offers growth in difficult market
In general, cloud computing is outperforming other elements of the IT market in the COVID-19 economy. Forrester Research, in its U.S. technology market outlook, reported last month SaaS business application fees will expand 9% in 2020 and 15% in 2021. The market research firm's best-case scenario has U.S. tech budgets dropping 6% in 2020 compared with 2019.
Channel partners, meanwhile, have consistently viewed cloud services as a bright spot in difficult times, along with security and automation.
Datadobi expands channel reach
Datadobi is expanding its channel reach as it looks to play a role in the data protection market.
The company, which is based in Belgium, has been partnering primarily with vendors around its migration software, DobiMigrate. The product lets customers move file or object data between storage platforms, whether they exist on premises or in the cloud. About 70% of DobiMigrate's business is with vendors such as Dell Technologies, NetApp, Pure Storage, Nutanix, Hitachi, Cohesity, Microsoft and Wasabi.
"Up until now, we have been a vendor-driven company," said Michael Jack, vice president of global sales and co-founder at Datadobi. "The thing about migration is it tends to be very vendor-driven."
That's because DobiMigrate focuses on the enterprise, and vendors tend to take enterprise storage sales directly, rather than through the channel, Jack noted.
Datadobi's recent pursuit of data protection, through its DobiProtect offering, is raising its channel profile. With DobiProtect, Datadobi aims to have customers replicate a copy of their business-critical unstructured data and house that golden copy in an air-gapped bunker.
"The data protection play is very much going to be a channel play," Jack said. He envisions channel partners will revisit their customers' disaster recovery and backup environments and ask whether they are maintaining a golden copy of their data. "This gives them something else to talk about," he added.
Certainly, the market came back with a vengeance.

Mike HarvathPresident and CEO, Revenue Rocket
To expand its channel reach, Datadobi has entered distribution agreements with companies such as Tech Data Co. in EMEA and Climb Channel Solutions (formerly, Lifeboat Distribution) in North America.
Dale Foster, president at Climb Channel Solutions, said Datadobi, as an overseas company, is using two-tier distribution to reach more resellers as it seeks to make greater inroads in the U.S. The distribution approach offers speed, vetted resellers and the ability to avoid the expense of hiring a sales force.
While Datadobi gets more feet on the street, its distributions partners believe the channel benefits from a product that addresses particular needs.
Kees Ruiters, sales director of converged and system solutions at Tech Data, said DobiProtect offers a perfect fit for the channel. "Customers are looking for easy-to-use and stable solutions that are extremely well supported to protect their business-critical data against the more and more sophisticated ransomware attacks," he said.
As for technical differentiation, Datadobi offers a golden-copy approach and an isolation strategy, Ruiters noted.
"The focus of DobiProtect is to have a golden copy of the business-critical data that you can recover from quickly in case primary and DR systems are gone due to an attack," he said. "The difference is that it can be set up in an isolated environment without leaving a trace of existence on the original NAS or object system."
Other news
Centerbridge Partners, a private investment firm, has agreed to acquire a majority stake in Ahead, a cloud solutions provider based in Chicago. Ahead had been a Court Square Capital Partners portfolio company. Ahead grew its revenue to $1.3 billion in 2020, having acquired four firms. Berkshire Partners, meanwhile, will purchase a minority stake in Ahead.
Obsidian, a cloud detection and response platform provider based in Newport Beach, Calif., has launched a partner program. The company's Magma Channel Program provides resellers with sales and marketing tools to offer Obsidian's SaaS security product. Managed security service providers (MSSPs) and incident response firms can tap Obsidian's platform to expand their SaaS security offerings, the company said.
Accenture Ventures has invested in InCountry, a data residency-as-a-service platform company. Accenture said it plans to use the InCountry offering within the sovereign cloud module of its myNav cloud platform.
2nd Watch, a professional services and managed cloud company based in Seattle, has launched a Cloud Modernization Readiness Assessment Service to help customers migrate to Google Cloud. The service includes application assessment, application categorization, technology assessment, cost assessment and organizational assessment.
KPMG International, a professional services firm based in the Netherlands, selected 17 student teams to participate in its ideation challenge, a competition to solve business issues with AI and other emerging technologies. A team from the Indian Institute of Technology won the event with a mining industry offering designed to promote safer and more sustainable extraction. The team used a custom algorithm, sensor imaging and drone technology, KPMG said.
Channel partners were involved early on with a unified communications as a service (UCaaS) platform form NetFortris, based in Seattle. NetFortris this week formally unveiled its Community offering, but soft-launched the product last year with a baseline set of features. Partners were engaged in early sales of that version of the UCaaS offering and were given a preview of the full platform, according to NetFortris.
Area 1 Security, a cloud email security vendor, has appointed Steve Pataky as chief revenue officer (CRO). Pataky aims to boost sales opportunities with VARs, distributors, MSSPs, consultants and technology alliance partners, according to the company. Pataky was previously a partner sales advisor for Ubiq Security and CRO at SonicWall.