Fotolia
Startup Komprise extends data analysis to AWS object stores
Komprise's Intelligent Data Management software expands beyond file storage and tacks on module to analyze AWS cloud object storage usage and spending.
Komprise extended its analytics-driven data management capabilities beyond file-based systems to AWS object stores for customers who develop applications for the public cloud.
Komprise, which came out of stealth in 2016, initially focused on analyzing file data stored on premises with its Intelligent Data Management software. Komprise designed the product to identify cold or rarely used data and automatically move it to less expensive on-premises or cloud-based file or object cloud storage. A new Komprise Cloud Data Growth Analytics module will add the ability to analyze object data that either originates or resides in AWS object storage.
Komprise COO Krishna Subramanian said the company's goal is to manage data "no matter where it starts." She said Komprise is extending support to Amazon S3-based object storage because more customers are developing cloud-based applications that generate data as objects rather than files.
New cloud data analytics metrics
The new Komprise Cloud Data Growth Analytics can show customers how much data they're storing in different AWS storage classes, who created the data, how fast it's growing and how much the AWS storage and egress fees cost.
IDC research manager Archana Venkatraman said visibility of data growth across environments is a major challenge for enterprise IT. She said some tools provide analytics into the infrastructure where data resides, but few give insights into in-cloud data growth with the deep level of granularity that Komprise Cloud Data Growth Analytics can.
"It has the potential to help IT teams control their cloud storage costs and optimize its use," Venkatraman said. "It can also help them plan their capacity management in the cloud more effectively."
Venkatraman said many enterprises get "bill shock" when their public cloud environments grow, "given how easy it is to spin up instances and store data in the cloud."
George Crump, president and founder of Storage Switzerland, said it is important for customers to get a solid understanding of their cloud consumption metrics because they can "give the resource back."
"Analytics on premises can also identify consumption, but they only help by curtailing future purchases," Crump said. "The customer has already bought and paid for the existing equipment on-premises, and they can't give it back."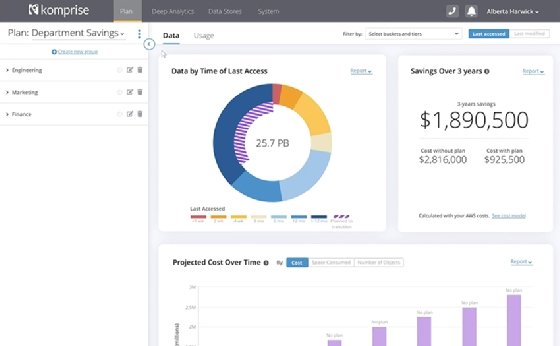 Managed cloud service
Komprise's Cloud Data Growth Analytics module requires no elaborate set-up. Customers sign up for the managed cloud service on AWS and indicate which cloud buckets they want to analyze. The AWS-based Komprise service will be generally available by year's end. Komprise plans to add support for additional cloud and on-premises object storage next year, Subramanian said.
Enrico Signoretti, a senior data storage analyst at Gigaom, said the extension of Komprise's data management capabilities from file volumes to object stores in AWS and eventually Azure and Google is a "natural evolution" of the product.
"[Komprise] is simple to adopt, simple to use, and the return on investment is very quick," Signoretti said. "But for some customers, there are other solutions that are good. It really depends on your infrastructure and how you are organized. More and more users are asking for data management. Files are growing in size and in numbers, and many don't really know what they have in their hands."
Signoretti said most vendors are working on data management platforms, and they take different approaches to collect the data. Komprise, for instance, has a mechanism to go into a NAS system or object to select the data and perform operations on it. Another option is to collect data through a backup system, as vendors such as Cohesity, Commvault and Veeam do, Signoretti said.
Komprise plans to add support for the indexing of object storage with its fully managed Deep Analytics cloud add-on that became available in September. Komprise Deep Analytics enables customers to search, tag and index unstructured data that fits specific criteria and build a virtual data lake. Users can then export the virtual data lake to analytics applications such as Hadoop or AWS Lambda.
Komprise's Deep Analytics initially supported only NFS and SMB data stored in on-premises systems and AWS, Azure, Google and IBM clouds. The startup added support for NetApp Cloud Volumes OnTap as a data source in October.
Komprise does not plan to charge an extra fee for the object support. Pricing for Komprise Intelligent Data Management software starts at $110 per TB, with Cloud Data Growth Analytics included. The Deep Analytics add-on is $30 per TB. Volume discounts are available.