Komprise data management helps Boone County archive to Azure
Komprise's data management software helps Indiana's Boone County government archive unstructured data in Azure cloud storage and reduce on-site storage.
Like many local governments, Indiana's Boone County accumulated lots of records, court documents, audio recordings, video and other data over the years that employees rarely, if ever, need to access.
So, Sean Horan, the IT consultant who oversees Boone County's IT infrastructure, sought an economical way to archive the older data the county must keep. The archive was an alternative to constantly adding on-site SAN storage, replication and backup hardware.
"We just felt in the long term we were going to hit a brick wall when it comes to cost and storage," said Horan, a senior network systems specialist at Government Utilities Technology Service, the company that manages Boone County's IT systems.
Boone started using Komprise Intelligent Data Management software in early 2017. The county freed up almost 80% of its on-premises storage by offloading data that hadn't been modified in a year to Microsoft's Azure Blob storage. Horan said Boone spent about two months on the initial data transfer over redundant 250 Mbps network pipes and now stores about 25 TB in the Azure object storage.
Komprise President and COO Krishna Subramanian said Boone is typical of the startup's customers. One of the biggest use cases for Komprise Intelligent Data Management software is shifting cold data from expensive primary storage systems to cheaper object-based storage archives in the cloud, she said. Komprise's analytics-driven management software enables customers to move data multiple times based on policies and natively access the object-based data in the cloud.
Komprise data management software update
The recently released 2.9 version of Komprise's data management software adds the ability to directly access file-based data in the cloud, without having to go back to the original source. Traditional systems typically keep the file's metadata on the primary storage, and data that's shifted to the cloud must be rehydrated on the primary tier for users to access it, Subramanian said.
Native access to cloud-based data helps to minimize the threat of vendor lock-in for customers. "If there was a scenario where we had to go away from them, we would still have access to all of our data, which is obviously very important to us," Horan said.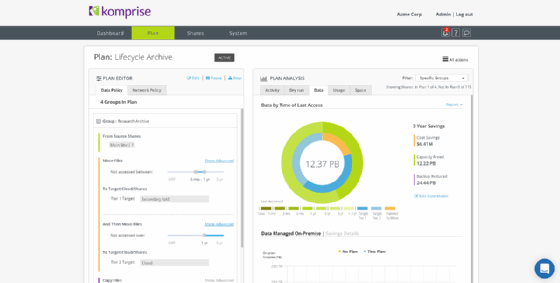 Komprise customers also asked for the option to move data "up and down" between cloud object storage and cloud-based file storage -- such as Amazon's Elastic File System, Azure Files and NetApp's Cloud Volumes. That opens the possibility of doing their primary work in the cloud, Subramanian said.
"That's a different way to look at archiving, because essentially you're using it to evolve what your primary storage becomes," Subramanian said. "And in order to allow that, Komprise had to fully preserve all the access controls, all the metadata and all the information about the files at every level that we're moving the data to and allow access to the data not only as objects but also as files."
Updated Komprise data management offers flexibility
Horan said the new Komprise 2.9 capabilities would allow Boone County to choose between hot or cold storage when uploading data to Azure and to shift files between Azure tiers as data ages. The county could even offload more recent files to the cloud if it doesn't want to deal with on-premises storage at all, he said.
"We can definitely see a big future with Komprise, being able to do things differently and more efficiently as we go along," Horan said.
Boone County stores about 70 TB of data in disk-based Dell EMC PowerVault MD3820i iSCSI storage. But Horan said the county would probably buy a smaller, faster flash-based SAN in 2020 as part of its normal five-year lifecycle rotation. The new SAN could be funded by cost savings from using Komprise data management software and Azure cloud storage, he said.
Data that Boone shifts to the cloud is still backed up locally to tape, but the county has less to back up. Horan said he knows many companies forego backing up to tape, but he isn't ready to do that yet.
"I just like the fact that if we got hit by a CryptoLocker or have some catastrophic failure at a facility that we don't lose everything," he said.
Boone County stores its backup tapes off site with Iron Mountain and could retrieve them whenever the county needs access to older files. But, Horan said, it's faster to recall data from the Azure cloud through the Komprise console.