Panzura tackles multi-cloud data management
Vizion.ai software as a service lets Panzura peer into customer data in on-premises and off-premises clouds to index, search, analyze and control it.
Panzura is expanding beyond cloud file services to multi-cloud data management with its new Vizion.ai option, which...
Continue Reading This Article
Enjoy this article as well as all of our content, including E-Guides, news, tips and more.
is designed to enable customers to search, analyze and control data on premises and off premises.
The Campbell, Calif., company's CEO, Patrick Harr, said the vendor built its Vizion.ai software-as-a-service (SaaS) offering on a new hyperscale multi-cloud data engine orchestrated by Kubernetes. Vizion.ai embeds machine learning and policy functionality for data analytics and control. It features an open API for third-party developers to use the Panzura technology with their own applications, such as internet of things and security monitoring.
Panzura initially focused on helping enterprises shift from legacy file-based NAS systems to object storage in public and private clouds. The vendor sells Freedom NAS filer appliances that cache active data in flash drives for fast access, while shifting colder data to object storage. Users can also run the software in virtual machines (VMs) on their own hardware or on public cloud servers.
With the new Vizion.ai SaaS option, Panzura consolidates and centralizes metadata to facilitate fast indexing in its Freedom NAS products, third-party NAS filers, SaaS applications and public cloud storage. The company integrated open source Elasticsearch technology to enable the distributed search capability.
"We've had a lot of requests in the past for how to search data in a multi-cloud fashion. And when I say multi-cloud, I'm not only talking Amazon, Azure and Google. I'm also talking about private cloud," Harr said.
Visibility into third-party storage
Harr said the Vizion.ai multi-cloud data management service gains visibility into third-party storage through connector technology the company is offering to the open source community. Users download a small VM and plug the software into their Dell EMC, NetApp or Windows filers. The software crawls the NAS systems, takes a snapshot of the metadata and uploads the indices into the Vizion.ai service, Harr said.
Panzura plans to support a private managed option for customers to use the Vizion.ai index, search and analytics capabilities on premises in secure environments, the CEO added. That support is expected by the end of 2018.
Panzura built algorithms for machine learning to examine data access patterns to let the software recommend the most cost-effective storage location, Harr said. Users can look at heat maps of hot, warm and cold data. And they can use the technology for audit purposes, because they can see who has accessed the data at specific times, he said.
The Vizion.ai capabilities extend to restoring data from snapshots and cloning data for test and development. A customer might want to move a select workload's data to the optimal cloud, such as Google for machine learning, Harr said.
Panzura's multi-cloud data management effort
Harr said Panzura started designing its new hyperscale multi-cloud data management platform two years ago to be able to service billions of files and objects across multiple clouds. So far, more than 100 customers tested a private beta version of the Vizion.ai service.
Panzura opened its Vizion.ai beta to the public this week. When the service goes live in October, Vizion.ai multi-cloud data management will be priced based on gigabytes of data indexed and managed, Harr said. The company will have a free version for customers to index and search 1 GB of metadata.
Beta tester Prosper Funding, a San Francisco-based peer-to-peer lending company, started using Panzura's hybrid cloud technology in 2016. Fabian Duarte, a senior storage engineer working out of Prosper's Phoenix office, said the company deploys Panzura to make content available for collaboration from any data center and for long-term archiving on AWS.
Prosper tested Vizion.ai by uploading streams of content from AWS tiers, where it stores 3 PB of data, Duarte said. Prosper asked Panzura for access to hotter data in the local cache through a URL-enabled link that a user could click to open the file. The system downloads and rehydrates the file into the Panzura platform's retrieval folder, Duarte said.
The Vizion.ai service looks promising, Duarte said, and Prosper will likely purchase it. He said its index and search could benefit customer service representatives who need to access call logs for training, playback or other purposes. The Vizion.ai service could also assist departments that deal with access log and audit information for compliance and risk management. Duarte said Prosper has been testing the uploading and manipulation of content inside the file system to track usage patterns.
"We've already gone through the route of using tools like Active Directory for multifactor authentication," he said. "But now, to have the visibility to see who's working on files, moving files, trying to access files allows us a greater level of granularity to bring an additional level of security."
The usage-tracking info collected by Vizion.ai could show the cost to rehydrate archived content and determine which content is a good candidate to move to cheaper cloud storage, Duarte said.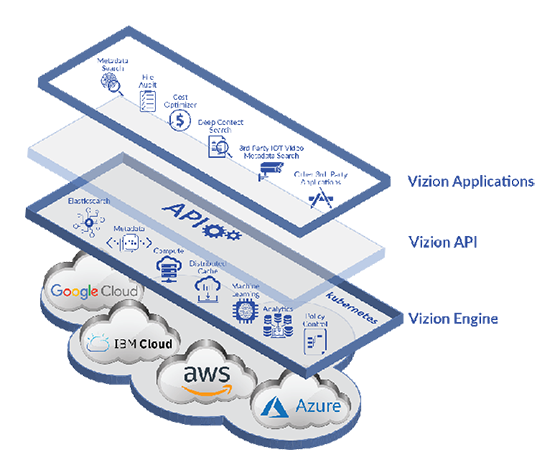 Hybrid cloud data management
"With Vizion.ai, Panzura has the potential to evolve from the traditional cloud storage gateway use case toward global hybrid cloud data management," Gartner research director Julia Palmer wrote in an email.
Legacy gateways and other hybrid storage products, until recently, have focused on backup, archiving and tiering data to the cloud, Palmer said. They wrote data in a proprietary format that other vendors' technology couldn't use.
Steven Hill, a senior analyst at 451 Research, said Panzura's traditional competitors include cloud NAS and gateway companies such as Actifio, Ctera Networks, Microsoft's Avere Systems, Nasuni and SoftNAS, along with Dell EMC, Hewlett Packard Enterprise and IBM.
"Today, there are dozens of vendors in the secondary storage market that are merging file and object as part of a more advanced storage architecture that focuses on the problems of information management, security and protection, rather than providing traditional 'dumb' storage," Hill wrote in an email.