Fotolia
What is HPE GreenLake and how does it work?
GreenLake allows users to pay only for the IT resources they use. Find out how it works for HCI, composable infrastructure and other purposes, its benefits and potential drawbacks.
IT teams have had two primary options for implementing workloads over the past few years: maintain infrastructure on premises -- incurring the costs and overhead that comes with it -- or move workloads to the cloud and lose control over operations and data protection. More recently, a third option has emerged, however: the consumption-based model, which enables users to deploy infrastructure on premises but still get cloud-like benefits. Hewlett Packard Enterprise has been at the forefront of this consumption-IT effort with its GreenLake program.
What is HPE GreenLake?
GreenLake is an as-a-service offering that brings cloud-like flexibility to data centers and other locations, such as satellite and remote offices. When you sign up for a GreenLake product, HPE delivers a complete and preconfigured system that includes all the hardware and software necessary to be up and running almost immediately.
HPE also manages the system throughout its entire lifecycle. In exchange, customers pay a monthly subscription fee, which is based on a pay-for-use pricing structure similar to many cloud services.
With GreenLake, HPE offers a number of infrastructure packages to support different types of workloads. For example, the virtualization package provides options for implementing a GreenLake solution that runs virtualized applications, and the composable package offers options for implementing a software-driven composable infrastructure. HPE also provides packages for several other types of workloads, including storage, backup, database management, big data, private cloud and high-performance computing.
How HPE GreenLake works
At the heart of these packages is the HPE hardware that supports each GreenLake implementation. For example, a virtualization offering might use HPE SimpliVity, and a GreenLake composable infrastructure might use HPE Synergy. GreenLake products also use HPE hardware such as Nimble storage or ProLiant DL servers, as well as third-party software and services such as Docker, Hadoop, SAP HANA, Nutanix AHV, VMware Cloud Foundation, Microsoft Azure and AWS.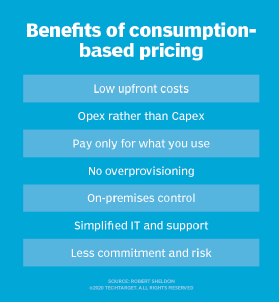 In addition to the hardware and software, GreenLake solutions come with professional and operational services from HPE Pointnext, a team of experts who help implement, manage and support each GreenLake offering. Pointnext provides an end-to-end portfolio of services that includes monitoring, administering and optimizing each system. These services represent an important differentiator between GreenLake and a basic leasing program, which simply rents out hardware equipment.
More recently, HPE launched GreenLake Central, an integrated management control plane that offers customers a unified view across IT operations, including private and public clouds and edge environments. GreenLake Central provides a self-service portal for monitoring usage, cost, security, compliance, performance and other metrics. The portal also enables developers and business units to find and use the services they need when they need them.
GreenLake's consumption-based model enables enterprises to get state-of-the-art data center products without the costs and complexities that come with a traditional approach to deploying infrastructure.
GreenLake and the consumption-based model
Another GreenLake feature that sets it apart from a leasing program is its consumption-based pricing model, which brings the program more in line with a cloud services structure. HPE installs the hardware in a customer's environment of choice but offers it as a service rather than an outright sales purchase. Not only does this eliminate the initial capital outlay typical of a traditional sales transaction, but it also reduces IT overhead. Customers need only come up with the monthly subscription fee, along with a place to house the components.
GreenLake bases the fees on actual metered usage rather than fixed amounts. In this way, users pay only for what is used, not what might be used. HPE continuously monitors the installation based on a wide choice of metrics, such as consumption per server, per gigabyte, per container node or per VM. Customers must still make a minimal commitment, but beyond that, they pay only for what they use.
Metered usage also provides an effective form of capacity management for organizations, as IT always knows how much capacity is being used and who is using it. If more capacity is needed, users can implement it immediately, because the GreenLake product comes with additional capacity to accommodate potential growth. However, HPE doesn't charge customers for the extra capacity until they actually use it. The combination of metered usage and flexible capacity helps maximize agility while avoiding the costs associated with overprovisioning.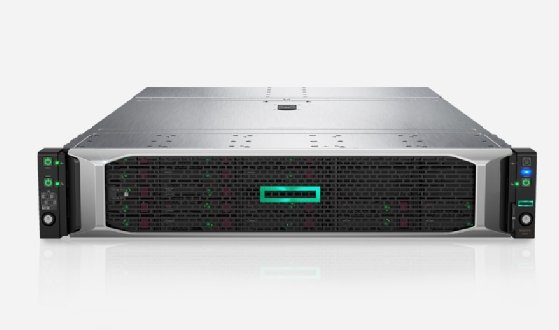 GreenLake's consumption-based model enables enterprises to get state-of-the-art data center products without the costs and complexities that come with a traditional approach to deploying infrastructure. At the same time, IT maintains control over the systems and environment, while benefitting from HPE's ongoing monitoring, maintenance and support. Scaling systems is also easier and faster, leading to greater agility. Not only do these features help simplify IT operations, but they free up IT personnel for other endeavors as well.
When taken together, these benefits can potentially reduce the costs associated with deploying and maintaining IT infrastructure. There are no capital expenditures, IT has fewer operations to carry out, customers pay for only the services they use and systems are easier to scale -- without having to overprovision them. As good as all this sounds, however, you can't assume that a consumption-based program will result in a lower TCO. Even under the best circumstances, those subscription fees add up, and paying them long-term can get quite pricey.
With GreenLake, unlike traditional infrastructure, users don't have anything to show for their investment when you no longer need the equipment. HPE still owns all the hardware. Organizations can't sell the servers or use them for trade-in. In addition, they're still reliant on HPE to deliver the services it promises. Not only does this mean abiding by its schedule, it means they can also access your systems, which might not be optimal in a highly secure environment.
That's not to say organizations should avoid the consumption-based model. It does mean they need to carefully analyze a program like GreenLake to get a true TCO and ensure it will accommodate their requirements over the long term.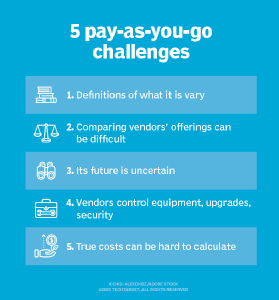 Modernization of the data center
The cloud has clearly demonstrated organizations of all sizes favor a service-based delivery model, even if only for workloads such as backup and archiving. The model has proven so popular, in fact, more data centers than ever now host their own private and hybrid clouds, as well as IT offerings such as composable infrastructure, which delivers resources as services. It was only a matter of time before the as-a-service trend took hold of hardware vendors.
According to HPE, GreenLake is now the company's fastest-growing business, with over $2.8 billion in total contract value and over 600 customers. But HPE is not alone in this effort. NetApp, for example, offers a consumption-based program called Cloud Consumption for NetApp HCI, and Dell Technologies has come out with On Demand, a consumption-based program that provides a range of payment options and services to accommodate different requirements.
As demand for service-based IT products continues to increase, so, too, will consumption-based options, which could revolutionize the data center as we know it. Although as-a-service infrastructure still represents only a small portion of the overall market, the benefits of a consumption-based model are too great to ignore, especially when applied to consolidated platforms such as HPE's SimpliVity hyper-converged infrastructure or Synergy composable infrastructure, both offered through the GreenLake program as fully managed solutions.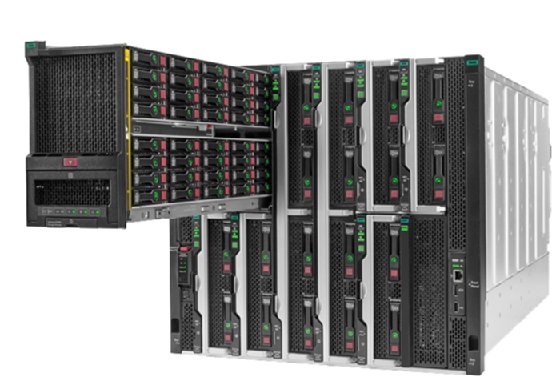 IT teams are turning to hyper-converged and composable infrastructures to meet the demands of their modern and complex workloads, for the same reason they often turn to the cloud. For many, the ability to acquire these types of IT infrastructure products through consumption-based programs might be just the incentive they need to modernize their data centers -- without the capital outlays they've had to face in the past.
Smaller businesses can also benefit from the consumption-based model, as they often don't have the resources to do it all themselves. Regardless of an organization's size, however, infrastructure as a service has the potential to help move just about any organization into the future.