Getty Images/iStockphoto
Refining HPE GreenLake as it sets its sights on everything
HPE's Bryan Thompson talks about how HPE GreenLake has become synonymous with the brand, and looks to its future and how the platform will meet customers' specific needs.
HPE Discover 2023 was almost entirely devoted to GreenLake this year, prompting the question: Where is GreenLake headed?
Since 2019, HPE has looked to provide everything as a service through its GreenLake platform, a cloud consumption and operational model. The vendor claimed a victory last year at Discover and continued its refinement this year with expanded private cloud options and AI as a service.
In this Q&A, Bryan Thompson, vice president of GreenLake cloud product management at HPE, talks about GreenLake as a consumption model vs. being a brand, how to go hybrid by design with infrastructure in place, repatriation of data to private clouds, and whether GreenLake will eventually swallow HPE.
With some customers still wanting to use their own on-premises data center, how do you pitch GreenLake to them or differentiate between on-prem and private cloud?
Bryan Thompson: [When thinking] about private cloud, it is the nature of self-service, elasticity, programmatic controls, delivering the full cloud experience beyond just VMs. When we launched HPE GreenLake for Private Cloud Enterprise, it was not just a focus on delivering infrastructure -- 'here are the boxes you are getting' -- it is a cloud service: a set of features and capabilities, provisioning and managing of virtual machines, containers or bare metal.
We deliver a suite of services, not just enabling the IT admin persona. We are providing an end-user experience. I give you a portal where the end user, a developer or application owner, can self-service, provision VMs, deploy container clusters, manage bare metal. All of this is metered. I have that consumption data so I can budget and apply the full cloud economics experience against it.
This is delivered in a private cloud context where [customers] need it -- their data center or colocation serving an edge location.
GreenLake Private Cloud has become a broad product with broad appeal. Is there still room to meet specific needs?
Thompson: This is an opportunity for us to do better in how we define GreenLake. There is GreenLake as a brand umbrella, with over 70 different solutions that can be delivered in an as-a-service model.
[There is also] the GreenLake cloud platform, which is a foundation of shared services like identity and telemetry services and billing. The common cloud platform enables these services that you can easily discover and consume in different ways.
At the end of the day, [GreenLake and GreenLake Private Cloud] are different offerings that serve a broad spectrum of use cases, from customer managed to fully managed and some in between.
This sounds like you are trying to market GreenLake as everything to everyone, falling into a category AWS finds itself in.
Thompson: AWS is a good analogy, as it isn't a thing. AWS is a collection of 300 different services I can consume. GreenLake can be thought of in the same way. There is a GreenLake experience where I log on to a portal and am presented with a portfolio of solutions to consume with no hardware to install. Or it could be a private cloud built out in an Equinix facility. I have one experience around how I interact with it.
GreenLake itself isn't an offering; it's a collection of offerings delivered with a common theme and shared services. GreenLake is a consumption model with a very broad aperture of solutions, with more interoperability and common usage.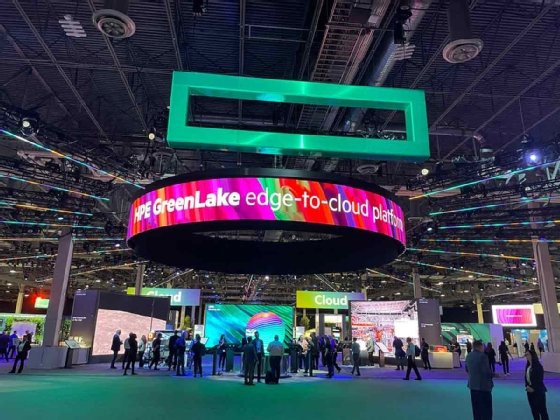 How do customers go hybrid by design in times where they are not looking for a complete refresh?
Thompson: It depends on the endgame. If I have existing systems in place, and I'm coming up with a lifecycle refresh, but I want to keep doing the same thing, I can swap out storage or compute in isolation and keep doing the same thing.
If users truly want to get to cloud, then I would start with a small cloud footprint and look at isolated workloads to move. Over time, as you expand and cannibalize additional capacity that was going offline, you expand that private cloud piece replacing [other infrastructure]. This can be run in parallel or adjacent [to existing infrastructure], and over time migrate workloads and deprecate the legacy infrastructure.
Is GreenLake Private Cloud and its Business Edition a good answer for those looking to repatriate their data from the public clouds?
Thompson: While repatriation exists, it's not wholesale. No one is moving 100% of their data from AWS to back on prem. What we are finding is that organizations might move certain workloads that are persistent in nature -- they don't scale up or down and run 24/7 -- back on prem to lower costs.
In the public cloud, the cost per VM may be incredibly attractive, but it depends on how it is used. For instance, we have a customer that does a transaction-based service. They have one write that goes up to the public cloud instance and then 52 reads that go out publicly. At this rate, the egress and networking costs were four times what the actual infrastructure cost was to host the application.
Cost is the driving reason for some workloads moving back on-prem or to a private cloud while customers are keeping workloads that make sense in the public cloud.
At what point does GreenLake subsume HPE at large?
You want it to be synonymous with the company -- much like Azure is to Microsoft, GreenLake is to HPE.

Bryan ThompsonVice president of GreenLake cloud product management, HPE
Thompson: With GreenLake, there are three questions: What is the brand instance? What is the portfolio? And what is the platform? You want it to be synonymous with the company -- much like Azure is to Microsoft, GreenLake is to HPE.
The intent has always been to make anything in our portfolio to be deliverable as a service. But there are still miles of opportunity to service customers as we have traditionally, as well as the next generation of GreenLake. There is still a massive market for traditional Capex, and I'm sure that will still be a thriving business for a long time.
For the foreseeable future, there will be a spectrum of customers that are building their own experience or want to consume a cloud experience.
With the stance of being vendor neutral and coopetition, is HPE moving away from vendor lock-in only to bring about ecosystem lock-in?
Thompson: I can see that perception. In the context of what we've done in the software layer, we are focused on customer choice. I don't have just one virtualization solution or container solution. With heterogeneous infrastructure, [choice] is around how we help customers drive solutions that span their entire estate.
[One way] to help customers understand their overall efficiencies and help workload placement or drive more optimization in both private and public clouds -- with either our or third-party assets -- is with tools like OpsRamp. [The integration of OpsRamp allows for multivendor visibility.] This is built into the platform as a service to layer in more advanced capabilities around analytics to understand workloads and the costs associated with them.
It is almost like Progressive Insurance: I'll show you the quotes with the other guys; you make the decision. It's understanding the customer's estate and providing value that goes beyond just our devices.
Adam Armstrong is a TechTarget Editorial news writer covering file and block storage hardware and private clouds. He previously worked at StorageReview.com.
Dig Deeper on Cloud infrastructure design and management