HPE GreenLake achieves everything as a service
The latest version of HPE GreenLake has realized the vision of everything as a service, although customers are still figuring out the new way to consume infrastructure.
LAS VEGAS -- According to Antonio Neri, CEO of HPE, the company has achieved its goal of delivering everything as a service. Customers, however, still have some questions.
"Three years ago, as we continued our own transformative journey, I promised to deliver everything as a service by the end of 2022," Neri explained in his opening keynote at this week's HPE Discover 2022, referring to all products and tools delivered as a service. "Thanks to HPE GreenLake, I can proudly say we have achieved that goal."
HPE has transformed into a platform company that delivers services to clients worldwide, according to Neri. He added that the company will continue to go through a cultural transformation both in how it innovates technology in the future and how it approaches go-to-market and sales initiatives.
Hardware takes a back seat
There was only one hardware announcement at HPE's annual user conference, the new Ampere Arm Server. While HPE is changing as a company, Neri said, it isn't as black and white as using the hardware as only a backbone for GreenLake. Going forward, there will be a focus on software and services, but hardware will still be offered.
"What they dialed down is some of the hardware messaging, to make way for the message of GreenLake," said Patrick Moorhead, an analyst at Moor Insights & Strategy.
HPE has been providing storage as a service for some time, Moorhead said.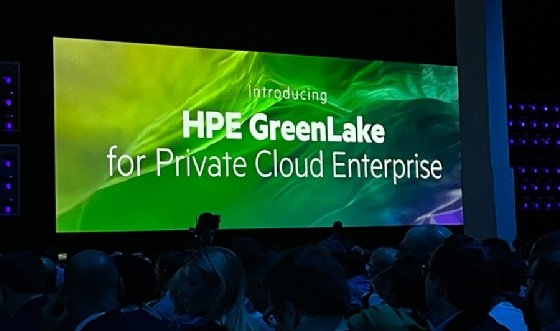 Customers sitting on the dock of the GreenLake
Customers said that while they see the benefits GreenLake could offer, they have some reservations as to how it would fit their specific needs.
GreenLake is very appealing but it's not yet an option for Costa Rica, according to Luis Rodriguez, an infrastructure administrator at Opportuna, a firm that specializes in technology, software development and marketing.
"We need more elastic features in our infrastructure, and that is exactly what GreenLake is offering," Rodriguez said.
To realize the benefits of GreenLake, Opportuna will have to expand into new territories where GreenLake is available or HPE will have to broaden global availability.
Dan Brown, a network security manager at Campbell Companies in Salt Lake City, said GreenLake can work well at a central location such as the company's headquarters. GreenLake's data protection can provide the needed immutability while keeping the company's backups in the cloud.
"To my understanding as to how GreenLake is currently laid out, it would be less beneficial to our remote locations," Brown said. "We have sites with limited infrastructure and low-to-no internet connectivity."
GreenLake isn't trying to be everything to everyone -- at least, not yet, according to Keith White, executive vice president and general manager for HPE's GreenLake Cloud Services Commercial Business. For a company with spread-out or unconnected infrastructure, HPE GreenLake could still provide the self-service and cloud-like experience, but it would be managed by the customer and not HPE, he said.
There are pros and cons to GreenLake, like there are pros and cons to just about everything, according to Maciej Glowacki, an IT systems manager.
Glowacki said potential benefits include the initial cost savings, as companies don't have to buy an entire data center and everything that goes with it. They can make payments to HPE GreenLake, or use GreenLake on their existing infrastructure. Companies also can save on the costs of hiring experts to deploy new and different applications or hardware.
The block storage as a service that went generally available at HPE Discover holds similar benefits, he said.
"Users have almost unlimited storage, with access to growth without worrying about acquiring or refreshing hardware," Glowacki said. "Everyone anticipates growth in data, and this is a way to handle that."
The downsides, he said, are similar to those with the public cloud: Users give up a certain level of control when they store intellectual property in the public cloud. Allowing HPE to manage data on premises through GreenLake takes the same level of trust.
Dig Deeper on Data center hardware and strategy