Getty Images/iStockphoto
HPE customers move to embrace hybrid cloud by design
Hybrid clouds are often a reaction to problems. The Dallas Cowboys, Texas Children's Hospital and Experian turned to HPE GreenLake ahead of -- rather than in response to -- issues.
LAS VEGAS -- Most enterprises launch hybrid clouds by accident, according to HPE CEO Antonio Neri. That's changing, however, as workloads continue to spread across the multi-clouds with increased complexity.
"Once you have established the right hybrid cloud foundation, you open new opportunities across your enterprise by using the power of your data," Neri said in his keynote address at HPE Discover 2023 last week.
In a breakout session at the conference, IT leaders from the Dallas Cowboys NFL team, Texas Children's Hospital and Experian shared how they're using HPE GreenLake to purposely design their hybrid clouds to enhance flexibility and plan for the future.
Planning is everything
The NFL's Dallas Cowboys is a worldwide brand that goes beyond just football, according to Matt Messick, CIO of the Dallas Cowboys. The business is involved in merchandising, energy, construction and esports, among other ventures.
"The Cowboys had a major drive failure that lost a ton of data, but sometimes bad things spawn good things," Messick said.
After the drive failure, Messick and his team were ready to switch to a system that was both more encompassing and less complex than what they had been using. Such a move required some planning, however.
"It's tough when you're buying all your infrastructure and trying to plan three to five years ahead," Messick said.
In the world of the Dallas Cowboys, as well as in other IT organizations, buying into a cloud operational platform can really help going forward, he said.
David Linthicum, chief cloud strategy officer at Deloitte, stressed the need to get in front of hybrid cloud strategies. "The best practice is fairly simple: It's a matter of planning," he said.
The companies that are most successful with digital transformations are those that innovate how all parts of the system are built, Linthicum said. Lots of applications were quickly moved to the cloud during the pandemic, losing efficiency in the process.
The resulting big trend is the increasing complexity in digital strategy, Linthicum explained. Workloads are spread across the multi-clouds and legacy systems, and edge workloads continue to grow. The answer isn't to move the data to a specific platform, but instead to take advantage of each location by design, he said.
"We [need to] look at the platforms that are most optimized for the applications and the data," Linthicum said.
The focus needs to be on building interconnected systems that can service the organization's needs, while still being simple to operate, he explained.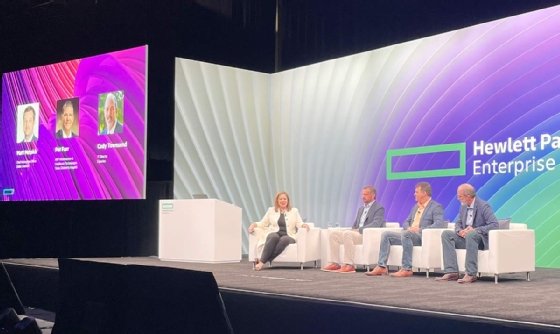 Staying flexible in the cloud
Texas Children's Hospital needed the flexibility of cloud technologies to help manage 4.3 million patient encounters per year, according to Pat Furr, assistant vice president for infrastructure and healthcare technologies at Texas Children's Hospital.
"HPE has been with us on our digital journey as we consolidated 11 data centers down into two, built out our Azure tenant environment and rolled out HPE GreenLake for Private Cloud," Furr said. Texas Children's is the largest women's and children's healthcare system in the United States.
Texas Children's has several sensitive systems that make more sense to keep in a private cloud, he said. GreenLake provides the flexibility the hospital needs, with a financial model that fit.
"We are a highly regulated industry, and we take a lot of care and passion in ensuring that our data is protected," Furr said. He added that agility with HPE GreenLake Private Cloud is critical as well, noting that healthcare is fast-paced and requires quick responses.
Getting out of the way
Consumer credit company Experian had a problem: Its model wasn't working, according to IT Director Cody Townsend.
"We were in the way of business," Townsend said.
To get out of the way, Experian's IT needed the agility and function of the public cloud, which is provided through GreenLake Private Cloud for Enterprise. Experian is heavily regulated due to its consumer credit segment and reaches into several other fields as well, including providing data analytics for healthcare and automotive companies that require information to be stored in certain regions.
Adam Armstrong is a TechTarget Editorial news writer covering file and block storage hardware and private clouds. He previously worked at StorageReview.com.
Dig Deeper on Cloud infrastructure design and management