Aruba Atmosphere '23 emphasizes agility matters
HPE Aruba Networking positioned its Atmosphere conference as looking at what comes next, but the subtext was all about agility as the company tightens its integration.
More than 4,000 members of the Aruba Airheads Community converged in Las Vegas to attend the Aruba Atmosphere Conference '23 last month. And while the official theme was "For what comes next," the message that "agility matters" came through loud and clear.
To emphasize the point, HPE Aruba Networking hired parkour athletic training specialists to perform feats of amazing acrobatics and agility to kick off the keynotes on both days.

The unofficial theme of agility was to emphasize that one size doesn't fit all, and that Aruba is working hard to tailor products and services to meet the specific needs of its clients. This was evident in its launch of its Agile Network as a Service (NaaS) offerings. Part of the overall HPE GreenLake platform, Agile NaaS enables organizations to have flexibility in how they consume network equipment, software and services.
The company highlighted six key dimensions that included financial, operational, tech adoption, deployment model, demand profile and network focus. By understanding where organizations fit, using a sliding scale for each of these areas, Aruba can tailor a product to fit the precise needs of any business. And to help with migrating from existing equipment, HPE Aruba can use its HPE financial services arm and its sustainable Circular Economy program to recycle or resell previous generations of equipment and offset the costs of the new equipment.
HPE Aruba outlines strategy, tightens integration
Agile NaaS is one of three pillars HPE Aruba will focus on in the coming year, the other two being HPE GreenLake as-a-service offerings and its portfolio of network and security hardware and software options -- Wi-Fi, switching, software-defined WAN (SD-WAN), dynamic circuit network, Secure Access Service Edge (SASE) and private 5G -- which continue to grow.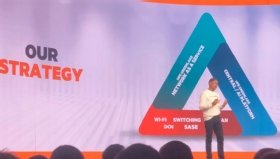 While GreenLake as a service has been in place at HPE for a while, it is worth noting that Aruba Central cloud-native network management has been adopted by HPE to serve as the command center for all GreenLake services, which means any Aruba Central users will have a high degree of comfort with GreenLake services moving forward. This is just one of the ways HPE and Aruba are becoming more tightly integrated. In fact, the show was used to premiere a new logo for the company, highlighting HPE first. The company also said next year the Atmosphere show would be tied to the HPE Discover edge-to-cloud event, running at the same location during the same week. Clearly, Aruba wants to maintain its autonomy, but it is being pulled, gradually, into the HPE orbit. For organizations looking for tightly integrated, full-stack solutions, this could be a positive move.
HPE Aruba network and security portfolio advances
Several announcements regarding the network and security portfolio were made, including the following:
Next-generation Central. HPE Aruba unveiled a new version of Aruba Central for organizations to better manage the complexity of highly distributed modern environments. The next-generation version includes hierarchical views that enable operators to have a comprehensive view but also quickly drill down to the details. To enable the transition to this new interface, Aruba installed a toggle switch that allows users to cycle between the new and old interface.
Data center networking. The keynotes highlighted the CX 10000 data center switch and its distributed services as a way for enterprises to bring critical security and load-balancing functions closer to the applications without impacting CPU performance or incurring latency by running through appliances in existing data centers. The top-of-rack switch enables organizations to take advantage of hyperscaler technology in their private data centers without disrupting existing servers. This should be welcomed by organizations, as the "2023 Technology Spending Intentions Survey" conducted by TechTarget's Enterprise Strategy Group (ESG) revealed the top data center modernization action is to deploy hyperscaler technology.
Real User Experience Management. Another crowd favorite was the introduction of Real User Experience Management to Aruba's User Experience Insight (UXI). Given that providing a differentiated customer experience has been a top-three goal of digital transformation efforts for the last five years, according to ESG research, being able to monitor and provide metrics on experience at the end-user device will provide great insights for operations teams.
A big part of the HPE Aruba product portfolio was that it was expanding inorganically as well as organically. The company highlighted its acquisition of Axis and planned acquisition of Athonet.
Axis Security. With the acquisition of Axis Security, a provider of security service edge (SSE), Aruba now has the ability to provide single-vendor SASE services when combined with its SD-WAN. While Aruba will keep existing partnerships with other SSE vendors to offer choices for users, I expect there will be much tighter integration with Axis over time.
Athonet. A provider of private 5G edge and core products, this acquisition, when completed, will enable Aruba to provide tightly integrated private 5G network options. What is most interesting is the potential for tight integration with Wi-Fi through Aruba Central and the potential integration with GreenLake Central for edge computing and storage environments.
HPE Aruba customers recognized
Several HPE Aruba customers were highlighted at the conference as well, including the following:
Henkel AG & Co. Henkel used HPE Aruba to connect 65 different countries on a single platform using HPE GreenLake. This provided the company with the ability to have a single view of its data center and network to access information quickly. The customer specifically cited the use of AIOps to help make its teams smarter and give them the ability to diagnose problems much faster
Carmax. Carmax chose HPE Aruba to be a strategic partner to enable proactive infrastructure and operations. A partner that understands the DevOps mindset and could help deliver valuable business outcomes. An early Agile NaaS customer, Carmax is working with Aruba to shift left, taking advantage of AIOps to become more proactive. This partnership has enabled organizations to quickly roll out new applications to more than 240 locations and manage with a single interface. The customer cited the ability to become more predictive and not just report "up" or "down" status as a key differentiator.
During the event, I had the opportunity to catch up with Kent State, Doane University and Chase Center representatives to discuss their Aruba deployments, but more on that later.
Dan Rivera, education manager at Aruba, did not disappoint, keeping the crowds entertained with many appearances throughout the day, as well as two keynotes. Clearly, HPE is looking to drive closer integration with Aruba to deliver full-stack services via GreenLake. The integration of Central and HPE, however, won't be a one-way street: Aruba has always had a customer-first, customer-last mentality, and that is driving its path forward. HPE is now taking advantage of Aruba innovations. I am looking forward to seeing how Aruba executes on its recent acquisitions and provides tighter integration with HPE over the coming year.