Expanded NetApp cloud tools target containers, Google Cloud
NetApp Data Fabric links NetApp storage and data services. New NetApp Cloud Data Services embed Kubernetes orchestration and Cloud Volumes for Google in beta.
The Big Three used to refer to U.S. automakers. In the cloud era, the term applies to Amazon Web Services, Google Cloud Platform and Microsoft Azure. And NetApp is rounding out partnerships with all three major public cloud providers.
NetApp on Tuesday enhanced its Data Fabric software to enable containers and file storage to be consumed via the cloud or a physical data center. The vendor said the goal is to help companies develop applications in one cloud and port it to other clouds or on premises.
Branded as NetApp Cloud Data Services, the license-based options are initially available on NetApp HCI, based on NetApp SolidFire all-flash storage.
Enterprise customers can use the cloud offerings to run NetApp OnTap storage on physical clusters delivered by cloud providers or provided directly by NetApp. In addition, NetApp unveiled pay-per-use consumption pricing, along with cloud orchestration tools and professional services to help enterprises map out the development of internal data fabrics.
NetApp cloud plans
NetApp HCI is sold as hardware or as an on-premises managed service. The vendor integrated its NetApp Kubernetes Service (NKS) in NetApp HCI, allowing users to choose SolidFire storage as an endpoint for application containers.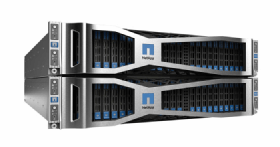 A second offering, Cloud Volumes on NetApp HCI, embeds an API-based orchestration layer for moving OnTap file storage between public clouds and local data centers. NetApp also a beta version of NetApp Cloud Volumes Service for Google Cloud and Cloud Volumes OnTap for Google Cloud. Those services were previewed by NetApp last year.
The Google-NetApp partnership follows the formal launch in May of Microsoft Azure NetApp Files. NetApp has a similar arrangement with Amazon Web Services that dates back to 2015 and includes NetApp Cloud Volumes Service for AWS and Cloud Volumes OnTap for AWS.
"We've been staking down our real estate in the public clouds by growing our partnerships with Azure, Microsoft and now Google. NetApp Cloud Data Services completes the circle. All these things work together to give you application mobility," said Joel Reich, executive vice president of product and operations at NetApp, based in Sunnyvale, Calif.
The challenge for NetApp will be to keep adding features [to compete] with other legacy vendors that are starting to move into the cloud.

Deepak MohanResearch director, IDC
The latest NetApp cloud offerings incorporate technologies picked up through recent acquisitions. NKS is based on technology NetApp gained last year from startup StackPointCloud. NetApp cloud orchestration stems from its 2017 acquisition of the Greenqloud Qstack software suite.
NetApp has executed well on its Data Fabric architecture, said Deepak Mohan, a research director of infrastructure systems, platforms and technologies at IDC.
"Moving storage to the cloud was a pretty easy move, since NetApp was sort of headed that way already. The challenge for NetApp will be to keep adding features [to compete] with other legacy vendors that are starting to move into the cloud," Mohan said.
Cloud experience, local delivery
NetApp acquired all-flash startup SolidFire in 2015.The SolidFire storage system is the basis for NetApp HCI, which allows external servers or storage to be added individually to a cluster.
The SolidFire Element OS auto-discovers when new hardware joins the cluster. SolidFire also embeds native quality of service. Most hyper-converged vendors require you to buy additional nodes when expanding a cluster.
Cloud Consumption for NetApp HCI is a pay-per-use service provided by public cloud providers or directly by NetApp, but managed by the customer. With the NetApp Cloud Volumes Service On-Premises, NetApp wheels storage gear into a data center and provides remote management for the customer. There is no monthly minimum purchase, but customers must commit to using the services for at least one year.