Fotolia
NetApp OnTap 9.8 revamps replication, storage arrays
NetApp OnTap SnapMirror Business Continuity provides failover with granular copy management. NetApp FAS and AFF arrays hit the market as file vendor gears up for digital user event.
NetApp unveiled a version upgrade of its flagship OnTap storage operating system, along with new hybrid Fabric Attached Storage models and a dense All-Flash Fabric Attached Storage array.
NetApp OnTap 9.8 launched Tuesday offers new procurement options with NetApp Keystone cloud licensing. NetApp also gave hints of its future SolidFire product direction. Customers have the option to license a software-only version of the SolidFire Element OS operating system, starting with qualified Hewlett Packard Enterprise servers. It is the first diversification of the SolidFire all-flash technology NetApp acquired four years ago.
Sessions on the enhanced storage systems and operating system are scheduled for the NetApp Insight digital user conference next week.
Replication and object support
Kim Stevenson, a NetApp senior vice president, said OnTap brings more functionality to NetApp Data Fabric. NetApp OnTap 9.8 extends NetApp FlexCache caching support to SMB file storage. Continuous replication for SAN-based workloads is added to NetApp SnapMirror snapshots.
The NetApp SnapMirror Business Continuity feature enables failover with granular copy management. Storage admins can prioritize which SAN volumes to protect and select targets for delta files. Up to now, NetApp OnTap has supported scheduled replication. The feature for business continuity is aimed at enterprises with tier 1 relational databases.
"This is a big deal if you're running a SAN or Oracle environment," Stevenson said.
An added feature, SnapMirror Cloud, lets customers replicate backups to S3-based object storage locally or in the cloud.
Steve McDowell, an analyst of storage and data center technologies at Moor Insights & Strategy, said NetApp's OnTap continues to evolve for hybrid cloud use cases.
"OnTap is a very mature operating system that doesn't need major shifts in functionality. The new hybrid-cloud distributed cache aligns with NetApp's overall push toward the cloud bring more value to NetApp's on-prem arrays," McDowell said.
He said NetApp's increased support for object storage mirrors wider industry trends. "We've seen a steady increase in the adoption of object storage in the enterprise, first in cloud and now on prem," McDowell said.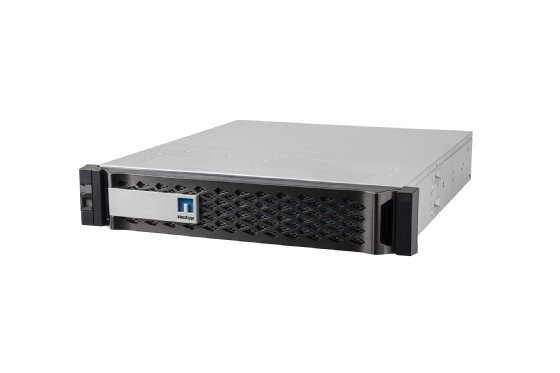 Expanded array lineup
NetApp arrays, on the other hand, were due for a revamp, McDowell said. NetApp Fabric Attached Storage (FAS) lineup expanded with the FAS500f high-capacity model outfitted with quad-level cell (QLC) NAND solid-state drives (SSDs).
Compared to TLC- and SLC-based NAND, QLC flash has a limited endurance and performance profile, with the tradeoff being a lower cost per gigabyte. QLC geometry contains four bits of data per cell. Many vendors use QLC as bulk storage, sometimes in conjunction with PCIe-based NVMe flash to accelerate performance.
The NetApp's FAS500f uses a redesigned controller architecture to provide all-flash targeting tier 2 applications. The new array supports Fibre Channel as native NVMe-oF.
The base NetApp FAS500f is configured with 367 TB of raw NAND. Capacity scales to 734 TB with expansion shelves. Maximum scale-out is 19 petabytes (PB) with a 24-node configuration. NetApp said it is intended for high-volume data transfer and capacity-oriented workloads, including animation, digital imaging, media streaming and computer-aided design engineering.
NetApp also unveiled the NVMe-based All-Flash FAS (AFF) A250 as a dense entry-level model that accepts up to 576 SSDs. NetApp claims it can support 35 PB, based on presumed 5:1 data reduction. The 2U, 24-drive form factor supports 12 high-availability pairs. It is the low end of the AFF line, which includes the high-end A800 and two midrange systems, the AFF A700 and A400.
NetApp OnTap in the cloud
All major storage vendors offer consumption-based models or buying storage as a service. NetApp Keystone provides an Opex model that allows customers to test its storage and services before making a long-term commitment.
NetApp has added Keystone Flex Subscription (KFS) to lease NetApp OnTap in the cloud. If that sounds familiar, it's because customers already can get OnTap Select in the cloud, although that is not a fully featured version of NetApp's OS. Keystone Flex differs in that it provides the full operating system, starting at 100 TB for a one-year subscription.
KFS can be managed locally or as a remotely managed NetApp service. NetApp retains ownership of the storage hardware, while customers pay for used capacity. A second component, NetApp Flex Pay offers various financing options.
NetApp CEO George Kurian said during NetApp's Investor Day in September that Keystone Flex Subscription is notable for two reasons.
"The first is that it has the same technology that runs on the public clouds and so you can manage it as part of your overall Data Fabric. The second is that uniquely in the market, you can change your profile of workloads, in an ongoing basis, unlike what many of the other as-a-service offerings have," Kurian said.
SolidFire software for cloud builders
NetApp offers SolidFire all-flash arrays as a standalone system, although the primary application has been as storage for the NetApp HCI disaggregated infrastructure platform. NetApp's next gambit with SolidFire is to offer Element OS as software-defined storage qualified with Hewlett Packard Enterprise servers.
Target customers include managed service providers, financial services firm and other hyperscalers that have the resources to blend SolidFire on their preferred hardware.