NetApp cloud push prompts discussion of data center future
Admins at NetApp storage conference consider moving everything from physical data centers into public clouds, although such a shift is likely years away for most enterprises.
LAS VEGAS -- You expect to hear ruminations about the demise of the physical data center at many IT shows these days. You don't expect it at a NetApp user conference.
NetApp is among the leading disk storage vendors in the world, listed third behind Dell and Hewlett Packard Enterprise in the second quarter of 2019, according to IDC. Yet the vendor's big news at its NetApp Insight 2019 conference here this week was its Keystone program designed to help buy and build clouds.
NetApp has talked up the cloud for several years and worked hard to integrate its storage services with public cloud vendors, but its storage arrays still account for most of its revenue.
The company did launch four new storage arrays today, but its executives spent little time on these products except to say they would be available to purchase through its Keystone program. Through Keystone, NetApp plans to offer all its products as data services for customers who want to move to the cloud or build private clouds.
All the NetApp cloud talk from executives prompted one journalist to ask, "Are data centers dead?"
One NetApp rep didn't dismiss the notion. "There are people running data centers that should not run them," said Anthony Lye, senior vice president of the NetApp cloud data services business unit.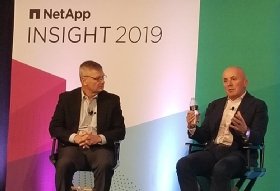 Some attendees here already came to that conclusion before hearing about the Keystone NetApp cloud program. That list includes established companies, not only those starting with a clean slate. Others are considering a move, even if it is still years away.
Justin Stottlemyer, director of network engineering at Intuit, said the accounting software company has most of its data and applications in AWS and is moving toward all-cloud. That's a large undertaking for a company with petabytes of data and hundreds of millions of files. Intuit, which sells TurboTax software, also stores a lot of personally identifiable information (PII) on its customers.
"We've already migrated in the last few years and are 75% in the cloud, and we're planning to be 100% inside AWS next year," Stottlemyer said. "That is not a simple journey for a 30-year-old company that used to ship CDs, and it's a much different model than what you've seen before."
He said Intuit has more than 3,400 production AWS accounts.
Collin Mariner, VP of data center operations at digital home repair company HomeAdvisor, said his company runs NetApp primary storage and it still makes financial sense to maintain its physical data center. But he doesn't rule out moving it all to the cloud one day.
[Cloud migration] is not a simple journey for a 13-year-old company that used to ship CDs, and it's a much different model than what you've seen before.

Justin StottlemyerDirector of network engineering, Intuit
"It's up for discussion whether we do move everything to the cloud or not," Mariner said. "We're very open-minded on that. My last company [Tendril] went all cloud. And it made a lot of sense for them to do so.
In the case of HomeAdvisor, he said, the company will use cloud services and will move to a physical data center when cloud isn't the best option.
"We'll be very fluid," he said. "The important thing is, migration to the cloud is not a lift and shift. The migration to the cloud would be more of a change from the application perspective than from a physical infrastructure perspective."
Eric Sedore, associate CIO at Syracuse University, said he could see the school going all cloud, but not in the near future -- at least not for academic research.
"I think it'll be a couple generations," said Sedore, who added that about 80% of the university's storage is on NetApp arrays. "The cloud's fiscal model makes renting a little more difficult when you want to run hardware for five years and run it 24/7 for research, and at big scale. We have about 30,000 cores in our data center for research and that's an expensive proposition to keep in the cloud."
Industry experts also expect any complete shifts out of physical data centers to be a gradual process, mainly because of the proliferation of legacy applications that can't fully take advantage of public clouds.
A complete abandonment of physical data centers will take years and perhaps decades if it happens at all, said Steve McDowell, senior analyst of data center technologies at Moor Insights & Strategy.
"It would be a huge shift," McDowell said. "As enterprises deploy greenfield applications, cloud is a great place to establish that. But that's going to take two generations to migrate your data center off-site.
"Ultimately, is data a utility? Yeah," he said. "But in the next decade, I don't know. It's difficult because of the data and the architecture of the different management tools. It's the Wild West."
Brad Anderson, executive vice president and general manager of NetApp cloud infrastructure, storage and software business unit, said the vendor isn't giving up on physical data centers.
"We're still seeing people make significant investments in data centers," he said. "Obviously data center growth is not the same as in hybrid cloud or public cloud, but there's still a lot of ROI opportunity in the data center. You still see data centers typically running those workhorse applications that run the business -- Oracle, SAP, SQL or even their own applications."
Even NetApp's cloud czar Lye admitted that data centers have advantages that public clouds still struggle with.
"A lot of legacy applications that were architected for the IT environments of years ago don't lend themselves well to the architectures and economies of public cloud," he said.