Get to know storage-as-a-service providers and their offerings
Need help understanding storage-as-a-service providers and their offerings? We've got you covered with this look at IaaS-based, specialized storage and capacity-on-demand services.
Businesses are rapidly shifting their IT spending from on-premises infrastructure with IT-managed software to cloud services delivered on demand with usage-based pricing models.
According to a recent survey by Flexera of business and IT executives, the bulk of IT spending increases planned for 2020 will go to cloud services at the expense of on-premises software. Likewise, as more workloads shift to the cloud, a third of respondents said they plan significant reductions in their data center footprint next year.
As organizations of all sizes and from various industries turn to the cloud, a wider array of innovative cloud services is becoming available. The gaps in the traditional three-tier IaaS-PaaS-SaaS hierarchy are being filled by more nuanced products, targeting specific needs or workloads. One of these is storage as a service, or SaaS. There you'll find storage-as-a-service providers with products that include and supplement familiar IaaS offerings.
There isn't a widely accepted definition of SaaS. Some equate it with leasable on-premises storage from traditional data center vendors that is user- or vendor-managed and billed according to usage, with the usual metrics being capacity and sometimes IOPS throughput.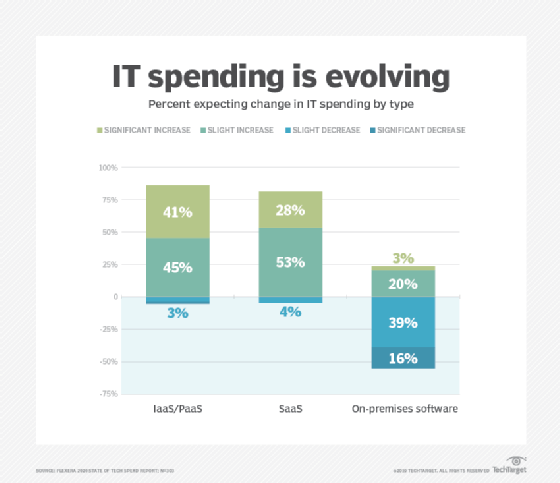 However, that definition is too narrow; it only includes the scenario where an organization switches the purchase model for traditional storage equipment from Capex to Opex, with an option to layer a managed services contract on top. We prefer a broader definition that also covers shared cloud services for different storage categories with various features. Here's our take:
Storage as a service is a managed service that delivers various storage platforms by subscription and is billed according to one or more usage metrics. The service can be delivered on premises from infrastructure dedicated to a single customer or via the cloud as a shared service. Typical offerings include bare-metal storage capacity; raw storage volumes; network file systems, akin to NAS; storage objects; and storage applications such as backup, archiving and vault, and file sync and share. Users access individual services via standard system interfaces (raw, block), protocols (file) or APIs (object, applications) and like other cloud services, storage as a service includes a REST API for service management and automation.
Cloud service providers such as AWS, Box, Dropbox and Microsoft Azure initially developed and dominated cloud storage services. However, most storage hardware vendors have since developed SaaS-like rental purchasing models for on-premises or co-located equipment as their customers have changed their buying patterns and storage system revenue has declined.
Note that the definition of SaaS is broad enough to include offerings as diverse as glorified equipment rentals from traditional vendors to storage-centric applications targeted at specific needs, such as collaboration and backup. The following is a non-exhaustive look at storage-as-a-service providers and products in various categories.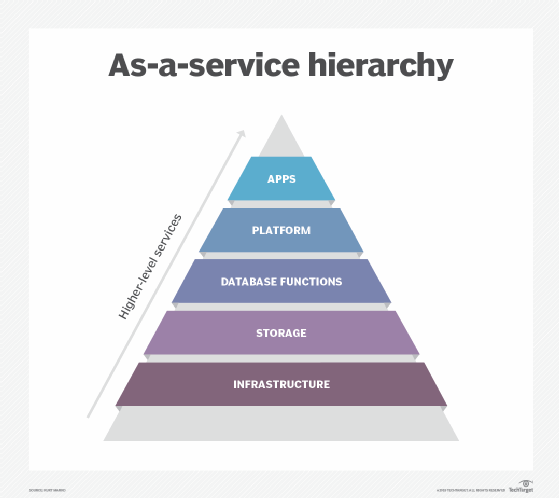 IaaS-based products
Each of the major cloud vendors has expanded its storage offerings to supplement basic object and block volume services with file shares and other products. They include:
AWS Elastic File System (NAS), FSx (managed filesystem for Windows and Lustre), S3 Glacier (long-term archive) and Backup
Microsoft Azure File Storage (NAS), Archive Storage, Queue Storage (app message queues), NetApp Files (NAS, software-defined storage)
Microsoft Office365 OneDrive (enterprise collaboration, sync and share)
Google Cloud Filestore (NAS), Storage for Firebase (application persistent data), Drive Enterprise (collaboration, sync and share)
IBM and Oracle Cloud offer similar block, object and file storage services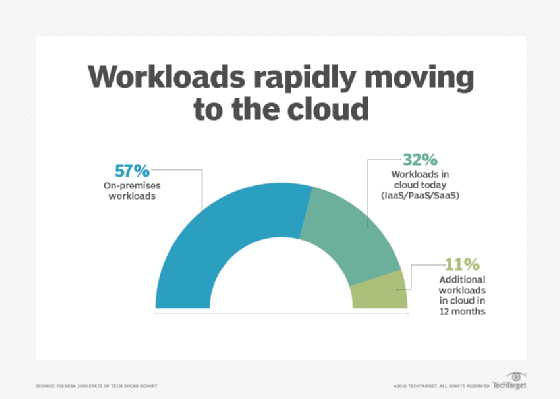 Specialized storage-as-a-service providers
The storage market has attracted many companies seeking to capitalize on the convenience of the cloud delivery model and the insatiable demand for storage capacity and the problems that massive capacity creates. Many of these storage-as-a-service providers offer hybrid products that span cloud and on-premises infrastructure with a single, centrally managed storage service. The market for managed backup, disaster recovery, file and collaboration services is crowded. Here are some companies that are providing these services.
Acronis Cyber Infrastructure supplements the company's on-premises software with a cloud storage, backup, DR, file sync-and-share suite that's typically delivered by an independent service provider.
Box has evolved into an enterprise-focused service offering a variety of storage-centric content management, collaboration, compliance and development services designed for business process transformation.
ClearSky Data has on-demand primary storage, offsite backup and DR as a service using metro-area POPs and caching at the customer edge.
Dropbox is still best known for pioneering consumer sync-and-share services, but it has developed enterprise products for collaboration, file backup and recovery and data management.
StorOne service delivers on-premises hardware with a cloud subscription model (note that many storage vendors are emulating this model -- see below).
Zadara Cloud Platform is a hybrid, distributed software-defined storage that works on local hardware and public cloud infrastructure (AWS, Google Cloud Platform, Microsoft Azure, Oracle and VMware on AWS) and offers block, file and object services.
Capacity-on-demand offerings
Most storage vendors offer a usage-based subscription service in which customers don't own and, in some cases, don't even operate the equipment in their data centers. What follows is a sampling of these types of storage-as-a-service providers.
The many products that broadly fall within the SaaS definition illustrate how this dynamic and confusing market is evolving. Enterprises face a daunting array of options from the storage-as-a-service providers. They also can supplement storage services with multi-cloud data management software, such as Datrium, Hedvig and NetApp Ontap that can knit multi-cloud and on-premises storage into a unified, centrally managed storage fabric in which data seamlessly flows from one platform to another.
The choices for enterprise architects designing a data storage, management and governance strategy have never been richer.