Scality Zenko goes GA for multi-cloud data management
Scality launches Zenko 1.0 multi-cloud data controller software, offering a commercially supported enterprise edition and a freely available open source version.
Scality addressed one of the hottest topics in storage with the release of controller software designed to help IT users place, manage and search data across private and public clouds.
The object storage vendor first introduced Scality Zenko multi-cloud data management software in July 2017 as an Apache 2.0-licensed open source project. Scality Zenko 1.0 became generally available this week as a commercially supported enterprise product, as well as free open source software.
Best known for its Ring object storage, Scality expanded into cloud data management to respond to the growing number of customers expressing interest in services from multiple providers such as Amazon Web Services, Google and Microsoft Azure.
Wally MacDermid, vice president of cloud business development at Scality, said customers want to store their data in the most effective place possible. They also want to make sure they can access that data and use value-added cloud services such as Google Analytics and Azure Video Indexer.
Multi-cloud search capabilities
Scality Zenko supports a single interface, Amazon's S3 API, on the front end to enable customers to store, manage and search data across disparate public and private clouds. Zenko decouples the metadata from the data stored in the various cloud locations and uses MongoDB to enable advanced metadata search capabilities and open source projects such as Apache ZooKeeper and Kafka for metadata management. An extensible data workflow engine uses the metadata and facilitates policy-based migration and management across multiple clouds.
The Zenko software currently supports back-end storage in Scality Ring, Amazon Simple Storage Service, Azure Blob Storage, Google Cloud Storage, DigitalOcean and Wasabi Technologies. MacDermid said Scality plans to add more locations.
Users do not have to be Ring customers to use the Zenko software. MacDermid said Scality Zenko stores data in the native format of the storage locations, so customers are not locked into a vendor's proprietary format and can access their data outside of Zenko.
"We intentionally built Zenko as a separate product because strategically we think it gets Scality into new markets and allows us to sell to new customers," MacDermid said.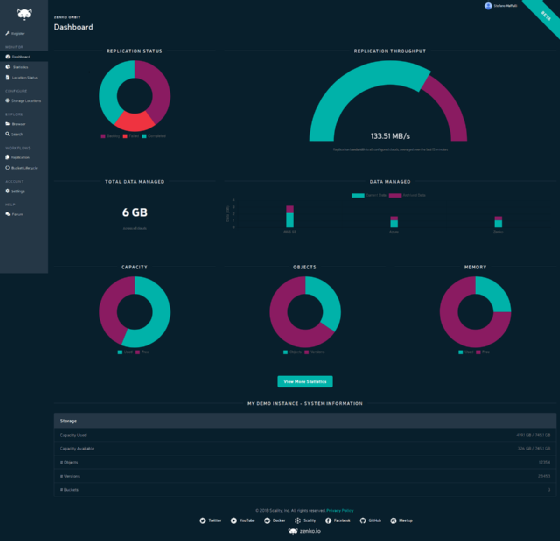 Container-based architecture
The Scality Zenko multi-cloud data controller uses a container-based service architecture. Early Zenko versions deployed on Docker Swarm, but the software now installs through a Kubernetes orchestration framework. For instance, Zenko can run on premises on bare-metal servers using Scality's MetalK8s Kubernetes stack or in public clouds through options such as the Google Kubernetes Engine (GKE) or Azure Kubernetes Service (AKS). AWS Kubernetes support is not available yet, according to MacDermid.
"Because of the microservices architecture, we really wanted to have a way to be able to scale out without having to manage the complexity of different approaches," said Stefano Maffulli, director of community marketing at Scality. He said Scality switched from Docker Swarm to Kubernetes with the Zenko 1.0 release after "hitting limits in the way Docker Swarm operates and scales."
Developers and sophisticated users can manage Zenko via API or command-line interface (CLI), and those preferring a more intuitive graphical user interface can use Scality's point-and-click Orbit management dashboard. Orbit is limited to managing 1 TB of data with the free open source edition of Zenko, but there are no limits for customers of the enterprise product.
Scality claims the open source Zenko project has drawn about 1,000 registered users since July 2017. The vendor worked with early enterprise users to refine the core capabilities of the multi-cloud management software.
Scality Zenko use cases
Use cases that Scality envisions for the Zenko product include content distribution across geographies and data center locations for the purposes of compliance and improving performance and latency; cloud-based disaster recovery and high availability for data storage in primary and secondary locations; and data capture and distribution from internet of things devices.
Steven Hill, a senior storage analyst at 451 Research, expects demand to grow for the multi-cloud data management functionality that products such as Zenko offer. "Multi-cloud is the big idea right now, which makes the simplification of multi-cloud adoption a priority," he wrote in an email.
"I believe in the hybrid cloud model -- which entails a certain amount of complexity -- so the next generation of IT admins will be looking for solutions that simplify and automate that environment regardless of complexity," Hill wrote. "Approaches like Zenko are designed to mitigate the complexity and provide a common model that's platform independent, unobtrusive and seamless."
Gartner, on the other hand, raised a red flag about taking a multi-cloud approach. Raj Bala, a research director at Gartner, wrote in an email, "We are deeply skeptical of emerging multi-cloud storage products that abstract multiple cloud storage providers using a single namespace. The complexity this introduces exceeds the value from the problem it solves."
The starting price for a subscription with the supported enterprise edition of the Scality Zenko software is $86 per TB per year. MacDermid said Scality also offers volume discounts. He said there is no extra fee for Scality's Orbit management portal.