Getty Images
Komprise offers insight into storage costs across clouds
Storage Insights for the Komprise Data Management platform enables users to define metrics for storage consumption across clouds and vendors for cost management and migration.
Data management vendor Komprise now lets customers see and shift data across previously siloed storage locations based on user-defined standards and metrics.
Storage Insights, available today for the Komprise platform, provides new capabilities to sort and use available storage for unstructured data across clouds and on-premises. Using the APIs provided by other storage vendors, Storage Insights offers 25 different metrics at launch to see levels of activity, available space and tiering costs regardless of storage vendor or format.
Tools providing an overview of consumed storage aren't new, said Steve McDowell, an analyst and founding partner at NAND Research. However, the vendor-agonistic view provided by the software lets customers manage storage without jumping across several management portals or services.
"[Data management vendors] all have tools like this," McDowell said. "It's the unified [view] with tiering that makes it special."
Komprise compromise
The Storage Insights feature grew out of user requests and prior additions, said Krishna Subramanian, co-founder and COO of Komprise.
A feature released earlier this year by the vendor, Komprise Analysis, similarly collected information about a customer's data landscape for review and created reports on its findings.
Analysis may have provided the overview, but Storage Insights takes the capability a step further to let customers place the data into clouds or on-premises hardware of their choice regardless of vendor.
Using the Komprise console could eliminate the need to log into different vendor platforms for management while also enabling the customer to standardize their own storage metrics, Subramanian said.
"[Customers] don't have to hunt and peck across a lot of places," she said.
The feature is included as part of the Komprise Intelligent Data Management 5.0 platform alongside Komprise Analysis.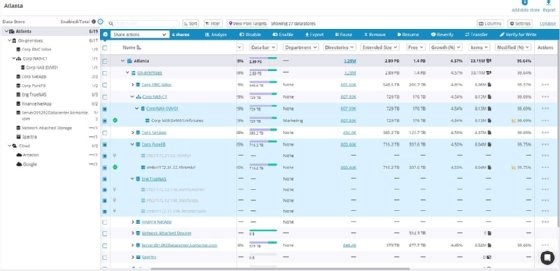 Pricing according to Komprise
Storage vendors follow different pricing models depending upon location relative to the customer and specific services in use, said Dave Raffo, an analyst at Futurum Group.
Amazon FSx For NetApp Ontap, a file storage service in AWS managed by the hyperscaler, prices based upon datacenter location, storage speed and specific performance ordered by a customer. Keeping track of that pricing while jumping between other cloud services and using on-premises hardware can become confusing and lead to overprovisioning.
Some vendors are attempting to make cost management more straightforward, such as NetApp's BlueXP management console or Peer Software's PeerFSA, a file system analyzer for storage environment insights, both McDowell and Raffo noted. But these services are ultimately limited to the respective vendor's platforms.
"The question is, how much do the users trust a vendor?" Raffo said.
Overprovisioning and overpaying lead many enterprises to reconsider their cloud spending altogether and shift back to local data centers, a process called cloud repatriation. Services providing management tools like those provided by Komprise can help customers better understand their cloud spending without the more dramatic act of cutting cloud usage for storage entirely.
"They're doing [the service] with the cost optimization angle," Raffo said. "Everyone is talking about [cloud] repatriation. Komprise is saying we'll give you all the information to find out where your data should go."
Tim McCarthy is a journalist from the Merrimack Valley of Massachusetts. He covers cloud and data storage news.