chris - Fotolia
All-flash object storage makes its way into the enterprise
Object storage isn't just for backups and archives anymore. All-flash offerings are being used for AI, machine learning and analytics. See what types of products are available.
Object storage rose to fame as the go-to solution for cloud storage. However, it has been steadily making in-roads into the enterprise as more vendors offer on-premises storage systems that incorporate the object design.
Object storage is more scalable than traditional NAS and SAN systems, and it comes at a lower cost per gigabyte. That said, it typically doesn't perform as well; although, this is starting to change. Several vendors now offer all-flash object storage, making it possible to support more types of workloads while still delivering the flexibility, scalability and cost benefits expected from object storage.
Why use all-flash object storage?
Storage requirements have been rapidly changing. The amount of unstructured and semistructured data is growing at unprecedented rates, with data repositories shared by multiple applications, many of which are highly dynamic and distributed across geographic regions. There's also a growing use of advanced analytics, which requires vast stores of aggregated data from heterogenous sources.
Object storage is well suited to these uses. When compared to file and block storage, object is more efficient, supports comprehensive metadata and offers greater scalability and distribution capabilities. It's also a lot cheaper. Unfortunately, object storage has had a reputation for sluggish performance, which is why on-premises implementations have been generally limited to backup and archiving. But the introduction of all-flash object storage is quickly changing the picture.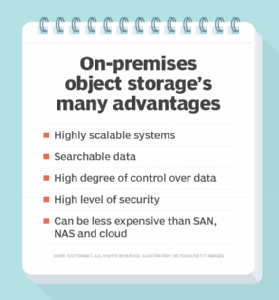 Flash-based object storage running on premises makes it possible to support a range of workloads, including AI, machine learning, deep learning and big data analytics, which require high IOPS and low latency. Some of these workloads might also have security and compliance requirements that eliminate public cloud platforms.
Industries such as genomics, life sciences, research facilities, and media and entertainment can benefit from all-flash object storage. They might use it for research, financial modeling, computer-aided engineering, streaming services, oil and gas exploration, or a variety of other applications that rely on massive data sets and high-performing infrastructure.
All-flash object storage can also benefit distributed cloud-native applications and DevOps methodologies, which require flexible and scalable storage that can support modern workloads. The industry is only beginning to see the potential uses for all-flash object storage as more products enter the market.
Object storage products
A number of vendors sell on-premises storage systems that incorporate object storage alongside file storage or that provide object-only storage. Typically, the object-only approaches also support the NFS and SMB protocols to accommodate legacy applications. Regardless of the approach, many vendors are adding all-flash systems to their portfolios, making it possible to support a wider range of workloads.
All-flash object storage makes it possible to support more types of workloads while still delivering the flexibility, scalability and cost benefits expected from object storage.
Companies doing this include the following.
Cloudian HyperStore Flash
HyperStore Flash is an object storage offering available as either flash-optimized software or an integrated all-flash appliance. Cloudian HyperStore Flash provides native Amazon S3 compatibility, and it can process multiple requests in parallel across all nodes in a shared-nothing cluster. The platform also supports multi-tenancy, making it possible to establish multiple user spaces and individual management domains. HyperStore Flash integrates with all major public cloud services, including AWS, Google Cloud Platform and Microsoft Azure Blob Storage.
Dell EMC PowerScale
This scale-out NAS system includes four all-flash NVMe nodes: two PowerScale nodes and two Isilon nodes. The nodes run the latest version of the PowerScale OneFS operating system, which provides native support for the S3 API. Clients can access file-based data as objects, bridging the gap between traditional NAS storage and modern object storage. OneFS implements S3 as a first-class protocol along with protocols such as NFS, SMB and Hadoop Distributed File System.
Hitachi Content Platform (HCP)
This object storage system can be purchased as a physical appliance, virtual appliance or software-only product. HCP offers an all-flash physical appliance that can store up to 46 TB of data per node. The platform includes native REST and S3 interfaces, but it also supports NFS and SMB for legacy applications. HCP storage includes built-in compression and provides multi-tenancy, with configurable attributes for each tenant. Customers can assign tenants to different IP networks and further subdivide them into thousands of namespaces.
NetApp StorageGrid
StorageGrid is software-defined, object-based storage that includes an all-flash appliance, which can handle up to 182.4 TB of raw capacity. StorageGrid supports the S3 and OpenStack Swift object access protocols. It also provides a NAS protocol bridge for SMB and NFS access, while enabling object access to these files via S3. At the same time, customers can take advantage of S3 capabilities such as object tags, object versioning, multi-part uploads and cross-origin resource sharing.
Pure Storage FlashBlade
This all-flash, cloud-optimized file and object storage provides native support for NFS, SMB and S3. The Purity 3.0 for FlashBlade software -- Purity//FB 3.0 -- powers the platform, providing features such as file replication, object replication, file system rollback, NFS v4.1 Kerberos, audit logs and Simple Network Management Protocol support. FlashBlade uses massive parallelism to increase performance and deliver tens of billions of files and objects. A FlashBlade chassis can house up to 15 blades, with each blade delivering up to 52.8 TB of raw storage.
Scality Ring
Scality Ring is storage software that can deliver scale-out file and object storage on a single platform. The latest version, Ring8, has added support for all-flash storage. Ring8 can be deployed on standard x86 servers and scaled across thousands of servers and multiple sites, while providing a single, distributed system that can support petabyte-scale workloads. Ring8 offers integrated support for NFS, SMB and S3, delivering the same performance across all three interfaces to address the needs of both legacy and cloud-native applications.
Vast Data
Vast Data is an all-flash data platform that employs state-of-the-art technologies such as NVMe-oF, quad-level cell flash, storage class memory and S3 connectivity. It's built on a disaggregated, share-everything architecture that can scale to petabytes, with direct access to an exabyte-scale global namespace. Each rack unit can manage up to 1 PB of data. NVMe storage enclosures scale independently of the servers. The servers are stateless and never require data reconstruction in the event of failure, each operating independently but sharing the global namespace.
WekaIO Weka
Weka is a software-only offering that runs back-end servers connected to flash storage. Weka is optimized for NVMe and the cloud, and it supports both file and object storage. The Weka deployment creates a sharable file system that enables application servers to access Weka storage as though connected to a local drive. It can handle files of any size, with support for both random and sequential workloads. Weka can be deployed on standard x86 infrastructure as a dedicated storage server or integrated into the application cluster.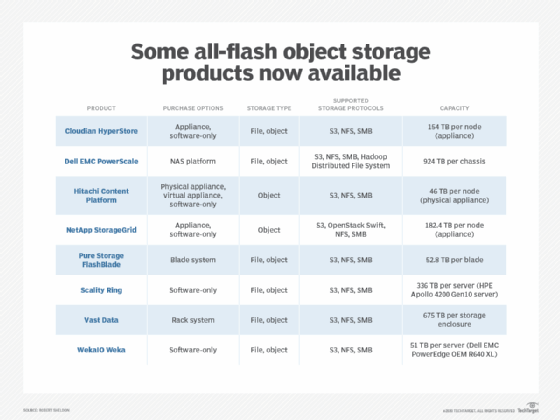 Moving toward all-flash object storage
As the line steadily blurs between object storage and traditional systems such as NAS, object storage will become more prominent in the enterprise, especially with the proliferation of SSDs. No longer limited to data backups and archives, object storage is steadily expanding into alternate uses such as AI, machine learning and data analytics, which rely on massive amounts of unstructured data. At the same time, the object storage model is well suited to cloud-native applications, making it easier to support modern workloads and implement multi- and hybrid-cloud strategies, while driving down the per-gigabyte cost of enterprise storage.
Dig Deeper on Storage architecture and strategy