pixel - Fotolia
Using on-premises object storage beyond secondary storage
On-premises object-based storage is replacing traditional storage in areas such as streaming, big data and IoT. Get the latest on how this technology is being used.
Don't look now, but on-premises object storage is being used for more than just secondary storage. It's easy to see why many storage managers still view it mostly in terms of secondary storage, since the technology fills the role previously dominated by tape, the longtime go-to secondary storage media. Yet, on-premises object data storage offers opportunities that extend far beyond tape backups.
With on-premises object storage, data can be accessed in milliseconds, not minutes. The technology offers streaming performance that can grow along with the system, a leading reason why it now provides back-end storage for video services, such as Netflix and Amazon Prime.
Additionally, since object storage supports rich metadata tagging, data is easily searchable. "Those metadata tags can be enriched with analytics tools to increase the value of data, making object storage ideal for big data and data science projects," said Jon Toor, chief marketing officer of enterprise data storage technology provider Cloudian.
And, finally, since on-premises object-based storage is deployed on industry standard servers, it's typically less expensive than SAN or NAS technologies.
The security factor
Beyond streaming, object storage is widely used by enterprises in many different industries, including healthcare, finance, education and public sector organizations, to improve scalability and enhance data security. "By deploying an on-premises object storage platform, enterprises gain a higher degree of control over their mission-critical valuable data, which isn't possible when data is stored in public cloud storage," said Preeti Wadhwani, analyst with technology research firm Global Market Insights.
By deploying an on-premises object storage platform, enterprises gain a higher degree of control over their mission-critical, valuable data, which isn't possible when data is stored in public cloud storage.

Preeti WadhwaniAnalyst, Global Market Insights
Banks frequently use the technology to meet security and other compliance obligations. "Servers are present on-site in a particular bank branch for data handling and record-keeping purposes," said Michael Astashkevich, CTO of software development firm Smart IT. The servers are typically connected to a network that's only accessible to authorized users within the branch. "The obvious advantage," he noted, "is the level of security this guarantees." Branch staff members are directly responsible for routine support and operation; external personnel are given only limited access to the system and its data.
IoT and beyond
IoT is also driving adoption. "Enterprises can achieve high business productivity and gain new efficiencies by utilizing the growing amount of data generated through various IoT sensors, AI and application software," Wadhwani said. "This increasing data generation is leading enterprises to select the right storage architecture for effective data storage, management and analysis." More often than not, on-premises object storage is the technology chosen.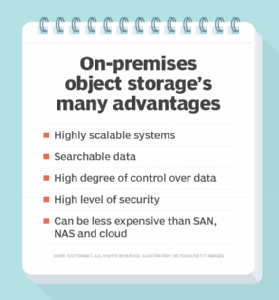 Whatever the use case, when compared to cloud-based object storage, the technology enables faster data recovery, ensures high data durability and is usually more cost-effective than public cloud storage, Wadhwani noted. It also excels at file sync and share, enabling teams to access the same data from any geographic location in a way that's secure and complies to all regulations. "This fosters much better collaboration, which is important for a variety of uses cases, from data science to editing documents," Toor explained.
Drawbacks
While object storage deployed on premises generally delivers high scalability, resilient security and greater control over valuable data, adopters also likely face higher procurement and maintenance costs because of the upfront expense of deploying physical storage appliances.
"Another drawback of object storage is that objects can't be updated partially," Wadhwani observed. As a result, on-premises object storage tends to be most suitable for storing data sets that don't require frequent updates.
On-premises object storage is also a poor choice for storing transactional data. "It's not suited for applications that put a premium on response time," Toor said. "But, for all other types of applications, organizations can start with a small deployment to get a feel for the technology, then easily scale out as they need." For maximum storage flexibility, Toor suggested focusing on platforms that are fully S3-compatible and that support hybrid deployments capable of integrating with the major public clouds.
Getting started
Wadhwani predicted that object storage deployed on premises will soon become a mainstream primary storage technology. "The on-premises object-based storage approach is rapidly replacing traditional storage due to the growing need to handle the large amounts of data generated from web apps and IoT use cases," she said. "With increasing deployment of technologies such as AI and automation in use cases such as smart cities and factory automation, scalable and cost-effective on-premises object data storage solutions are likely to witness high adoption over the next five years."