Share this item with your network:
Managing and protecting all enterprise data

Fotolia
Enterprise file sync-and-share market evolves as adoption expands
Most EFSS products unify communications, collaboration and content management tasks well beyond the technology's initial file sync-and-share functionality.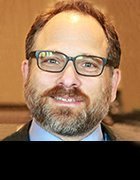 By
The enterprise file sync-and-share market is growing as adoption of those tools expands to incorporate broader content management and collaboration functionality.
Gartner predicted that 80% of large and midsize organizations will deploy content collaboration platforms as part of their content productivity strategy by 2020. And, according to Forrester, 56% of security decision-makers surveyed said their firms have implemented a secure file-sharing tool on premises or in the cloud, with another 19% intending to do so in the coming year.
As more organizations turn to the enterprise file sync-and-share market, vendors offering the technology have expanded their products beyond their original file-sharing function. Most enterprise file sync-and-share (EFSS) offerings unify communications, collaboration and content management tasks for individuals and workgroups in some manner. To reflect these developments, Gartner changed the name of its "Magic Quadrant for Enterprise File Synchronization and Sharing" to "Magic Quadrant for Content Collaboration Platforms" for 2017.
In its look at the enterprise file sync-and-share market, TechTarget found 41% of those surveyed turn to enterprise content management (ECM) or document management, such as SharePoint, to address their enterprise file sync-and-share needs. Thirty-one percent use an in-house or custom-built app for that purpose, and 26% some other managed file transfer, EFSS or cloud-based ECM approach. The remaining 20% don't use any type of EFSS.
What enterprises want
Nearly half (49%) of those making a new or additional EFSS purchase are considering a hybrid on-premises and off-premises EFSS service. Another 38% may go on-premises private cloud, 33% off-premises hosted (software as a service), 25% off-premises hosted (non-software as a service), 21% off-premises public cloud and 18% on-premises hosted for EFSS.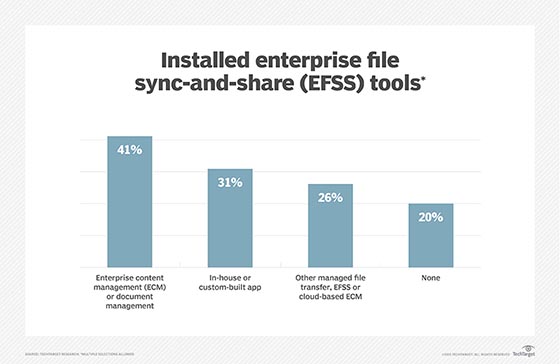 Meantime, 35% of respondents primarily use cloud storage services for collaboration or file sharing, while 15% of those who recently made cloud storage buys plan to use the added capacity for those purposes. Twenty-one percent of those surveyed already have cloud-based EFSS deployed, while another 16% said they intend to buy cloud-based EFSS as they turn to the file sync-and-share market for the first time in the next 12 months.
The main reasons that enterprises go the EFSS route for file sharing and collaboration are an increased need for collaboration tools (48%), higher levels of security for file sharing (43%) and support for mobile access to corporate documents (41%). Another 36% said they wanted simpler access to shared files outside the internal network and virtual private networks, and the same number cited a need to centralize management, log records and control. Thirty percent said they wanted to discourage or prohibit employees from using unauthorized file sync-and-share services.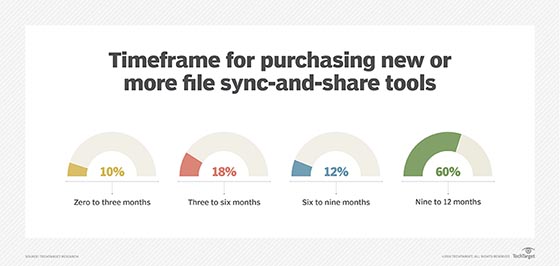 Interestingly, only 12% of respondents cited dissatisfaction with prior enterprise collaboration tools or services as a reason effecting their EFSS decision
Solving problems
Forty-six percent of respondents work within a regulated industry that has special EFSS compliance requirements. When asked which business problem they want to solve through EFSS adoption, 49% said they aim to improve file syncing and sharing while centralizing content access; 44% said they want to enhance the employee mobile experience; 36% are addressing file security and access; and 33% seek to eliminate or reduce the number of content silos and get some control over content chaos. Adhering to regulatory compliance and e-discovery requirements and facilitating search, access and discovery of documents each were mentioned by 30% of respondents.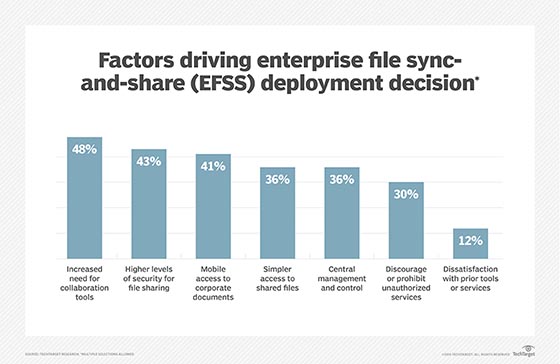 Other reasons included developing an effective content reuse and information governance strategy (28%), enhancing integration with core business apps (26%), facilitating a company merger or acquisition (20%), and setting up and managing workflow alerts and approvals (16%).
A clear majority (61%) said the most important feature for choosing an EFSS product is its ability to integrate cloud storage with on-premises storage. Support for cloud-based file sharing and collaboration was second (51%), followed by web-based access to files (48%), synchronization of files across multiple devices per user (46%), encryption of files in transit or at rest (38%), support for centralized administration of all user accounts (36%), granular or role-based access controls with Active Directory or Lightweight Directory Access Protocol integration (36%), cloud storage integration with installed software such as backup applications (33%), file synchronization across multiple office locations (33%) and mobile OS support for iOS or Android devices (30%).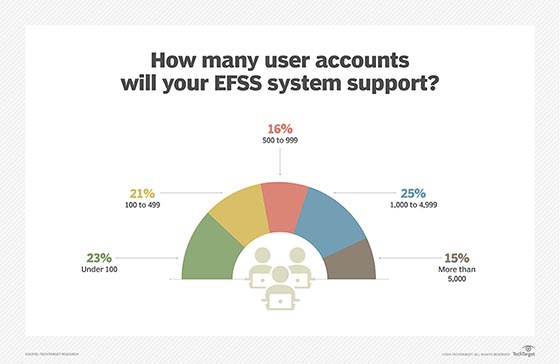 Most (61%) intend to deploy recent EFSS purchases across the organization, while 28% said the IT department will use the product. The remaining individual departments come in at much lower percentages, ranging from 10% (marketing and operations) to 3% (customer service and production) with the CEO and COO, finance, distribution, sales and R&D landing somewhere in between.
About a third (30%) plan to purchase directly from vendors or manufacturers in the enterprise file sync-and-share market. Another 19% plan to go through a reseller, and 28% intend to use both purchase methods. A third (32%) haven't decided how they will buy the technology.
Nearly half of respondents (48%) haven't considered buying technology or services other than EFSS to support their project. About a quarter (26%) considered hiring an IT consultant or pre- or post-implementation service. Another 24% may add storage hardware, 20% are looking at adding server hardware and 16% are considering buying more networking.