maxkabakov - Fotolia
Box Shield, mobile app upgrades on the way
Among a slew of coming upgrades, Box Inc. goes after Microsoft's government business with FedRAMP High certification.
Box Inc. plans to roll out numerous features later this year to make remote work go more smoothly on desktops and mobile devices and to build online workflows that were previously performed in person.
The cloud content management provider also appears to be going after Microsoft's government stronghold with new security certifications, compliance tools and Box Shield data security updates.
On the remote-work front, Box plans to roll out document annotations in its iOS and Android smartphone and tablet mobile apps later this year; iPad users also will get support for the Apple Pencil, to support free-form markups and handwriting recognition.
Joint users of Box and Microsoft Teams will be able to assign a Box folder to sync with a Teams chat for collaboration, and owners can quickly provision access to team members inside and outside their company. A new Zoom integration will be able to launch a meeting straight from a Box document page.
Taken separately, the new Box features aren't earth-shattering, but Deep Analysis founder Alan Pelz-Sharpe said that with each one, Box is making its platform "stickier" by making it more conducive to its users' remote work. Making it stickier, of course, drives cloud subscription renewals and attract more users in the long run.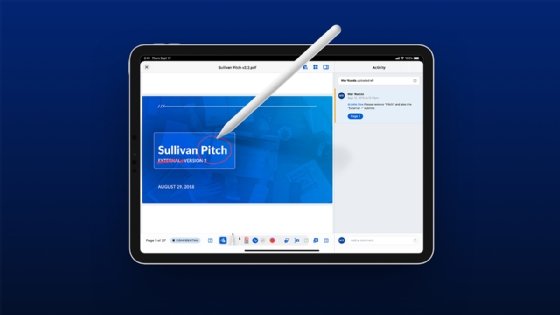 "I had four Zoom calls yesterday; we struggled on every single call to share things. This morning I was on a Teams call and the guy was trying to share a conference agenda with me and he ended up emailing it," Pelz-Sharpe said.
He said any Box features that make it more user-friendly, particularly in non-Microsoft environments, make good sense.
"Microsoft is the big cheese, but there's a big balance of people who aren't going to use that every time," he said. "They're going to stick with Apple; they're going to use Android."
Box Shield, Box Relay enhancements coming
Box's security add-on, Box Shield, features malware detection, employs file-sharing restrictions and security protocols for investigators to examine suspicious files that Box quarantines. An upcoming feature scheduled for release early next year will allow front-line employees to request exceptions for file-sharing policies, which can then be approved by compliance teams and documented for auditing purposes down the line.
"This is our way of removing the friction where you still have the security controls, but if there's a business need they don't get in the way and stop that," said Varun Parmar, Box SVP and Chief Product Officer.
Box plans to enhance its automated document workflow feature, Box Relay, used by departments such as sales and HR to push forms, RFPs, sales proposals, contracts and other files that typically have a linear approval process once they're filled out. The new addition will be templates for common types of documents that Box admins can publish to their companies, with security controls for sensitive information.
Box courts government agencies
Remote work during this year's pandemic boosted Box's business. The company reported second-quarter 2020 revenues of $192.3 million, up 11% from the same period last year. There are nearly 100 vendors that do what Box does -- enterprise file synchronization and sharing (EFSS) -- but Box, Dropbox, Google and Microsoft are the dominant leaders, followed by a handful of others such as Syncplicity, Egnyte, Citrix and OpenText, Pelz-Sharpe wrote in Deep Analysis's recent report, "EFSS is Dead. Long live EFSS!"
The EFSS market will grow from about $4 billion now to about $10 billion in 2025, Pelz-Sharpe predicts. One of the major users of EFSS is federal government agencies, which cling to Microsoft SharePoint. While Microsoft continues to push for customer migrations to its more modern OneDrive cloud, Box is making a case for its platform with new encryption certifications such as FedRAMP High.
"SharePoint checks off all the boxes, and it's Microsoft, but nobody likes SharePoint -- it's not easy to use, it's very difficult to administer," Pelz-Sharpe said.
"If you simply have to spin up SharePoint for a new department, now there's a new option that's a lot more lightweight, easier to use and easier to admin."
Box revealed the upcoming features -- and others such as GxP validation specific to life sciences IT -- in advance of its BoxWorks Digital, the online version of its annual user conference. While some of the features such as FedRAMP certifications are available on the higher-level enterprise subscription ($35 per user, per month), other new features, such as app integrations, are available on lower-level Box subscriptions.
Dig Deeper on Content management software and services