Getty Images/iStockphoto
OpenText bolsters secure file sharing with Teams integration
OpenText Cloud Editions customers get Teams-Core integration among a raft of new features, as OpenText kicks off 'Project Titanium' to harmonize public and private cloud features.
Secure file sharing means more than encryption to protect from would-be outsider threats -- it includes protecting employees from accidentally passing sensitive information to co-workers who don't have privileges to see it.
That's all more complicated in the era of cloud document sharing, when files can be uploaded to collaboration platforms such as Microsoft Teams. Where does a file go by default when someone shares it in Teams? SharePoint, unless the enterprise maps it elsewhere.
"Many customers have told us that's not what they want," said Muhi Majzoub, executive vice president and chief product officer at OpenText, discussing the latest output of his company's partnership with Microsoft. "The goal of the partnership is to build connectivity so that OpenText Core Content, OpenText Documentum and the OpenText Content Suite become a storage option that users can set by default."
OpenText joins competitors -- such as Box -- in releasing a Teams integration where its various document clouds can provide the backbone for Teams document sharing. All the compliance and access controls users set up in Core and other OpenText secure file sharing clouds remain in place as employees share docs across Teams channels.
Microsoft cooperating with competitors on Teams document sharing is good for business, despite its own competitive interests with OneDrive and SharePoint secure file-sharing tools, said Alan Pelz-Sharpe, founder of Deep Analysis. The document cloud market is so enormous, companies such as Box and OpenText -- which respectively work with medium-to-large and the largest of companies -- could "grow another billion dollars and not touch each other," he added.
Majzoub said he has not yet heard any call from OpenText customers for similar integration of its enterprise document clouds with Slack, the biggest Teams competitor. That makes sense, Pelz-Sharpe said, because many people use Slack to collaborate and not as a content repository. But that may change quickly in the future as Slack and Salesforce meld their features and capabilities.
"A lot of people use Salesforce as their system of record; that's reality," Pelz-Sharpe said. "Salesforce, by default, is an enormous document management system."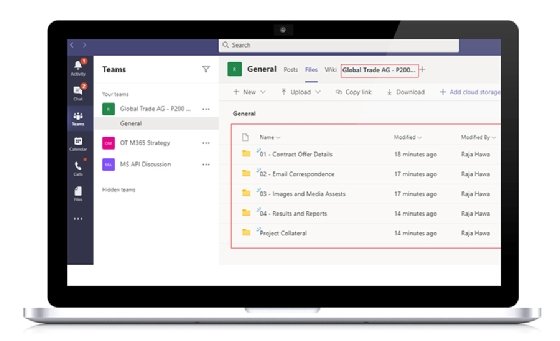 Other OpenText features drop
OpenText released its Teams integration as part of Cloud Editions (CE) 22.2, the quarterly update to its cloud-based enterprise information management application suite. CE 22.2 also kicks off Project Titanium, an internal code name for OpenText's development efforts to catch up its public-cloud offerings -- features-wise -- with its private OpenText Cloud.
More data privacy compliance tools for the U.S., Canada and Europe will be coming to public-cloud users. That's become more important as more OpenText customers move their enterprises to particular public-cloud environments. While OpenText continues to partner closely with Google Cloud, many customers also choose AWS and Azure for their cloud, Majzoub said.
Project Titanium also includes OpenText Cloud users, as well. OpenText has released new capabilities to more quickly open new OpenText Cloud data zones for customers, when needed, to achieve parity with public cloud providers.
Other features OpenText released in CE 22.2 include tools for healthcare customers to track devices and custom reports for Risk Guard, a tool that scans networks for user-defined offensive or prohibited content.
Also released was customer information lifecycle management tools that promote regulatory compliance for financial services users. That feature comes with integrations to CRMs such as Salesforce, to enforce compliance with user policies across sales applications outside of OpenText.
Don Fluckinger covers enterprise content management, CRM, marketing automation, e-commerce, customer service and enabling technologies for TechTarget.
Dig Deeper on Content management software and services