Nabugu - stock.adobe.com
OpenText's Aviator AI services 10 years in the making
OpenText's AI services for content, operations, DevOps, security and digital experience represent a blend of homegrown, acquired and licensed technologies.
OpenText users will get access to Aviators, a line of AI-powered automation services previewed earlier this year, starting today. Much in the spirit of Salesforce's AI tools, the Aviators automate single tasks or a group of tasks within an application.
The AI Aviators come with the release of the fall update to Cloud Editions, the cloud versions of OpenText's applications and services suite. They are grouped into six general categories: IT Operations Aviator, for IT service management; DevOps Aviator, for authoring and testing software; Content Aviator, for searching for enterprise information using natural-language AI; Experience Aviator, for customer communications, marketing and service; Cybersecurity Aviator, for adding AI to threat detection; and Business Network Aviator, for AI analysis and text generation for supply chain applications.
Most of the tools are available now, with the remainder to come between now and January, said OpenText executive vice president and chief product officer Muhi Majzoub. They generally come as subscription add-ons to existing OpenText products.
Some of the tools deploy generative AI to automate text creation. Others use analytics-based AI to surface trends to which users can respond. Still others, such as Content Aviator, deploy large language models to understand user questions and deliver more accurate results. Many Aviators combine AI technologies to automate a particular operation, such as how OpenText's Magellan AI works with Vertica analytics, acquired from Micro Focus, to create data visualizations.
The tactical deployment of Aviators across OpenText Cloud Editions is an effective way to take the broad capabilities of AI and give users specific business use cases, one of which is the automation of wording, filing and solving a service ticket, said Mark Beccue, a Futurum Group analyst. While the idea of AI intrigues software buyers, it needs to address the bottom line.
"[They're] very, very specific examples of applications where you take AI and make them better," Beccue said.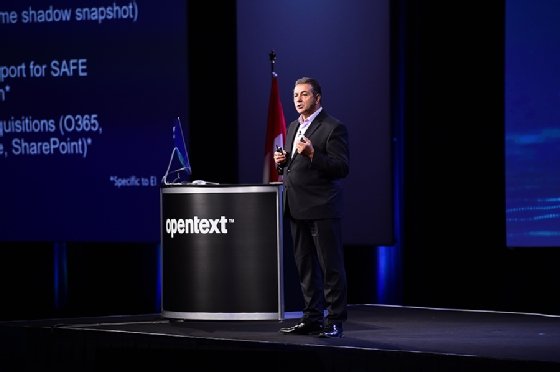 OpenText early to market with AI
The Aviator AI launch is the culmination of a decade of development in the automation, machine learning and AI realms, Majzoub said. He noted that the earliest AI that OpenText deployed was for content capture, followed by automations in legal applications.
Some of the technology powering the various Aviators are homegrown, others were acquired, and still others licensed from providers such as Google. OpenText's future plans include opening up Aviator services to users.
"This is the first release," Majzoub said. "We're going to add to what we have. We have a vision of what other things the Aviators could do, [such as] integrating to other LLM 's and other data sources."
OpenText, along with IBM, were among the earliest leaders in enterprise AI, Deep Analysis founder Alan Pelz-Sharpe said. In fact, they might have been too early. While AI has been advanced enough to perform the work, most enterprises are behind in standardizing data to feed into AI systems. OpenText has built the foundational technologies to enable that too.
"Though interest in enterprise AI is soaring, adoption is still slow. OpenText is well positioned now to make progress," Pelz-Sharpe said. "The OpenText portfolio contains many of the essential tools and technologies to prepare and ready data for AI. … That clean-up exercise will be huge and could be a goldmine."
Among the Aviator AI services OpenText released, Majzoub said that content tools for enterprise AI search will likely be the first to be adopted widely considering the thousands of OpenText customers on Documentum Extended ECM, many of them deeply integrated with SAP applications.
Customers also have shown early interest in generative AI for marketing and customer communications as well as AI for cybersecurity, Majzoub said.
Users of OpenText's customer support and identity management applications may also be among the earliest Aviator adopters, Pelz-Sharpe predicted.
OpenText's AI Aviator services were released in conjunction with OpenText World 2023 in Las Vegas this week.
Don Fluckinger covers digital experience management, end user computing, and assorted other topics for TechTarget Editorial.