Oleksiy Mark - Fotolia
OpenText releases Cloud Editions content services updates
OpenText CE 21.2 includes federated document compliance that extends to Microsoft Office 365, along with a revamped content services platform and other feature releases.
OpenText released Cloud Editions 21.2 of its enterprise content services suite in conjunction with its OpenText World Europe virtual conference on Wednesday.
Two new cloud services top a long list of new features. The first, Core Content, is a document management system offered as a multi-tenant public cloud service. It comes with integrations to large platforms such as SAP and Salesforce, as well as with most OpenText applications.
Organically built by OpenText and available April 23, Core Content includes popular features from other OpenText applications, such as advanced metadata classification found in Documentum, which OpenText acquired, and digital signatures. Core Content integrations with Infor, ServiceNow and Workday are to come, said Muhi Majzoub, executive vice president and chief product officer at OpenText.
The second is Core Case Management for industries that organize interactions with individuals and customers as cases, such as healthcare, insurance, financial services and IT help desks. Like Core Content, Case Management takes document storage, workflow and template features found in OpenText applications and aggregates them into a cloud service. It will be available May 7.
Among the other features OpenText plans to release in the next few weeks is Core for Federated Compliance. The tool takes document governance that users establish in Core document repositories and extends them to Microsoft Office 365. It maintains access controls and other rules across OpenText and Microsoft repositories simultaneously, including SharePoint and OneDrive.
Core for Federated Compliance might not be as glamorous as massive new cloud services, said Alan Pelz-Sharpe, founder of Deep Analysis, but he predicted it will be widely used.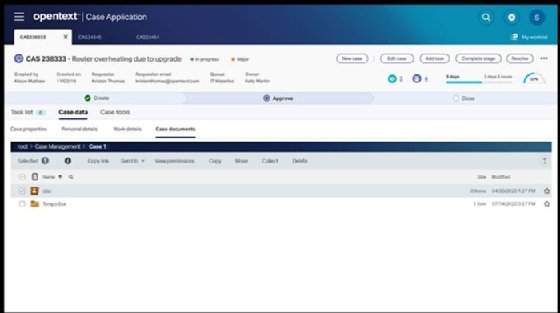 "Records management doesn't get the headlines -- it's not very exciting, but it's important," Pelz-Sharpe said. "That's quite an announcement."
Security takes center stage
Majzoub said the pandemic's remote-work requirements required adjusting OpenText's product roadmap to prioritize new tools to address security risks of remote work.
Records management doesn't get the headlines -- it's not very exciting, but it's important.

Alan Pelz-SharpeFounder, Deep Analysis
"Overnight, the world became virtual and the CIO lost control of the network boundaries," Majzoub said. "Employees can be anywhere in the world now. My employees are in hundreds of locations, sitting at home, with different endpoints, routers and service providers."
OpenText, which has acquired numerous security technologies in the last decade, including Guidance Software and Carbonite, has a tool on tap that backs up and restores computers within hours if they're hit with ransomware. Other new features include updated threat intelligence scoring for URLs and IP addresses; the current version executes hundreds of billions of calls per month to sort out threat sites from legitimate pages, Majzoub said.
OpenText continues to build functionality into its nascent Experience Cloud. In CE 21.2, OpenText adds features for media management such as video annotations that enable collaboration between video editors and teams in legal or marketing that review content before it goes live. Another feature allows users in the oil and gas and construction engineering verticals to allow viewing and zooming maps 1,000% without downloading them to mobile devices or laptops.
That solves a longstanding problem for engineers that can be a sticky issue in the field, where bandwidth can be short and users don't necessarily need a full map or CAD document to access a piece of information they need, Pelz-Sharpe said.
OpenText Enterprise World Europe runs through Thursday.
Dig Deeper on Content management software and services