Getty Images
OpenText to add email encryption, developer tools, O365 hooks
OpenText intends to acquire Zix email security technology to broaden its portfolio, adds developer tools and connects OneDrive competitor OpenText Core to Office 365.
OpenText added more features to its Cloud Editions 21.4 fourth-quarter update. With the planned acquisition of Dallas-based email encryption company Zix for $860 million cash, email security features may soon follow.
OpenText does not have email encryption across its wide portfolio of enterprise content management, document security and process automation tools and applications, so Zix fills a gap. The deal is expected to close within 90 days.
"When we announce the closing of the acquisition, we will very quickly come up with plans for how we'd integrate and which areas it supports," said Muhi Majzoub, OpenText executive vice president and chief product officer. "When the acquisition closes and this product becomes part of the OpenText portfolio, it will be a new product that we could integrate into many areas, including threat intelligence and document management."
Tech acquisition prices have gone sky-high since last year as stock prices soar and many companies are flush with cash. Recent deals in the customer experience industry, for example, include Slack (almost $28 billion), SurveyMonkey ($4 billion) and MailChimp ($12 billion). In comparison, Zix is a "good deal," said Deep Analysis founder Alan Pelz-Sharpe, probably in part because the email encryption company that caters to small and medium-sized businesses wasn't profitable. OpenText must take on Zix's estimated $200 million debt.
The Zix acquisition, Pelz-Sharpe predicted, will slot right into the OpenText product universe and fill an immediate need for its customers, some of which are large enterprises who didn't support full-time remote workers before 2020.
"They have a lot of customers that maybe didn't allow remote work before and sent their employees home," Pelz-Sharpe said. "Suddenly, there's a need among a mass of OpenText customers to employ email encryption."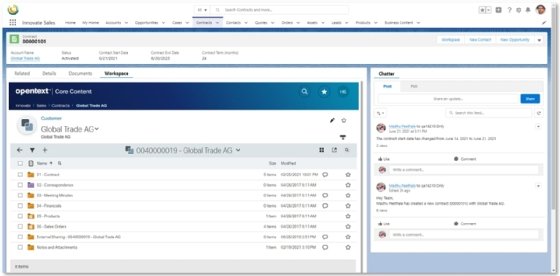 Cloud Editions 21.4 adds O365, Google integrations
While OpenText released numerous Cloud Editions 21.4 features last month, more will be revealed on Tuesday at the company's OpenText World virtual user conference. Among them is an integration with Google Marketing Platform, mostly an advertising and analytics cloud, to enable media management and high-volume email campaigns. OpenText has integrated its customer data platform with Google Marketing Platform, as well as its TeamSite web content management platform. This release is the latest in a years-long partnership between OpenText and Google Cloud that started in 2019.
Suddenly, there's a need among a mass of OpenText customers to employ email encryption.

Alan Pelz-SharpeFounder, Deep Analysis
Also new to OpenText Cloud Editions are developer tools for the OpenText Developer Cloud, which include API services and new consumption-pricing models as well as an improved developer site that consolidates available services that previously were spread across many sites.
Developers, Majzoub said, typically build apps that are connectors between OpenText applications and other applications on their networks to automate workflows. Increasingly, however, they're building apps to tap into OpenText content services such as data security, document scanning or Intelligent Capture, which applies optical character recognition and machine learning classification to document ingestion processes.
Also new to Cloud Editions is an integration between Microsoft Office 365 and OpenText Core Content, a OneDrive and Box document cloud competitor. Pelz-Sharpe said that while Microsoft tries to induce Office365 users to store their files in OneDrive, many organizations whose enterprise content operations are built on OpenText or its competitors will never rip and replace massive online document repositories with OneDrive, so Microsoft must give its customers what they need: flexibility to save content where they want it, where they've set up their compliance and security workflows.
"Based on feedback that I've heard from [our] customers, they have been telling Microsoft that they don't want the content always stored in a Microsoft system," Majzoub said. "Their content strategy is to store in content suite in [OpenText] Documentum and Core Content. They want to keep that strategy, they want to drive it for the whole enterprise, and they don't want to be forced to store the content in OneDrive or SharePoint."
Don Fluckinger covers enterprise content management, CRM, marketing automation, e-commerce, customer service and enabling technologies for TechTarget.
Dig Deeper on Content management software and services