sakura - Fotolia
OpenText-Google partnership expands due to Anthos
OpenText invests heavily to support Google Cloud migrations in the wake of Google Anthos container environment introduction earlier this year.
TORONTO -- While OpenText wants to make it clear its customers are free to host their applications and data in any cloud that works for them, an OpenText-Google Cloud partnership gives customers more tools to containerize and migrate to Google.
Today at the OpenText Enterprise World conference, the vendor, based in Waterloo, Ont., made available containerized versions of Content Server, Documentum, InfoArchive and Archive Center for Google Cloud Platform.
Part of the reason the vendors deepened the OpenText-Google strategic partnership from seven months ago and added the four new container integrations was because of the evolving Google Anthos hybrid cloud application management platform, said Savinay Berry, senior vice president of cloud services at OpenText. That, and it meshes with OpenText's customer needs, which tend toward the hybrid on-premises and cloud integrations.
"It's entirely aligned with OpenText's vision that hybrid cloud is really the destination point for most [customers]; pure public cloud is not where these organizations will reside," Gartner analyst Michael Woodbridge said. "Hybrid cloud is more likely, especially for these systems of record OpenText is a key supplier of."
OpenText betting big on Google
While some application platform vendors like to spread their allegiances between Amazon, Google and Microsoft, Berry said that Google is OpenText's preferred cloud partner, and that OpenText will concentrate development resources on Google Cloud and its own cloud.
We also want to have a stronger and tighter relationship with Google so that we can provide a single SLA to our customers.

Savinay BerrySenior vice president of cloud services, OpenText
One way will be with a new disaster recovery setup in which OpenText private cloud applications and data can be backed up to Google Cloud, which some OpenText customers may need for regulatory compliance. Another will be with a standard set of service-level agreements (SLAs) negotiated by OpenText with Google guaranteeing services such as uptime.
"We want to provide our customers with the ability to deploy anywhere they want, in our cloud or whether it's to AWS and Azure and Google Cloud Platform," Berry said. "But we also want to have a stronger and tighter relationship with Google so that we can provide a single SLA to our customers for the service they're getting from us."
That isn't to say OpenText is giving up on its private cloud, either. Berry said the company is approaching $1 billion (USD) in OpenText Cloud revenues, hosting 37 data centers spread across nine different countries.
AI connections also part of Google-OpenText plan
The expanded OpenText-Google partnership will also include integrating with Google's popular AI and machine learning tools and developing vertical-specific tools for OpenText products. OpenText will start with industries such as financial services, media and entertainment, healthcare and public sector for these AI integrations.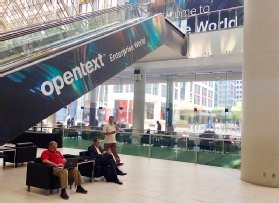 While OpenText has its own Magellan AI tools, Gartner analyst Lane Severson said the general movement among application platform providers is to offer customers a choice of various vendors to customize machine learning algorithms for their content and business application workflows.
"Content platform providers realize that the variety of types of content require a variety of AI tools," Severson said. "The tool that you use for a text-based content object is much different than the one you'd use for an audio-, video- or image-based object."