itestro - Fotolia
New OpenText CE apps, services roll out
OpenText containerizes its applications for cloud deployment; adds raft of content services and features for customer experience support, security, and app development.
OpenText users will, within weeks, be able to run cloud-native containerized versions of OpenText applications on AWS, Azure and Google Cloud. Among a host of new products, the company released Cloud Editions, which will run on most public cloud platforms.
OpenText CE, previewed last summer, is the latest step in migrating OpenText customers from on-premises enterprise information management systems to the cloud. OpenText runs content services such as electronic signatures, OCR and content extraction, collectively called OT2, on its own cloud. OpenText CE applications can run on public cloud providers, including AWS, Azure and Google Cloud, with which OpenText has a deep partnership.
The OT2 services represent OpenText's first true foray into SaaS beyond its Core enterprise file-sharing site, Gartner analyst Michael Woodbridge said. The company has yet to create a true content management platform-as-a-service offering.
While it might sound like it's behind competitors such as Box that started in the cloud, OpenText is on par with other mature enterprise content management offerings from companies such as IBM and Hyland, which also are coaxing reluctant customers toward full SaaS and PaaS, he said.
"They're all in that space, which is different from maybe the newer entrants in the market," Woodbridge said. "OpenText has not been on the cutting-edge, but I think that relates to what a lot of their customers want."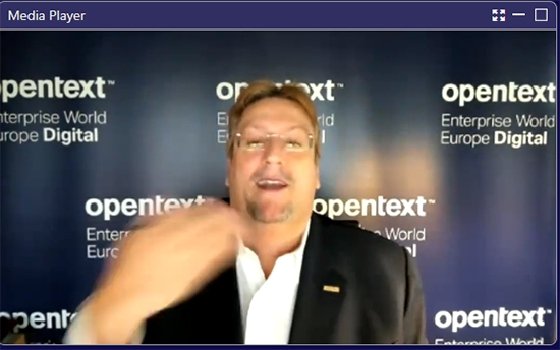 OpenText has not been on the cutting-edge, but I think that relates to what a lot of their customers want.

Michael WoodbridgeAnalyst, Gartner
Low-code app platform goes live
Among the highlights were OpenText CE updates to Documentum and OpenText Content Suite Platform, available now, which also include deeper hooks into SAP's Fiori UI and Microsoft Teams collaboration application; OpenText's Media Management and Exstream, two applications that orchestrate content with marketing automation and personalization tools, will be available later this month. In addition, AppWorks, a low-code app dev environment for apps and process-automation for OpenText users to connect content between applications, will be available next week, said Muhi Majzoub, chief product officer.
Both Majzoub and CEO Mark Barrenechea mentioned OpenText's recent Carbonite acquisition at the company's Enterprise World Europe virtual user conference this week. The company plans to reinforce its endpoint security and backup services with assets from that acquisition, they said.
However, the endpoint security product's features released for this quarter, including support for security investigations of Apple devices with the T2 security chip, mainly came from OpenText's 2017 Guidance Software acquisition.
Customer cloud migrations still work in progress
While many OpenText customers are in the process of migrating legacy IT infrastructure to the cloud, others will remain at least partly on premises for some time and OpenText will keep supporting them, Majzoub said in an interview.
"We are a hybrid [cloud] company," Majzoub said. "We continue to deliver our software in ways that customers can deploy in an on-prem, off-cloud fashion. We have had many customers who continue to choose the off-cloud capabilities and want [it] sitting in their own hardware, in their own locked cages, in their own building, in their own data centers."
The content management vendor made the announcements at OpenText Enterprise World Europe Digital, a virtual edition of its annual live user conference that was moved online due to COVID-19 health and safety precautions.
In a move to encourage cloud migration, Barrenechea said that licensing would be loosened and simplified to allow end-users to move between OpenText cloud and on-premises instances of an application without paying for licenses on both.
"You don't need to go buy another license to go run in the OpenText Cloud," Barrenechea said during his keynote for the virtual event. "We look forward to engaging on this, whether it's a fresh start for new projects, continuing to use off-cloud apps, whether you're connecting into the Microsoft environment, it's bring-your-own-license."
Dig Deeper on Content management software and services