WavebreakMediaMicro - Fotolia
OpenText cloud editions to replace on-prem apps
OpenText cloud editions are on the way for on-premises apps, including content services, AppWorks, security and business apps.
TORONTO -- OpenText cloud editions of its on-premises applications, christened OpenText CE, are on the way.
OpenText CE versions of its Enterprise Information Management (EIM) Suite will be deployable on the OpenText cloud or other public clouds, such as Google Cloud Platform -- a partner of OpenText's -- Microsoft Azure or AWS, in April 2020, the company said. That will include content services, the AppWorks platform, AI and business applications.
It represents a major shift in software development philosophy for the company.
"We weren't born in the cloud, but we are reborn cloud," said CEO and CTO Mark Barrenechea today in his OpenText Enterprise World user conference keynote. "We don't compete with an Amazon or Azure ... we want to focus on the CIO and partner with internal IT [departments], because we can run OpenText better than you can, at half your internal cost. We know it; we wrote it."
All OpenText EIM Suite applications in their previous EP5 and current EP6 releases are already containerized and certified to run in the Google, AWS and Microsoft clouds, said Muhi Majzoub, executive vice president of engineering and cloud services at OpenText, based in Waterloo, Ont. OpenText CE versions will be continuously updated on a quarterly development schedule -- far more frequent than previous cycles. Deployment tools will assist on-premises customers in keeping up with the updates.
On-premises customer support continues
OpenText's product offering spans enterprise and web content management, endpoint security, AI and document collaboration, as well as vertical-specific tools for sectors such as finance and legal departments. Many of them remain on premises for reasons such as compliance, or feature a hybrid mix of cloud and on-premises content and applications hosting.
"Our customer demand will tell us more in the next five to 10 years, but we will work to support our customers," Majzoub said, including those who need on-premises applications. "I suspect we will remain hybrid for some time to come."
Patrick Chiu, digital content director at Royal Bank of Canada, based in Toronto, said his organization's enterprise content will remain on premises for some time to come. It can take up to three months for the bank's data security team to certify new software, making it difficult to manage continuous upgrades pushed by cloud vendors. A cloud migration is on the horizon, but it could take two years or more.
"It will be done one day -- that is the plan," Chiu said.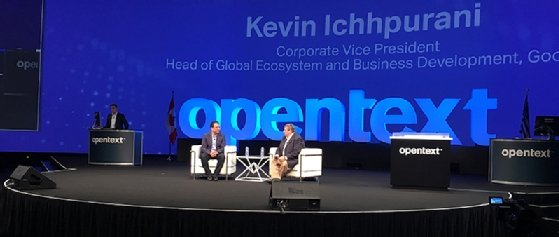 Catching up with the competition
OpenText's all-out cloud play comes late in comparison to born-in-the-cloud platforms such as Salesforce, which recently celebrated its 20th anniversary. Its customer roster, however, includes large governmental entities, such as Los Angeles County, and commercial customers, such as UPS, which keep its enterprise content at home.
Nestle maintains all of its enterprise content on premises in OpenText Documentum repositories, "and they're not likely to release any of that to the cloud anytime soon," Majzoub said.
Governmental agencies are locked into on-premises deployments, bound by policy and even law in some cases, said Mike Donison, team lead operations for Ontario Public Services, whose agency's document repository resides entirely on premises. The agency uses about 15 OpenText applications.
"It's going to change, but it takes time for the government to change its mind about something as important as data sovereignty," Donison said, adding that his agency is exploring cloud migration possibilities, but that likely would take place years from now.
All this, however, doesn't represent hot technology trends. Gartner analyst Lane Severson, who isn't hearing a lot of his own clients asking about containerizing OpenText applications, said the OpenText CE versions will help catch the company up to smaller, more nimble competitors, like Alfresco. "They don't want to get that label of 'legacy' tied to any of their products," Severson said.
Dig Deeper on Information management and governance