itestro - Fotolia
OpenText OT2 hybrid cloud EIM platform debuts
OpenText's makeover of EIM platform reflects reality that few companies are fully cloud or fully on premises anymore; SaaS, microservices bridge CMS gaps between the two.
TORONTO -- OpenText OT2, a new hybrid cloud-on-premises enterprise information management platform, brings self-service...
Continue Reading This Article
Enjoy this article as well as all of our content, including E-Guides, news, tips and more.
SaaS appdev environment to customers that crave the cloud's flexibility and economy but often must keep some data at home, typically out of regulatory concerns or legacy application tethers.
Hybrid cloud EIM deployments -- and apps connecting them -- were previously feasible with OpenText on its AppWorks platform. But the company promises that the combination of OpenText OT2's unified data model, updated interface and modernized, developer-friendly environment will make it more straightforward and faster to design and update applications.
That will cut development time for custom apps from weeks to hours in some cases, Muhi Majzoub, OpenText executive vice president of engineering and IT, said in an interview.
"OT2 simplifies for our customers how they invest and make decisions in taking some of their on-premises workflows and [port] them into a hybrid model or SaaS model into the cloud," Majzoub said.
He added that life sciences and financial customers have taken a particular interest in that process to streamline records processes -- and add AI and analytics behind them.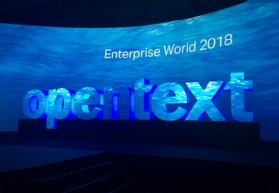 New tools from new acquisitions
Some of the new OpenText OT2 microservices that can be deployed with low-code appdev or native programming reflect OpenText acquisitions from the last couple of years such as Covisint and Guidance Software. The short list of tools from these includes analytics, ID management and IoT endpoint security.
OpenText OT2 debuted at the company's annual OpenText Enterprise World 2018 user conference, with Mazjoub planning to demonstrate the first OpenText OT2 apps, some created by customers and others by OpenText employees.
The company plans to keep OpenText OT2 tightly integrated with the current release of its main suite, OpenText 16, using quarterly updates. OpenText 16 connects to numerous associated applications and services, many of which have thousands of customers, such as document management platforms Documentum and Core, as well as software designed for specific vertical markets such as legal and manufacturing.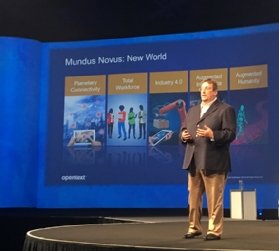 Widening the market
OpenText OT2 apps will also be available for partners to run on Amazon AWS, Microsoft Azure and Google clouds.
It will be interesting to see if enterprise technology buyers will need, for example, OpenText Magellan AI apps set up specifically for content, said Alan Lepofsky, Constellation Research vice president and principal analyst.
Also remaining to be seen will be how the new system will compete against other vendors' products, such as those from ABBYY that also offer content-specific AI tools.
"It comes down to: Will customers want to use a general AI platform like Azure, Google, IBM or AWS?" Lepofsky said. "Will the native AI functionality from OpenText compare and keep up? What will be the draw for new customers?"
Dig Deeper on Content management software and services