ra2 studio - Fotolia
IT, finance and marketing have uses for AI -- do you?
AI in healthcare improves patient outcomes. AI in IT aids employee compliance and security. AI in logistics, AI in marketing, AI in finance -- learn how your company can use AI.
No doubt you've been hearing a lot about one of the hottest technologies around today, artificial intelligence. As with any emerging technology, there's a lot of hype about what AI can deliver.
The big question for IT and business leaders is: Does your organization really need AI, and for what purposes? To answer that effectively, look at what companies are doing or could do with their AI deployments. Here are some examples of uses for AI in various segments.
AI in IT
IT departments may be among the biggest beneficiaries of AI. A 2017 survey of 835 large companies worldwide, conducted by Tata Consultancy Services' Digital Enterprise group and reported in Harvard Business Review, found that more than one third of the companies surveyed are using AI in their IT departments.
One of the more common uses for AI in IT is to enhance cybersecurity. Of the organizations surveyed, 44% are using AI to help detect and fend off computer security intrusions.
As the number of data breaches and other attacks rises, it's vital for companies to automate the detection and prevention of such attacks. Cyberattacks are becoming ever-more sophisticated, and any help IT and security executives can get combating the latest threats is welcome.
IT departments are also finding uses for AI in resolving employees' technical support problems, automating the work of putting new systems or enhancements into production, and ensuring employees are only using technology from approved vendors, according to the Tata research.
AI in marketing
There is no shortage of uses for AI in marketing operations.
One area well-suited to AI is making personalized product recommendations to customers. By applying AI and analytics to customer data, such as demographics, behavior and previous purchases, companies can learn a lot about an individual customer's preferences and buying habits. They can then make product or service recommendations that are most likely to resonate with that client.
The big question for IT and business leaders is: Does your organization really need AI, and for what purposes?
Companies can apply this to cross-selling and up-selling efforts. For instance, using AI, a company might deduce that a customer is ready to upgrade from an existing product to a more advanced model.
AI in marketing can also provide an edge with media buying decisions. Advertising can be pricey, so using AI to determine where and when it makes sense to invest can increase the effectiveness of those efforts.
Social media is vitally important to marketing efforts, and AI is ideal for helping companies monitor existing and prospective customers' views. Through sentiment analysis, companies can gain considerable insight into how the public feels about the company's products and services, as well as what the company can do to improve.
Finally, AI can help marketers to build personalized promotional campaigns by more effectively tracking the success of promotions by product type, location, customer demographic, time of year, etc.
AI in finance
Finance presents many uses for AI. The Financial Stability Board (FSB), an international body that monitors and makes recommendations about the global financial system, laid out a number of these in a November 2017 report.
Trading is well-suited to AI, including portfolio management. According to FSB, AI and machine learning can complement conventional market impact models. Finance firms can use AI to gather more information from sparse historical models, or to help identify nonlinear relationships in order flow.
With AI in finance, firms can build trading robots that teach themselves how to react to various market changes.
Firms might also be concerned about the impact their own trading has on market prices, according to FSB. A more accurate estimation of that impact is key to timing trades and minimizing trading execution costs, and firms are using AI to investigate and assess the market impact of certain trades.
For portfolio management, firms can use AI to identify new signals on price movements, and to make more effective use of the data and market research available.
Regulated institutions use AI for compliance efforts. Some regulators also use AI for fraud detection, as well as supervision. The technology can help identify complex patterns and highlight suspicious transactions that are potentially more serious and warrant closer investigation. Market regulators can also use these techniques for disclosure and risk assessment.
There are also customer-focused uses for AI in financial firms, according to FSB. These include credit scoring, insurance and client-facing chatbots. Financial institutions are already applying AI in the front office, where large-scale client data is fed into new algorithms to assess credit quality and price loan contracts.
In the same way, such data can help assess risks for selling and pricing insurance policies. Also, institutions can conduct client interactions with AI interfaces like chatbots or virtual assistance programs that interact with customers using natural language.
AI in logistics
Companies in the shipping sector also stand to gain from AI in logistics.
One area that has been affected is autonomous vehicles and trucking. Market research firm Visiongain predicts that the global autonomous trucks market will reach $26 billion by 2027. One advantage of autonomous trucks powered by AI is minimizing the human element. Drivers can become tired on long hauls, and regulations limit overly long stretches.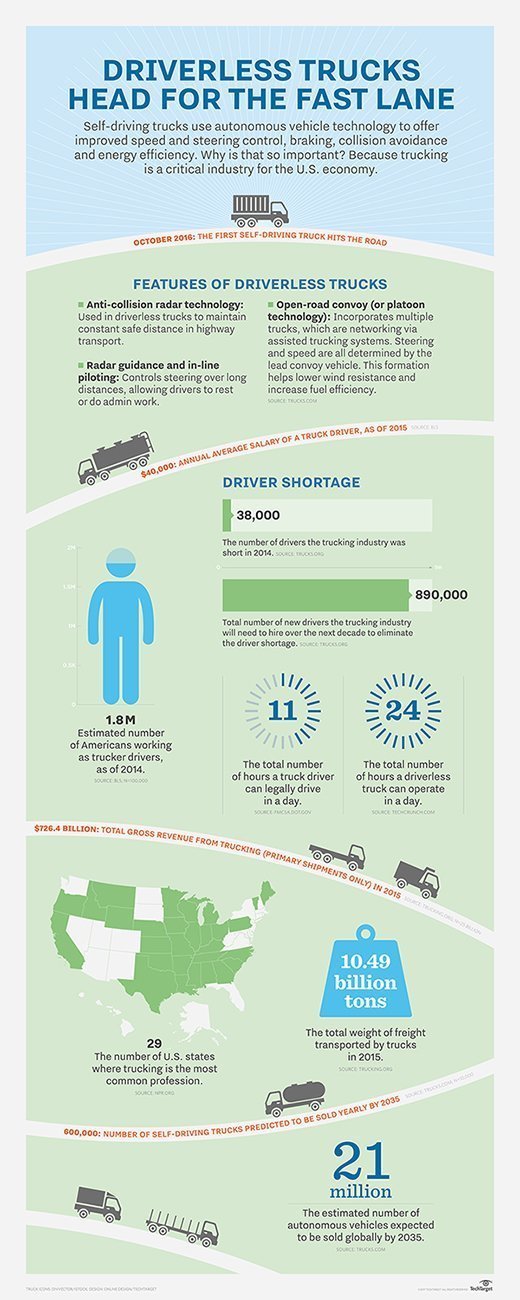 Another use for AI in logistics is route optimization. Highly predictive analytics of traffic patterns, weather conditions, construction and other factors can help shippers select the most efficient routes to use when delivering goods. They can determine the fastest possible delivery route at the lowest possible price, which can speed deliveries to retailers, corporate customers and consumers. It can also reduce fuel costs.
Yet another application is anticipatory logistics based on predictive algorithms. This enables logistics companies to improve efficiency by predicting demand for particular goods before consumers even place orders. Anticipatory logistics provides benefits to all parties in the supply chain by anticipating demand, enabling manufacturers to ramp up production before demand rises.
AI can be beneficial to companies throughout healthcare, pharmaceuticals, life sciences and the related sectors.
The technology applies to a number of patient treatment and monitoring processes. For example, according to a 2017 report by consulting firm Accenture, one of the top potential uses for AI in healthcare is robot-assisted surgery.
Cognitive robotics can integrate information from preoperative medical records with real-time operating metrics to physically guide and enhance a physician's instrument precision, the report said. AI incorporates data from actual surgical experiences to inform new, improved techniques and insights.
Another area of patient treatment where healthcare professionals can apply AI is virtual nursing assistants. When AI remotely assesses a patient's symptoms and delivers alerts to clinicians when the patient needs care, it decreases unnecessary hospital visits and lessens the burden on medical professionals.
Pharmaceutical companies are using AI for drug discovery and drug development, helping them to predict the efficacy and safety of new medicines. AI tools can also predict the appropriateness of a particular patient for a clinical trial using various criteria and data sets from medical records and other sources.