pogonici - Fotolia
Endpoint security key asset in $1.42B OpenText Carbonite acquisition
OpenText's chief product officer discusses how the recently acquired Carbonite -- which had recently acquired Webroot -- fits into the content services provider's product roadmap.
Last month, Canadian content services platform provider OpenText continued its growth-by-acquisition strategy and closed its $1.42 billion USD acquisition of backup and security provider Carbonite, which itself had acquired antimalware platform Webroot for $618.5 million earlier in the year.
The OpenText Carbonite acquisition follows the 2017 acquisition of Guidance Software. Both Carbonite and Guidance provide endpoint security for mobile devices and IoT sensors connecting to the OpenText platform, and avails OpenText's other technologies to new users in fresh markets.
We discussed in detail the OpenText Carbonite acquisition -- and what it means for the company and its product roadmap -- with an executive close to the deal, Executive Vice President and Chief Product Officer Muhi Majzoub.
What led to the OpenText Carbonite acquisition?
Muhi Majzoub: Prior to doing the due diligence with OpenText, six months or seven months before, they acquired Webroot, which acquired other technologies and companies like BrightCloud Threat Intelligence. Carbonite brings to OpenText two very important things and three product areas: The first is they allow OpenText to enter the consumer market. [The second is that] they allow OpenText to enter the SMB market, selling to managed service providers that are servicing hundreds and thousands of different professional and small businesses.
The three product areas that they bring to open tech are endpoint backup, which is the actual Carbonite platform. The second is their endpoint security, and that's what Webroot brought to Carbonite. [The third is] threat intelligence.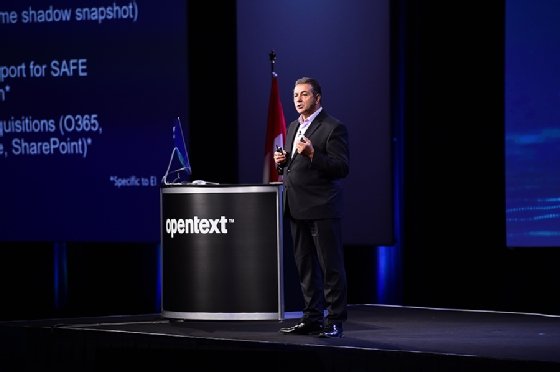 OpenText's growth-by-acquisition strategy is well known. But why is a content services and cloud platform provider trending toward data security?
Majzoub: Security has been top of mind for every C-level executive that you talk to in the public sector or in the private sector. I mean, who would have thought five years ago that a cybercriminal can be talking to a child via their baby monitor? That's now true. With Carbonite, we can protect our customers.
In both an on-prem, off-cloud scenario or on the other part of the spectrum -- fully in the cloud, multi-tenant, native SaaS application -- your information is everywhere. And your endpoint is connecting to all these data sources and platforms. Protecting that information with endpoint backup is critical. Securing that information with endpoint antivirus and security is critical, sitting side-by-side with the security features that we provide through Guidance.
One of the things that many of our customers and partners didn't know is that Guidance used to [license] the Webroot platform and integrate it into EnCase forensic applications. We now own both assets. And we can do much deeper integration to the point where we can even become a single agent that sits on the endpoint that provides security, backup and forensics all in one. So there is a huge value in that to our customers.
Security is a different market from content services, with well-known leaders. How can OpenText assert itself in an already crowded, competitive technology space?
Majzoub: We are trusted by 100,000 enterprises and governments globally, in many countries, in many disciplines and in many industries. We have managed to gain the trust of many enterprises that depend on us.
If our network is down, Nestle will lose $11 million an hour, and we have never been down.

Muhi MajzoubEVP and Chief Product Officer, OpenText
I'll give you a few examples: All of Citibank's international money dealing and transfers go through our business network. These are documents flowing securely from point A to point B, [such as] from a Citibank branch in Manhattan to a Citibank affiliate in Singapore, or a partner in France or London. They have pushed trillions of dollars in money wires and transfers. Bank of Montreal, same thing. Wells Fargo, JPMorgan Chase, Bank of America, Bank of Tokyo, Central European Bank -- and this is just in the banking industry. Then you look at companies like Nestle. Nestle pushes millions of dollars every day between their suppliers and partners through our network. If our network is down, Nestle will lose $11 million an hour, and we have never been down. We give Nestle the guarantee of a 'four nines' availability which gives us, really, seconds to do maintenance work every week. Thousands and thousands of these customers have trusted OpenText with that.
Now we come to them and say, 'We can also provide you security.' We have the relationship with them. We have the capability of getting to the table to talk to the chief security officer, and then when we offer them the strength of a product that is getting rave reviews in the market.
Is there much call for IoT applications on the OpenText platform?
Majzoub: IoT is very important to us. We acquired Covisint, which powers the OnStar network for 9 million Americans in the United States that have GM vehicles, and I am one of them. God forbid if you're in an accident and your airbag deploys, OnStar will detect it through IoT devices. You may not be in a condition to call 911, and they automatically dial 911 and give GPS coordinates of your vehicle to fire department and emergency responders.
Security of IoT devices is critical as driverless cars [will become more prevalent]. Being able to secure the endpoints -- machines, not only the human using a laptop or tablet -- an endpoint may be a camera in your home, a baby monitor, an autonomous vehicle, a turbine sensor on an Airbus or a Boeing airplane that captures two or three gigabytes of data every time it takes off and lands, those will become very important for OpenText. It's an area that we definitely want to invest a lot to research and deliver the right endpoint protection and endpoint data backup.
How will the OpenText Carbonite acquisition manifest itself in the product roadmap?
Majzoub: Carbonite's technology team reports to me. Sales reports to Mark Barrenechea. OpenText never had products that set at the shelves of every Best Buy store in the United States. Thousands of those stores carry Webroot and Carbonite endpoint backup solution in shrinkwrap on the shelf. I can walk in and buy one copy, or as a small and medium business, I can walk in and get 10 user copies for all my employees.
We are in early stages starting to build. The teams have been integrated and onboarded, they're up and running and they're focusing on innovation, and building new capabilities and value add to our customers. For a detailed roadmap, I am hoping to have that by the time we get to [OpenText user conference] Enterprise World Europe in April.
By Enterprise world in Asia in early March, I might have preliminary roadmap announcement or Mark might announce preliminary roadmap activities. Come September at the [U.S.] Enterprise World in Las Vegas, we will have a lot more detail and we will have opportunities to demonstrate products that have already been integrated and brought together to add value to customers.
Dig Deeper on Content management software and services