bluebay2014 - Fotolia
OpenText releases customer data platform
OpenText customers get a natively integrated runtime CDP to drive marketing personalization and other customer interactions; AI content security features debut.
OpenText has released a customer data platform, giving OpenText Experience Cloud users a native CDP choice that doesn't require the integration work of third-party CDPs.
The OpenText Experience CDP, slated for September release, was built in-house as opposed to integration of an acquired technology, said Muhi Majzoub, executive vice president and chief product officer at OpenText. Processes to manage customer data came from different applications and services OpenText had already built; bringing them together under a central data schema became the puzzle to solve in bringing a CDP to market.
The CDP complements the OpenText Experience Platform, which comprises a number of cloud applications including TeamSite web content management, Exstream customer communications management and the Qfiniti contact center management suite.
Future integrations with Salesforce and Marketo are planned, he added, along with "any other solution we see relevant and bringing knowledge and intelligence to our CDP, which will then allow us to do better targeting and presentation of content."
Google connection runs deep
The OpenText Experience CDP also integrates tightly with Google Marketing Platform, more fruit of a long-term partnership between the two companies. Google's marketing automation tools, understandably, align closely with the search giant's ad platform, which makes its analytics and other capabilities tilt more toward adware than typical marketing automation, said David Raab, founder of the CDP Institute.
"OpenText recognizes the reality that people need to make their customer data accessible, actionable and usable," Raab said. "Even though they're coming out from the content management side, if they're going to have an experience management capability, organizing customer data is a critical requirement for that."
Majzoub said that while it's focused on the top-of-funnel marketing activity, the OpenText Experience CDP will be able to track all interactions between its users and their customers, to offer intelligence about interactions to more than just marketers. Users of the OpenText Experience Platform would likely be the early adopters of the CDP, which has found a foothold among OpenText users in the life sciences and retail sectors, according to Majzoub.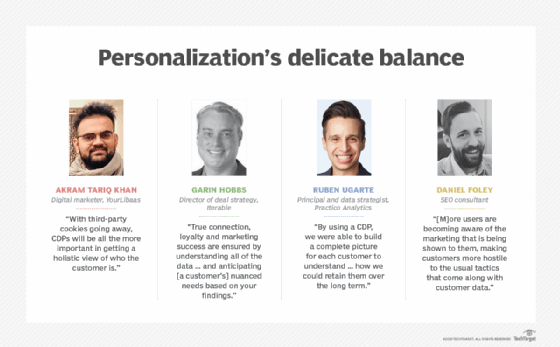 Content security gets booster
The OpenText Experience CDP was released as part of the quarterly omnibus Cloud Editions update, which includes many features and capabilities across the company's application and services suite. Another notable feature available now is Magellan Risk Guard, which scans networks for content that might pose a risk to an organization, based on pre-built AI data models as well as user-set rules.
Risk Guard was first deployed on OpenText's own corporate network.
"You ask a CIO, 'How much content do you have?' They can easily, top of mind, tell you, 'I have 69 million documents, 3 terabytes,' that's an easy answer to get," Majzoub said. "But if I ask any CIO, including our CIO at OpenText, 'Do you know if anyone is storing offensive material in your system?' The answer is, 'I don't know.'"
Risk Guard uses Magellan, OpenText's AI built on machine learning, image recognition and natural language processing. It deploys 20 prebuilt data models that can identify content across 50 different topics on enterprise networks -- cloud or on-premises -- to detect risky material that might include personally identifiable information for compliance purposes.
It can also detect content that corporate leaders believe represent risk to the company, such as that of a sexual or violent nature, and other topics configured by the user to be verboten in a work setting, such as drug abuse. Majzoub said OpenText will continue to add topics and refine Magellan Risk Guard in future quarterly releases.
Don Fluckinger covers enterprise content management, CRM, marketing automation, e-commerce, customer service and enabling technologies for TechTarget.