vali_111 - Fotolia
Startup LucidLink bundles AWS S3 into cloud storage service
Startup LucidLink positions Filespaces as a public cloud option for people who want to replace on-premises NAS without turning to cheap but slow object storage.
LucidLink has a new bundled file service that lets customers use AWS S3 object storage with its Filespaces technology to speed up access to production data they keep in the cloud.
The managed file-based cloud storage service -- called LucidLink Performance -- is the second one the software startup, based in San Mateo, Calif., has introduced. The first bundled service, LucidLink Standard, launched in September for Wasabi cloud storage.
LucidLink CEO Peter Thompson said the new AWS bundled service will target customers that require a "much higher degree of consistency" in performance for use cases such as video editing.
"Wasabi is an up-and-coming challenger with four data centers, but they just don't have as much compute, load balancers and disks on the back end," Thompson said. "Amazon has a huge footprint all over the world. There are some situations where the massive scale and ubiquitousness of AWS is a big advantage."
Cloud storage service designed as NAS replacement
LucidLink's goal for Filespaces is to give customers a fast, secure alternative to replace on-premises NAS systems with less expensive, but generally slower, object storage. Filespaces provides an interface to the back end object storage. Users view and access files in the same way they would if the data resided on their local machines.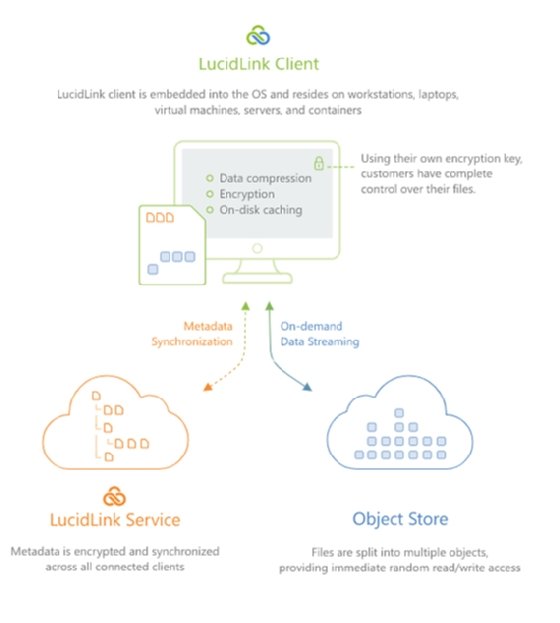 The LucidLink software chunks up files into smaller objects and streams data on demand, so users don't have to download or synchronize it. LucidLink also speeds file access through write-back caching and prefetching data.
LucidLink's client software installs on Windows, Mac and Linux workstations, laptops, servers, virtual machines or containers. The clients communicate with a LucidLink service that stores encrypted metadata in DigitalOcean's cloud infrastructure. The service coordinates the metadata and replicates changes across all the customer devices that use the same Filespace. The actual data moves directly between the client machines and the storage because the LucidLink service is out of the data path.
The original LucidLink Custom service takes a bring-your-own-storage approach, letting customers use any Amazon S3 API-compliant object storage in the cloud or on premises. Tested and qualified options include Cloudian, Nutanix, Scality, Zadara, Ceph and MinIO for on-premises deployments and AWS, Alibaba, Backblaze, DigitalOcean, Exoscale, Google Cloud, IBM, Telefonica and Wasabi in the cloud. LucidLink added support for Microsoft Azure earlier this year.
Customers pay $10 per tebibyte (TiB), per month for LucidLink Custom with no storage. LucidLink used to also tack on a per-device fee but eliminated it in the interest of simplicity when the coronavirus pandemic hit, Thompson said.
LucidLink cloud storage service costs
The LucidLink Standard service costs $16 per TiB, per month with the Wasabi cloud storage included. The new LucidLink Performance sells for $85 per TiB, per month -- a price that factors in $10 for the LucidLink service, $25 for 1 TB of AWS S3 storage and $50 for 1 TB of AWS egress. Customers pay 5 cents per GB for additional egress. Thompson said LucidLink uses its own AWS account to provide better pricing than small customers could get on their own under Amazon's tiered system.
The price differential between LucidLink's Standard and Performance options is largely due to egress costs. Wasabi charges about $6 per TB, per month for storage but has no egress fees. LucidLink estimated the AWS egress fees that customers might incur based on their existing workloads and decided to bundle them into the overall cloud file storage service price, Thompson said.
Thompson said the biggest complaints he hears about cloud storage are the egress fees and the unpredictable nature of egress. He said customers have no problem estimating capacity, but they find it difficult to gauge the level of uploading and downloading they're going to do in any given month.
Thompson said at least 60% of LucidLink's more than 200 customers are in the media and entertainment industry. He estimated the breakdown for the rest is 10% for architecture, engineering and construction, 10% for video surveillance and 20% for cloud service providers that use the LucidLink service with their in-house object storage.
Cloud storage service finds video editing sweet spot
LucidLink's Filespaces has gained a foothold in particular with companies that need to work on large video files. They can use Filespaces to grant and control access to video professionals hired on a project basis. They can stream only the portions of the file they are editing.
"If I have a 30-minute video, but for my edit, I only need a few seconds of that video, I can just load those few seconds on my timeline without having to download the whole 30 minutes. That's pretty amazing," said Adriano Martino, whose Philadelphia-based company Martino Branding now does extensive work on video production.
Martino became a LucidLink customer within the past month. He said he used to mail hard drives to the independent video professionals, but he can now share a folder almost in real time using LucidLink's bundled cloud file services.
We never thought about the cloud this way.

Adriano MartinoCEO, Martino Branding
"My goal is to work with other people as if they were in the same room with me," Martino said. ""With LucidLink, it feels like a dream that we can now do this online. We never thought about the cloud this way. There's going to be more testing and a learning curve, but definitely, this is the way to do it."
Martino said he expects he will use the new AWS-based LucidLink Performance for active projects with tight deadlines and for international projects, "because Wasabi only has a few data centers while Amazon has a CDN [content delivery network] that is all over the world."
"Wasabi is a great service, but I haven't tested it long enough to tell you that it's always 100% reliable," Martino said. "If I'm working on a mission-critical project and I need to deliver it tomorrow, I might feel more confident to work on Amazon, knowing that Amazon has more data centers and has already proven the test of time with large organizations."