Sergey Nivens - Fotolia
Cloud key to top 2019 data backup and disaster recovery products
Commvault, Cohesity and Actifio make the podium in our Products of the Year competition for backup and DR. Cloud Daddy wins the new Judges' Choice award.
From as-a-service platforms to protection of cloud-based data, the cloud remains a dominant player in top data backup and disaster recovery products. The cream of the crop, though, offers a wide-ranging data protection platform that can handle many kinds of workloads.
The gold winner in the data backup and disaster recovery hardware, software and services category in the Storage magazine and SearchStorage 2019 Products of the Year competition, Commvault Complete Backup & Recovery, protects and restores data "wherever," according to the vendor, and judges praised its comprehensive nature.
As is common with backup and DR products, many of the submissions to this category go beyond data protection and into management capabilities. For example, bronze winner Actifio Go enables analytics, database cloning for DevOps and cloud migration.
As in past years, security was a focus. With ransomware a prevalent threat, many vendors are including some form of cyberprotection. Silver winner Cohesity DataProtect helps fight ransomware with machine learning, for example.
The category covered data backup and recovery software; cloud backup and recovery services; and on-premises backup and DR, snapshotting, replication and archiving products. Submissions could also include data protection hardware, backup software integrated with hardware appliances, tape libraries and drives, backup media, disk backup targets and deduplication devices.
Gold winner: Commvault Complete Backup & Recovery V11 SP 17
True to its name, Commvault Complete Backup & Recovery protects workloads across storage locations. It includes DR, snapshot management, endpoint and software as a service (SaaS) support, and archiving.
Updates to the product include optimized scan and multi-node backup for Nutanix File Shares, protection of Splunk clusters, backup and restore of Azure SQL Database managed instances and the ability to convert VMs from Azure to VMware.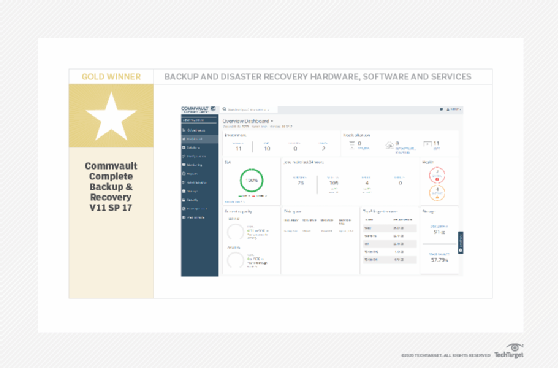 Multiple judges described the data backup and disaster recovery product as "comprehensive." One judge called it a well-established product with a proven track record and an "ability to work with a wide range of other systems."
Judges also praised its AI capabilities, which adapt to changes to meet defined service-level agreements. The software analyzes patterns and performance and adjusts to improve outcomes.
Commvault was a finalist last year with its HyperScale Appliance HS1300.
"It is extremely important for Commvault to keep expanding their coverage to maintain their 'most comprehensive' title," one judge suggested.
Silver winner: Cohesity DataProtect (software release Pegasus 6.3)
For the second year in a row, Cohesity Inc.'s DataProtect has won the silver medal. The software-defined product aims to help enterprises get more value out of their data and makes security a focus.
Machine learning plays a major role in this update, aiding capacity optimization and proactive failure prediction. The antiransomware feature includes machine learning-based anomaly detection, as well as multifactor authentication.
Customers can deploy DataProtect on premises on x86 hardware platforms or virtual instances, public cloud or the edge.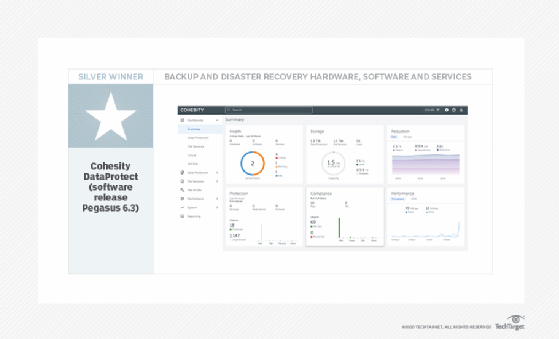 One judge called the product a major upgrade with "serious improvements," such as a write-once, read-many feature for snapshots and machine learning predictive storage analytics. Several judges noted the importance of machine learning, for example, in helping enterprises obtain visibility and actionable insights on the data under protection.
"The incorporation of machine learning makes this a strong product in terms of management, security and costs," one judge said. "In addition, its support for Hadoop and NoSQL distributed data sources also makes it a valuable asset for today's workloads."
Another judge noted that the product is pricey "but worth it for large enterprises with fast-growing data footprints."
Bronze winner: Actifio Go
Actifio was a pioneer in copy data management. With its new product, Actifio Go, the vendor takes it up a level in the cloud and provides what it calls "copy data management as a service."
The SaaS platform offers data backup and disaster recovery, as well as management features such as analytics and migration. Customers can manage copy data in hybrid cloud or multi-cloud environments.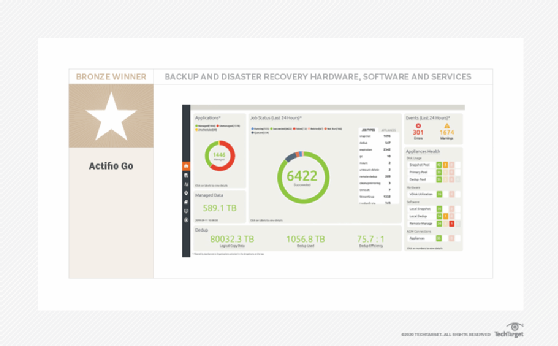 Actifio Go enables enterprises to back up and recover on-premises and cloud VMs to cloud platforms such as AWS, Azure, Google Cloud Platform and IBM. The product protects mission-critical databases including SAP HANA, Oracle, Microsoft SQL and MySQL.
One judge called Actifio Go an "ideal SaaS implementation" of copy data management. "Their ability to 'stream' recovery back on premises is particularly impressive," the judge said.
Actifio's SaaS delivery can lower infrastructure costs, one judge noted. "Multi-cloud support -- works with all major cloud vendors -- and live migration increases sources that can be protected, and targets that can be used for backup and restore, while opening up additional enterprise use cases for copy data [test and development, etc.]," the judge added.
Judges' Choice startup award winner: Cloud Daddy Secure Backup V1.5
Cloud Daddy Inc. is one of the newest entrants in the data protection market. It's made a splash already, securing the first Judges' Choice startup award as part of the Storage magazine and SearchStorage 2019 Products of the Year.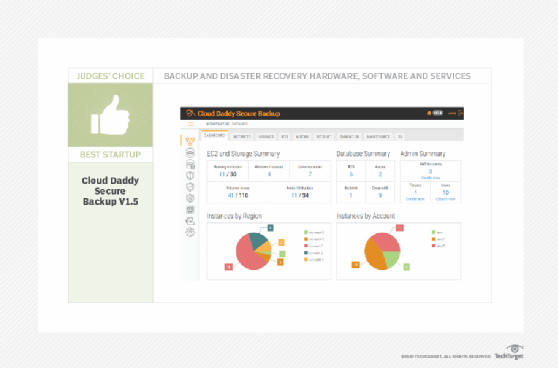 The provider of data protection for AWS workloads tackles a trifecta of data backup and disaster recovery, security and infrastructure management. One judge said Cloud Daddy Secure Backup is one of the more complete data protection products for cloud-native applications.
"Its inclusion of security and infrastructure management is unique and sets it apart from most of its competitors," the judge said.
One judge noted that the product is aimed exclusively at AWS users, but also said that it works as advertised, and the 1.5 release includes important support, such as archiving old backups to Amazon S3 Glacier.
"Cloud Daddy targets one of the biggest pain points associated with the public cloud: managing costs related to long-term data retention and data recovery," another judge wrote. "The more sophisticated data management-related capabilities it adds, including search and tagging, not only help to cut costs, but also improve enterprises' ability to recover from ransomware attacks and to meet compliance requirements."
Learn more about our winning 2019 Products of the Year in all five categories.