hywards - Fotolia
Actifio GO turns Sky into SaaS backup
With Actifio GO, multi-cloud backup doesn't require backup software or any on-premises appliances. The SaaS data protection is based on the Salesforce model.
Actifio is going SaaS with its copy data management platform, allowing customers to back up and restore data without using on-premises infrastructure.
The idea behind the newly launched Actifio GO -- based on Actifio Sky software -- is to enable customers to quickly deploy the service and begin protecting data in multiple clouds without installing additional software or hardware.
The new software-as-a-service (SaaS) platform offers direct-to-cloud backup to AWS, Microsoft Azure, Google, IBM and Wasabi public clouds. The initial GO supports VMware vSphere virtual machines (VMs).
Actifio CEO Ash Ashutosh said the copy data management pioneer will add support for more platforms -- including hypervisors and databases -- and other public clouds.
Ashutosh said he wants to give enterprises a data protection tool as easy to use as Salesforce is for customer relationship management.
"To get to Actifio Sky, I have to learn about it, evaluate it, try it out and deploy it," Ashutosh said. "It's a long process in this day and age when people are saying, 'Give me an API, and let me get the outcome I want,' similar to Salesforce."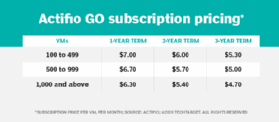 He claimed customers could begin backing up data within an hour of their first visit to the Actifio GO website. Customers point the VMs they want to protect to any of the supported public clouds.
Ashutosh said Actifio is starting with VMware because "it is still the biggest workload that people are looking to take to the cloud."
Customers will be charged on a per-VM basis.
People are saying, 'Give me an API, and let me get the outcome I want,' similar to Salesforce.

Ash AshutoshCEO, Actifio
A one-year subscription to Actifio GO costs $7 per VM, per month, for up to 499 VMs; $6.70 per VM for 500 to 999; and $6.30 per VM for 1,000 or more. Multiyear subscriptions reduce the price per VM.
Other backup vendors have been adding SaaS management tools, such as Rubrik Polaris and Cohesity Helios. And other backup software vendors -- mostly in the SMB space -- enable direct backups to the cloud. Christophe Bertrand, senior analyst at Enterprise Strategy Group in Milford, Mass., said Actifio GO is unusual, because it is aimed at the enterprise and does not require on-premises appliances.
Actifio claims more than 3,600 enterprise customers and caters to backup administrators, application owners and DevOps teams.
"To be competitive in this market, it is necessary to offer multiple ways of access to the technology, and one of those ways is as a service," Bertrand said. "The ability to go direct to cloud in the enterprise space is unique and a big differentiator."

While taking backup entirely off premises has its benefits, Bertrand warned it's not for everyone, even if it saves money. He said properly building out infrastructure is a balancing act between operational costs, metrics, compliance levels and "risk appetite." Bertrand said he expects most enterprises will choose to go hybrid.
"From my perspective, it's a hybrid world. No one would be 100% on or off premises, because sometimes, it's good to have that fast recovery on premises," Bertrand said. "The people who understand all their variables the best will be the most successful."