WavebreakMediaMicro - Fotolia
Datrium DVX storage adds ControlShift cloud DR option
The Datrium cloud DR SaaS app, formerly known as Project CloudShift, is now called ControlShift and GA, but the first version only supports Datrium on premises and Cloud DVX hosts.
Startup Datrium has set out to enable cloud disaster recovery through its DVX storage platform with a new ControlShift orchestration application.
Datrium has teased the workflow automation application formerly known as "Project CloudShift" since August 2018. ControlShift became generally available today, although integration with the public clouds is still in progress. ControlShift is the first application of Datrium's new Automatrix autonomous multi-cloud data management platform.
Datrium launched in 2016 and bills itself as hyper-converged infrastructure with separate Compute Nodes and Data Nodes. Its value comes from Datrium DVX software that manages and protects data across nodes, which are x86 servers. Datrium DVX adds deduplication, compression, snapshots, replication and encryption. From the start, Datrium executives said cloud integration and automation would be key parts of its value to customers.
ControlShift brings runbook automation to the Datrium DVX platform. It allows users to identify the virtual machines and containers they want to restart when recovering from downtime, and sets the restart order. It also lists any adjustments required for a restart -- for example, if the IP address is different on the failover site as the original site. During the failback process, ControlShift brings resources back online in the proper order.
ControlShift also includes compliance tests that automatically check if failover and failback resources are working correctly.
The first version of ControlShift works between two on-premises sites, or between a DVX on premises and Datrium's Cloud DVX running on AWS Elastic Cloud Compute (EC2). Datrium founder and chief product officer Brian Biles said he expects ControlShift will support failover to VMware Cloud on AWS by the end of 2019, with Microsoft Azure support to follow in 2020.
ControlShift runs in the cloud as a SaaS application. That enables testing from outside the network. "If your network fails and your runbook automation is in the data center, you might not know what's going on," Biles said. "With us, you can see everything. And we upgrade it automatically."
Biles said ControlShift enables snapshots of data every five minutes and instant recovery. And it tests system compliance every 30 minutes.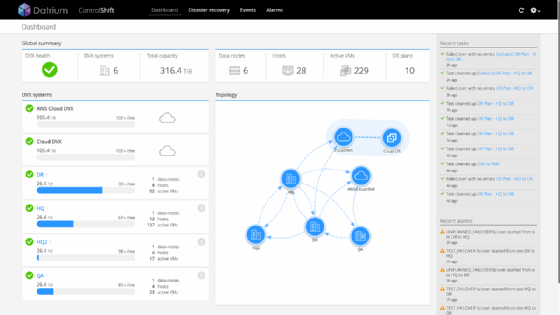 The original version requires DVX nodes running at primary and secondary sites. The roadmap also includes support for non-DVX hosts, Biles said. ControlShift list pricing is as low as $320 per VM per year, depending on the length of the subscription and number of licenses.
Datrium CEO Tim Page said the vendor has gone after enterprise customers since he joined in June 2018, and it now has close to 400 customers. He said Automatrix is a key part of Datrium's enterprise strategy, because he expects enterprises to demand multi-cloud functionality.
"We want our customers to have the same experience whether they're on prem or off prem," he said. "Because we have all of these functions under one code base, we're able to do that."
Toll system manufacturer TransCore has been using Datrium DVX for primary storage for a year, and was an early adopter of ControlShift, according to information systems manager Kevin Smith. Smith said TransCore used tape backups for its DR before switching to CloudShift eight in late 2018.
"It's our full-blown DR plan for production now," he said. "What Datrium offered with the SaaS framework and running across multiple clouds, that's something we needed."
He said TransCore already runs applications in AWS and "we are starting to stand up some Azure servers because I don't like to put all my eggs in one basket up on the cloud."
TransCore has 48 TB of storage on a DVX Data Node, and a Cloud DVX instance in AWS for DR.
Smith said ControlShift reduced the time to recover data from a full day to around an hour. "Before we had to spin up the VMs and restore the data," he said. "One system we use is a terabyte, so it took us a day to restore. Now this takes us an hour to get all the systems spun up, confirm that the data's there, and then we shut them down."
TransCore, based in Albuquerque, New Mexico, hasn't had any disasters since implementing ControlShift, but Smith said it conducts quarterly tests for compliance purposes. Those have gone without a hitch, he said.
"We spin up an instance, make sure the data's there and make sure it's replicated correctly," he said. "We just did a test at the end of April, and it spun right up. Every time we do it, it costs us a little money on AWS, but it works."
Dig Deeper on Disaster recovery facilities and operations