juanjo tugores - Fotolia
Datrium DVX switches focus to converged markets, enterprise
Datrium approaches HCI in a nontraditional way, but its DVX architecture combines compute and storage while pumping up its data protection capabilities.
Datrium has a new CEO, and a new strategy for pushing hyper-convergence into the enterprise.
Tim Page replaced Brian Biles, one of Datrium's founders, as CEO in June. Biles moved into the chief product officer role, one he said he is better suited for, to allow Page to build out an enterprise sales force.
The startup is also changing its market focus. Its executives previously avoided calling Datrium DVX primary storage systems hyper-converged, despite its disaggregated architecture that included storage and Datrium Compute Nodes and Data Nodes. They pitched the Datrium DVX architecture as "open convergence" instead because customers could also use separate x86 or commodity servers. As a software-defined storage vendor, Datrium played down its infrastructure architecture.
Now Datrium positions itself as hyper-converged infrastructure (HCI) on both the primary and secondary storage sides. The use cases and reasons for implementation are the same as hyper-converged -- customers can collapse storage and servers into a single system.
"You can think of us as a big-a-- HCI," Biles said. "We're breaking all the HCI rules."
Datrium DVX is nontraditional HCI with stateless servers, large caches and shared storage but is managed as a single entity.
You can think of us as a big-a-- HCI. We're breaking all the HCI rules.

Brian Bileschief product officer, Datrium
"We mean HCI in a general way," Biles said. "We're VM- or container-centric, we don't have LUNs. DVX includes compute and storage, it can support third-party servers. But when you look at our architecture, it is different. To build this, we had to break all the rules."
Datrium's changed focus is opportunistic. The HCI market is growing at a far faster rate than traditional storage arrays, and that trend is expected to continue. Vendors who have billed themselves as software-defined storage without selling underlying hardware have failed to make it.
Secondary storage is also taking on a converged focus with the rise of newcomers Rubrik and Cohesity. Datrium also wants to compete there with a cloud-native version of DVX for backup and recovery.
However, Datrium will find a highly competitive landscape in enterprise storage and HCI. It will go against giants Dell EMC, Hewlett Packard Enterprise and NetApp on both fronts, and Cisco and Nutanix in HCI. Besides high-flying Cohesity and Rubrik, its backup competition includes Veritas, Dell EMC, Veeam and Commvault.
A new Datrium DVX customer, the NFL's San Francisco 49ers, buys into the vendor's HCI story. Jim Bartholomew, the 49ers IT director, said the football team collapsed eight storage platforms into one when it installed eight DVX Compute Nodes and eight DVX Data Nodes. It will also replace its servers and perhaps traditional backup with DVX, 49ers VP of corporate partnerships Brent Schoeb said.
"The problem was, we had three storage vendors and always had to go to a different one for support," Bartholomew said.
Schoeb said the team stores its coaching and scouting video on Datrium DVX, as well as all of the video created for its website and historical archives.
"We were fragmented before," Schoeb said of the team's IT setup. "Datrium made it easy to consolidate our legacy storage partners. We rolled it all up into one."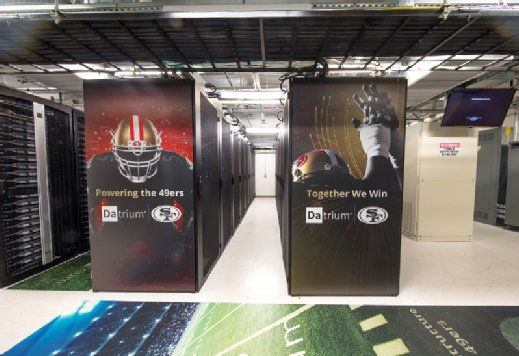 Roadmap: Multi-cloud support for backup, DR
Datrium parrots the mantra from HCI pioneer Nutanix and others that its goal is to manage data from any application wherever it resides on premises or across clouds.
Datrium is building out its scale-out backup features for secondary storage. Datrium DVX includes read on write snapshots, deduplication, inline erasure coding and a built-in backup catalog called Snapstore.
Another Datrium founder, CTO Sazzala Reddy, said the roadmap calls for integrating cloud support for data protection and disaster recovery. Datrium added support for AWS backup with Cloud DVX last fall, and is working on support for VMware Cloud on AWS and Microsoft Azure.
"We want to go where the data is," Reddy said. "We want to move to a place where you can move any application to any cloud you want, protect it any way you want, and manage it all in the data center."
New CEO: Datrium's ready to pivot
Page helped build out the sales organization as COO at VCE, the EMC-Cisco-VMware joint venture that sold Vblock converged infrastructure systems. He will rebuild the sales structure at DVX, shifting the focus from SMB and midmarket customers to the enterprise.
DVX executives claim they have hundreds of customers and hope to hit 1,000 by the end of 2018, although that goal is likely overambitious. The startup is far from profitable, and will require more than the $110 million in funding it has raised. Industry sources say Datrium already has about $40 million in venture funding lined up for a D round, and is seeking strategic partners before disclosing the round. Datrium has around 200 employees.
"Datrium's at an interesting point," Page said of his new company. "They're getting ready to pivot in a hyper-growth space now into the enterprise. What we didn't have was an enterprise sales motion -- it's different selling into the Nimble, Tintri, Nutanix midmarket world. It's hard to port anyone from that motion into the enterprise motion. We're going to get into that growth phase, and make sure we do it right."
Biles said he is following the same model as in his previous company, Data Domain. The backup deduplication pioneer took off after bringing Frank Slootman in as CEO during its early days of shipping products in 2003. Data Domain became a public company in 2007, and EMC acquired it for $2.1 billion two years later.
"I knew a lot less then than I know now, but I know there are many better CEOs than me," Biles said. "Customer opportunities are much bigger than they used to be, and the sales cycle is much bigger than our team was equipped for. We needed to do a spinal transplant. There's a bunch of things to deal with as you get to hundreds of employees and a lot of demanding customers. My training is on the product side."