New Datrium DRaaS on AWS targets VMware customers
Datrium's new disaster recovery service will give VMware users the option to recover their applications and data on demand, in VMware Cloud on AWS, when a system outage hits.
Datrium Inc. plans to offer its DVX storage customers an "on-demand" disaster recovery as a service through VMware Cloud on AWS.
The new Datrium DRaaS will target VMware users who represent the bulk of the startup's DVX customer base. The service is designed to enable customers to spin up a software-defined data center in the cloud and provide an alternative to the professional services and physical DR infrastructure many buy from third-party providers.
Datrium plans to package its software components and the AWS and VMware Cloud accounts to provide single billing and support for the entire stack. Customers would have responsibility for creating their own DR plans and choosing the option that meets their recovery needs. Datrium claims to manage the DR orchestration uptime and compliance.
Datrium's on-premises DVX customers use Compute Nodes equipped with flash cache to speed data access on the front end, and they store files on Data Nodes at the back end. The DVX software manages data placement and provides enterprise storage features such as inline deduplication, compression, replication, snapshots and encryption.
Two Datrium software components are critical to the new DRaaS offering: Cloud DVX and ControlShift. They run on AWS Elastic Cloud Compute instances. Cloud DVX facilitates replication and snapshots of on-premises virtual machines (VMs) and data to Amazon's S3 in deduplicated and compressed form. Datrium's ControlShift software orchestrates the "on-demand" failover to VMware Cloud on AWS in the event of a system outage or ransomware attack.
Customers can use ControlShift to provision and test the VMware Cloud software-defined data center and decommission the SDDC when they're done. In the event of a disaster, they can manage the VMware Cloud SDDC through the vCenter interface they're accustomed to using.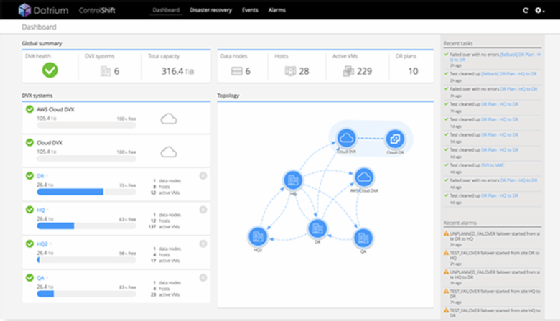 One company's experience
Sensiba San Filippo (SSF), an accounting and business advisory firm based in Pleasanton, Calif., with several offices in northern California, hopes to automate and streamline disaster recovery and reduce its recovery time objective (RTO) to two hours with the Datrium DRaaS, said Igor Zaika, the company's IT director.
SSF shifted from a traditional SAN to a 30 TB Datrium DVX system about three years ago to improve the performance of its VMware-based applications and lower expenses associated with scaling storage. Last year, SSF added a second 30 TB Datrium Data Node at its co-location facility to store its virtual desktop infrastructure, replicate and snapshot its DVX system at 30-minute intervals, and enable local business continuity in the event of a primary DVX outage.
For archives and DR, SSF used on-premises appliances until last year, when it switched to a Cloud DVX node in AWS, with an eye to Datrium's long-term DR roadmap. Datrium's deduplication reduces the data footprint and helps to keep down costs, Zaika said. He said he plans to draw up a new DR plan for ControlShift to enable "one-click disaster recovery" in VMware Cloud on AWS. Going from on-premises VMware infrastructure to VMware Cloud eliminates the need for any format conversion, he added.
"That's what I love about this -- the simplicity," Zaika said. "And I can report to my management, 'Here's the report for the latest DR exercise,' and it's all automatic and it's all validated. I know the IT DR is working, so we can focus on the other strategic initiatives."
True DRaaS?
Naveen Chhabra, a senior analyst at Forrester Research, took issue with Datrium's use of the term "DRaaS" to describe its new disaster recovery offering. He said Datrium DRaaS would require often understaffed IT departments to do a lot of work on their own.
Chhabra contrasted Datrium's DRaaS with the end-to-end, business-oriented service recovery that DR specialists such as IBM, Iland, InterVision, Sungard and TierPoint offer. He said those providers bring expertise in people and processes, and incorporate steps that go beyond the mere powering up of VMs and focusing on low RTO.
To Chhabra, Datrium's DRaaS is a replication product with an orchestration layer added on top of it. Vendors, such as Zerto and CloudEndure, also offer cloud recovery capabilities, and various storage and hyper-converged infrastructure vendors, including Nutanix and Hewlett Packard Enterprise, have DR options, too, he said. One area where Datrium could provide "an element of thought leadership" is with its single control plane for management and orchestration.
"It's certainly a step forward in enabling the DR infrastructure. But it is not disaster recovery as a service," Chhabra said.
Datrium Co-Founder and Chief Architect Boris Weissman said IT organizations take different approaches to DR. Some "pay a lot of money" for a service provider to do everything for them, he said. Others buy DR orchestration software, such as VMware's Site Recovery Manager or Zerto, and contract with a service provider to get the physical infrastructure for the DR site, he said.
"Disaster recovery is basically insurance," Weissman said. "In the old days, the price for insurance was essentially a second data center available on standby at all times. It's just a very high price to pay.
"In our case, we have tapped into the elasticity of the public cloud, where the bulk of the price you pay is not in steady state, but [comes into play] only after the DR event," he said. "This is how the public cloud is supposed to be used. You can allocate a full service when needed."
Weissman noted that, unlike Iland and Sungard, Datrium doesn't operate data centers but concentrates strictly on software. Running the CloudShift orchestration service in the cloud would "eliminate about half the work of installing and maintaining the software on premises," he said.
Provides failover and failback
Unlike many DR products, Datrium DRaaS provides not only failover to the public cloud, but also failback to the on-premises infrastructure, Weissman said. The Datrium software sends only data that has changed across the wire and employs global deduplication to minimize cloud egress charges, he added.
"The combination of the delta transfer technology and global dedupe is great for RPO [recovery point objective]," said Christophe Bertrand, a senior analyst at Enterprise Strategy Group. "With only one data copy needed and less compute required, the cost-efficiency factor is also a strong positive."
Bertrand said Datrium DRaaS could appeal to organizations with large VM deployments that are looking to simplify and address costs for their data protection infrastructure, improve RPO and RTO, and take a multi-cloud approach.
Pricing for Datrium DRaaS -- which is due to launch in September -- starts at $23,000 per year, with support for 100 hours of VMware Cloud on-demand hosts for testing; 5 TB of S3 capacity for deduplicated, compressed and encrypted snapshots; and up to 1 TB per year of cloud egress.