Fotolia
Are attitudes toward edge computing architecture changing?
Edge computing has many advantages over the centralized running of applications and processing of data on premises and in the cloud. Are IT leaders getting the message, though?
Transmitting tons of raw data over a network for processing puts enormous pressure on network resources, making it -- in some instances -- far more effective and efficient to do so at (or close to) the source. With edge computing architecture, enterprises send only the most relevant and valuable to the central remote data center, relieving that pressure.
That's because edge computing technologies provide organizations with a way to run applications and process data in the periphery of their IT infrastructure and network at the point of origin or in a server geographically located nearby. Mobile computing, remote office/branch offices and, especially, the explosion of networked IoT devices and smart sensors are driving interest in edge technologies.
But are IT leaders really getting the message about the technical and business value of adopting an edge computing architecture? Although still in the fairly early phases of adoption, the answer is -- for the most part -- yes.
Market value and adoption on the rise
Many organizations are interested in the concept of edge computing and some have deployed it for a variety of use cases already. This growing interest in processing data and running applications at the edge of the network have analysts predicting the value of the edge computing market will grow considerably over the next few years.
According to a their joint "Deploy Hyperconvergence anywhere your business goes" report, Cisco and Gartner estimate the rise of IoT and other remote business activities will result in 75% of enterprise-generated data being "created and processed outside the traditional, centralized data center or cloud" by 2025 -- a staggering 7.5-times increase over 2018. Other analysts agree that the level of edge processing will account for more than half of an enterprise's total compute power within three years. And, according to Gartner, the shift in data sources will cause 40% of large enterprises to use edge computing as part of their IT architecture by mid-decade, up from 1% in 2017.
Projected growth notwithstanding, we are still in the early days of organizational planning for such architectural changes, as evidenced by a Gartner survey of attendees at one of its IT infrastructure and data center conferences -- the results published in the joint report with Cisco. It showed that while only 27% of respondents had already implemented edge computing technologies, 54% found the idea interesting. A combined 15% saw no need for an edge architecture.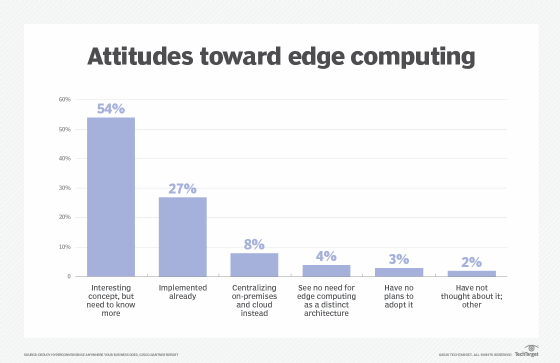 Recent Forrester research from the summer of 2019 got somewhat mixed results as well. Its research found that only 13% of organizations have already implemented edge technologies. However, the results also showed another 14% intend to deploy edge computing capabilities over the next year.
MarketsandMarkets global edge computing forecast, meanwhile, placed the value of the edge computing market at $2.8 billion in 2019. But it expects that number to rise considerably to $9 billion by 2024 -- a compound annual growth rate of 26.5%.
Dig Deeper on Converged infrastructure management
Review the latest improvements to Google's hybrid cloud platform, such as bolstered multi-cloud and on-premises support. Here are the Anthos updates ... Continue Reading
Choose the right data storage approach with this breakdown on the differences between cloud and on-premises storage. Consider cost, compliance, ... Continue Reading