Edge computing challenges and ways to address them
Edge computing can reduce processing times and improve application performance, but the architecture has its issues. Here are eight challenges edge computing creates for the network.
In the ongoing back and forth between centralized and decentralized IT, we are beginning to see the limitations of a centralized IT that relies on hundreds or thousands of servers running applications in consolidated data centers. New types of workloads, distributed computing and the advent of the internet of things have shifted compute toward the network edge.
Instead of centralizing all compute in the data center, companies are finding that processing at the edge brings compute closer to data accumulation -- but it also brings a new set of challenges to the network.
Here are eight edge computing challenges companies should keep in mind.
1. Network bandwidth
Network bandwidth shifts as enterprises move compute and data to the edge. Traditionally, enterprises allocate higher bandwidth to data centers and lower bandwidth to the endpoints. Edge computing is driving the need for more bandwidth across the network.
2. Distributed computing
Businesses will need to consider edge location as an additional aspect of the compute use case. Consolidated compute models are dissipating, and networking is a key compute element, due to more east-west traffic. Edge infrastructure always needs to be sized appropriately; for example, distributed compute in a remote micro data center can be just as resource-intensive as in a centralized data center.
3. Latency
By locating compute at the edge -- where compute is closer to the data that is collected -- application latency is reduced along with decision-making latency. Less back-and-forth movement from the edge to the core means faster answers and faster action.
But, with compute located at both the core and the edge, application data traverses the network in each direction, sharing data and dealing with access rights.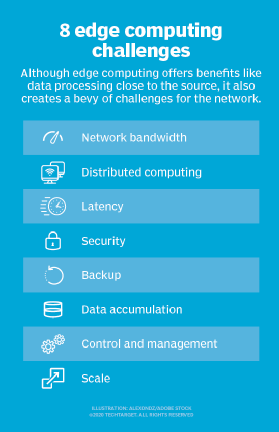 4. Security and accessibility
With compute and applications centralized in a data center, enterprises can standardize both technical security and physical security, building a virtual wall around the resources.
Edge computing changes the security footprint, requiring remote servers to have the same network and physical security models to reflect location and traffic patterns. IT teams will need to clearly map out user access, as edge computing may require access rights for users over a significantly larger number of devices.
5. Backup
The edge computing model is typically driven by the location of data creation. Enterprises need an overall data protection strategy that can comprehend data, regardless of location. Network bandwidth requirements will be just as critical as storage media considerations when deciding how to protect these assets because backup over the network may not make sense.
Edge computing isn't simply about more servers at the edge, but an increase in scale across all IT disciplines.
6. Data accumulation
Data is a key business asset, and collecting it at the edge brings new challenges and can create liabilities if it's not handled in accordance with existing data handling rules. Data storage and access are critical, both of which will need to encompass the network as part of the data lifecycle.
7. Control and management
Edge location can be flexible -- within an enterprise, a private cloud or even a public cloud -- but management and control need to follow the same procedures and protocols, regardless of the physical edge location. Ideally, enterprises will use newer orchestration tools to help manage and control applications consistently, regardless of location.
8. Scale
Adding more connected devices at the edge increases the overall scale for everything IT teams work with. Edge computing isn't simply about more servers at the edge, but an increase in scale across all IT disciplines: compute, network, storage, management, security, licensing, etc. Enterprises need to comprehend this as they move applications out to the network edge: Edge computing isn't only about more hardware in a remote location; its effect scales across everything IT touches.
Dig Deeper on Network Infrastructure
While comparing traditional WAN vs. SD-WAN, network professionals can see the many benefits of SD-WAN, including centralized control and dynamic ... Continue Reading
Organizations may combine SD-WAN and UCaaS to gain synergies and avoid multivendor complexities. But the combination of the two technologies can ... Continue Reading
Network automation certifications and training include vendor-specific commercial credentials, as well as open source options. Which career path is ... Continue Reading