buchachon - Fotolia
When should you use cloud vs. on-premises storage?
Choose the right data storage approach with this breakdown on the differences between cloud and on-premises storage. Consider cost, compliance, performance and other factors.
In the current IT market, most organizations have a rapidly expanding data footprint. As a result, IT teams face a common dilemma over whether they should buy and maintain on-premises storage systems or rent capacity from a cloud IaaS or SaaS provider. Each option has notable advantages and drawbacks.
This decision has only become more difficult since storage service options now include virtually anything an organization might need, such as object, block and network file services, or packaged file synchronization and collaboration applications.
Cost comparisons are a particularly confusing and controversial aspect of the cloud vs. on-premises storage debate. Each organization's unique circumstances call for IT teams to build a total cost of ownership model that reflects their expected usage. Most cloud services provide cost calculators to ease the number-crunching and facilitate rough estimates.
For example, consider a network-attached storage (NAS) system that starts with 1 TB of capacity. AWS Elastic File System would cost about $95 per month if three-quarters of the capacity were configured for infrequent access and only 10% of that warm storage pool was accessed every month. Over three years, and assuming 2% monthly growth, or 27% compound annual growth rate, the total cost would be about $5,040. The question then becomes whether the IT team could buy and operate 1 TB of NAS capacity over three years for less.
Comparing cloud vs. on-premises storage is different for every organization. The right choice depends on the usage, cost, performance requirements and various other factors outlined below.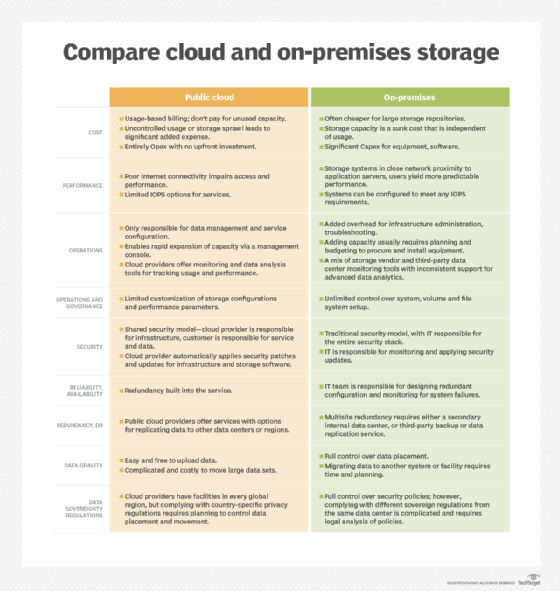 In general, using cloud storage for backup and archival data is both cost-effective and a low-risk way to gain experience with cloud service management and governance.
Dig Deeper on Cloud infrastructure design and management
Review the latest improvements to Google's hybrid cloud platform, such as bolstered multi-cloud and on-premises support. Here are the Anthos updates ... Continue Reading
Edge computing has many advantages over the centralized running of applications and processing of data on premises and in the cloud. Are IT leaders ... Continue Reading