Cloud NAS vendor Ctera adds security, migration Mac support
Along with making its NAS platform faster and more secure across multiple clouds, Ctera adds Mac support for its Enterprise File Services Platform's more creative users.
Cloud file storage vendor Ctera today released Enterprise File Services Platform 7.0, which aims to strengthen performance, security and migration.
Ctera has also moved to satisfy Apple customers with an agent that brings features currently available for Windows users to the Mac platform.
Ctera Enterprise File Services Platform caches active data on premises and encrypts colder files to public clouds. Ctera competes with similar cloud NAS vendors such as Nasuni and Panzura, and increasingly with traditional NAS vendors Dell EMC Isilon, NetApp and Qumulo adding cloud support. Even more competition comes from public cloud vendors AWS and Microsoft Azure, which offer their own file services.
CEO Liran Eshel said Ctera has hundreds of enterprise customers and thousands of midsize businesses, which use the vendor to protect data spread across public clouds, on-premises data centers and edge locations. He said Cetera's value comes from supporting all major clouds, as well as on-premises storage.
"Our strategy is bring your own cloud," Eshel said. "Our customers bring their own cloud, and we support multi-cloud. Basically they can connect to Amazon, they can connect to Azure, whatever they want."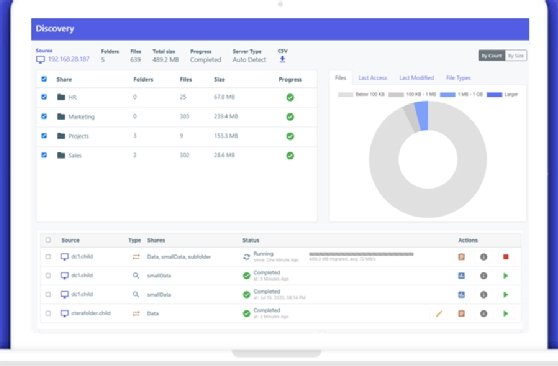 Ctera 7 includes enhanced performance with Ctera Direct, security with Ctera Zones and Ctera Antivirus, data movement with Ctera Migrate and Mac support with Ctera MacAssist.
Ctera Direct is a bidirectional synchronization protocol optimized for latency that sends cached data from devices to the nearest cloud faster. It helps uses with applications such as 8K resolution video, healthcare imaging, autonomous car data and surveillance cameras that send terabytes of data daily into a public cloud. That makes the cloud a viable option to storing that data on on-premises arrays.
Ctera Zones allows enterprises to segment data into separate namespaces across geographic sites or departments so they can limit access to files. They can assign access rights to specific users, devices and locations.
Ctera Antivirus scans for viruses in the cloud and across the network. "When you use a hybrid cloud system, virus scanning challenges are more complicated because you don't have all the files locally, you only have the cache," Eshel said, emphasizing the need for virus protection across the network.
Ctera Migrate scans data from legacy NAS systems such as Dell EMC, NetApp and Windows Server, and migrates files to Ctera while maintaining folder structures and permissions.
Ctera MacAssist integrates with the Mac Finder and search features. The agent enables Ctera caching capabilities previously included for Windows.
Kyle Edsall, vice president of technology at Glenn Davis Group in Ont., said Ctera's Mac support swayed the design agency to purchase its cloud NAS in January. The agency implemented Ctera's X Series, which uses Ctera software running on HPE SimpliVity hyper-converged infrastructure clusters.
"We were looking at Panzura, Nasuni, NetApp and Ctera,"Edsall said. "At first we thought Nasuni had a better Mac client-compatible product. But after more investigation of the Ctera platform, we found they had some other sizeable Mac studios using it that had workflows similar to us."
Edsall said Glenn Davis initially saw Ctera as a replacement for its backup system but was impressed enough by its file storage that "they made the case for supplanting our entire virtual infrastructure with the SimpliVity clusters. It started with backup, but just kept growing from there." The agency has migrated all of its file storage to Ctera and Wasabi's public cloud.
Before signing on, Edsall was briefed by Ctera on MacAssist and other coming Mac features that would bring parity to what Ctera does with Windows.
"We're really looking forward to additional Mac features," Edsall said. "MacAssist will be a big deal to us, but ultimately, nothing is more important to us in this platform as the eventual full caching client -- functionality that already exists on Windows client. That will drastically change our workflows for the better. That was a huge selling point that got us to invest in the future of Ctera in addition to the feature set it had for us on day one."
He said he is particularly looking forward to Ctera's increased caching for Macs that will increase performance for remote workers.
"Sometimes, it's a bit confusing when you're going through an SMB file share and suddenly performance drops way off as you're going through a folder structure," he said. "We don't want people wondering what the heck's going on; we want something to visually tell them that it's offline and needs hydration. Or maybe they can just use the right-click finder extension to hydrate it before they go trying to manage that content. That will be really important for us."