buchachon - Fotolia
Ctera Networks and HPE combine for hyper-converged gateway
Ctera and HPE partner on new Edge X Series cloud gateway appliance that integrates Ctera's global file system and HPE's SimpliVity hyper-converged software.
Ctera Networks partnered with Hewlett Packard Enterprise on a new hyper-converged cloud gateway that targets enterprises with remote offices and virtual desktop infrastructure.
The Ctera Edge X Series appliance combines HPE's SimpliVity hyper-converged software and Ctera's Enterprise File Services Platform for capabilities such as inline deduplication, local high availability and asynchronous cloud replication.
Ctera's gateway technology caches hot data on premises for fast access and tiers colder data to cheaper object storage in private and public clouds, all managed through a global file system. The company originally sold branded appliances on generic white box hardware for small offices and later added the V Series to enable its software to run in virtual machines (VMs) on cloud servers and in hyper-converged infrastructure such as Nutanix.
Ctera Networks in 2018 introduced its H Series enterprise server options from Dell EMC and HPE to boost performance and cache capacity for medium-sized customers. The H Series Edge Filers could run applications in multiple VMware VMs on the same appliances that store customers' most frequently accessed files.
Ctera Networks Edge X enables larger workloads
The Edge X Series adds hyper-converged software and enables larger workloads than the H Series, said Jim Crook, Ctera's director of marketing. The X Series has 192 GB of memory in comparison to the 64 GB of the H Series, Crook said. The X Series is designed to accommodate 5,000 users, and the H Series supports 3,000 in the maximum configuration, he said.
The Ctera Networks Edge X Series requires a minimum configuration of two 2U rack nodes for high availability on a local basis, whereas the H Series uses a single 1U or 2U node and relies on the cloud for redundancy. Another distinction is that the X Series caches data only in SSDs, while the H Series offers the option of SSDs or slower SATA-based HDDs.
Ctera's new XC900 model supports an estimated 24 TB of usable cache capacity after deduplication, with nine 1.92 TB SSDs per node. The XC1200 model offers a usable local cache capacity of 40 TB after deduplication, with a maximum of 12 of the 1.92 TB SSDs per node.
The X Series uses SimpliVity's deduplication on the local appliance and Ctera's deduplication for any data sent to the cloud. Because the deduplication technologies are incompatible, any data accessed from the cloud must be rehydrated on the local appliance, Ctera CEO Liran Eshel said.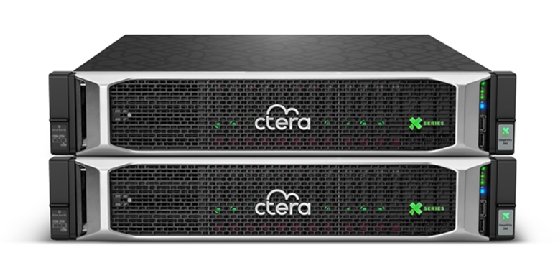 Key use cases
Eshel said virtual desktop infrastructure (VDI) service and remote office file services are key use cases for the Edge X Series. Ctera could serve as the storage target for VDI-based unstructured data and tier it to AWS, Microsoft Azure or other public clouds to reduce costs and facilitate elastic scalability, he said. Ctera could similarly serve as a file storage target for remote office desktops.
Krista Macomber, a senior analyst at Storage Switzerland, said the X Series appliance could serve as the primary NAS device for a remote office or VDI workload to give users faster access to the data that's synchronized to lower-cost object storage. The X Series could help large enterprises in highly regulated sectors, such as financial services or government, that can't fully migrate to off-premises infrastructure but require more effective and less expensive ways to collaborate, she said.
"Unstructured data is a growing problem for businesses in every vertical, and Ctera is looking to bridge the transition between the file-based information that most legacy applications still need and the flexibility of cloud-based object storage," wrote Steven Hill, a senior analyst at 451 Research, in an email. "This will become an even larger problem as the growing number of IoT applications continues to move compute closer to the edge, while insuring secure data movement and management to the enterprise core for extended business use."
Ctera's competition includes NAS players such as NetApp and Dell EMC from an edge filer standpoint, Nasuni and Panzura in hybrid cloud NAS, and Box and Microsoft OneDrive for its file sync-and-share capabilities, said Mike Leone, a senior analyst at Enterprise Strategy Group.
Pricing for the new Edge X Series starts at $100,000. Ctera Networks provides support and maintenance for the full system.