Rawpixel - Fotolia
Nasuni storage adds lower-cost cloud archive service option
Newly packaged Nasuni Cloud File Services offers a low-cost archive option as part of an effort to expand beyond high-end NAS and collaboration into traditional file and archive workloads.
Nasuni storage is expanding beyond its sweet spot of high-end NAS and multisite collaboration with cloud services for traditional file and archive workloads.
The new release of Nasuni Cloud File Services launched this week adds an Archive service for inactive data. Nasuni Archive is the vendor's fourth file service, joining Nasuni Primary, Nasuni Synchronize and Nasuni Collaborate.
Customers will pay less to keep inactive data in the new Nasuni Archive service than they would in Nasuni Primary storage.
The Primary, Archive, Synchronize and Collaborate cloud file services are available stand-alone or bundled together on top of the long-standing core components of Nasuni storage. Nasuni's UniFS global file system provides a single namespace to manage unstructured data in public and private cloud object storage. Physical and virtual Nasuni Edge Appliances cache active data to speed access to it. And Nasuni Management Console gives customers a unified view of their infrastructure, letting them control data and build workflows. Customers purchase object storage separately.
Nasuni storage service options
Nasuni Cloud File Services includes Primary and Archive storage options as standard services. Nasuni Primary stores files that customers regularly access and uses built-in snapshot technology to back up the data in object storage. The new Nasuni Archive service targets data that customers plan to access infrequently, if ever.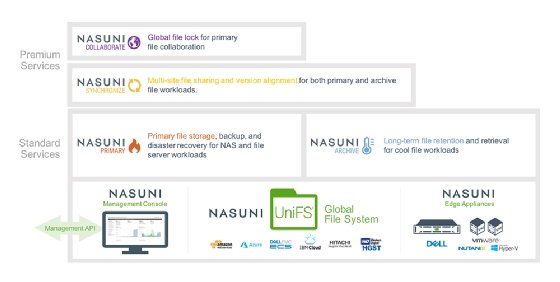 Nasuni will analyze data access patterns, automatically reclassify the inactive data and reduce its storage price at the end of the annual subscription, said Tom Rose, the Boston-based company's chief marketing officer. In the past, users often had to move inactive data into another storage system with hierarchical storage management or information lifecycle management tools.
"The automatic archiving helps customers control costs in the cloud," said John Webster, analyst at Evaluator Group. "And controlling costs in the cloud is a very big deal because people are under mandate to move X% of their workloads to the cloud by some future date. When they start doing that, they experience the cost metrics that come with the cloud. And they quickly learn that, if they understand how they configure resources in the cloud and how to best use them, they can reduce the cost."
Nasuni storage pricing
Rose said pricing starts at $250 per TB for an annual subscription to Nasuni Archive. He declined to provide the starting price for the individual Nasuni Primary, Synchronize and Collaborate services. Customers can designate the amount of data they want to store in each service at the time they purchase an annual subscription. Nasuni previously offered primary file storage, synchronization and collaboration capabilities only as part of a bundled packaged with a single price.
Nasuni Synchronize and Collaborate are so-called premium services offered on top of the standard Primary and Archive options. The Synchronize service enables customers to work on data across multiple sites and update it with any changes. Nasuni Collaborate offers global file locking to enable users to simultaneously work on the same data from different locations without version conflict.
Nasuni emphasized the multi-cloud capabilities of its new file services. Customers can store data in object storage spanning public and private sites or use systems such as Google Analytics and IBM Watson. However, they must spin up a Nasuni virtual edge appliance to extract the data from third-party services because Nasuni doesn't store it in the cloud provider's native format.
Scott Sinclair, analyst at Enterprise Strategy Group, said cloud gateway vendors, such as Nasuni, Ctera and Panzura, often focused on multisite collaboration use cases in the past. But, he said, Nasuni could go after infrastructure consolidation use cases now that it has an automatic lower-cost archive tier. As a result, Nasuni's competitive landscape will broaden to include pure, on-premises file storage vendors, such as NetApp and Dell EMC, Sinclair said.
Additional Nasuni storage product enhancements include REST API additions and orchestration tools. The REST API additions enable third-party policy management, and orchestration automates operations through scripts and programs with Nasuni Management Console. Large customers can also make global configuration changes faster with the console, Rose said.
Nasuni also optimized its web browser client to boost performance when browsing large directories, and it enhanced its cloud-based Global Volume Manager and global file lock to speed data propagation across sites. Syslog integration now enables reporting and analysis of Nasuni events.