Helder Almeida - Fotolia
Cloud VDI storage: Nasuni vs. Panzura and other competitors
Data storage for distributed VDIs can be a challenge. Find out how Nasuni, Panzura and other vendors are overcoming obstacles with new approaches to cloud virtual desktop systems.
On-premises VDI can be difficult to deploy and maintain. For this reason, many organizations are moving their virtual desktops to the cloud, either implementing the systems themselves or opting for desktop as a service. Not only do cloud VDI platforms remove many challenges that come with on-premises VDI, but they also are good for geographically dispersed enterprises. By deploying VDI sites in multiple regions, organizations can keep the desktops closer to users and deliver better performance.
But storage presents its own challenges with distributed VDI. Centralized storage is easy and cheap to maintain, but it can negatively affect desktop performance for long-distance users.
To counter this issue, an organization can provide each VDI site with its own storage, but this approach increases complexity and costs because of requirements such as redundancy, data sharing and collaboration.
Nasuni offers a third approach that bridges the other two options. The Nasuni file services platform is designed to deliver high-performance data access to distributed VDI sites, while storing the VDI data centrally on a single cloud platform.
To achieve this, the vendor uses low-cost object storage from AWS, Microsoft Azure and Google Cloud, while providing each VDI site with a small VM appliance to cache the files that need fastest access.
Nasuni and cloud VDI
A cloud VDI must ensure that users are close enough to their desktops and data to support latency-sensitive applications. The Nasuni platform is a cloud service that enables organizations to deploy virtual desktops across multiple regions, while providing them with access to nearly limitless file storage. The platform works with Amazon WorkSpaces, Citrix XenDesktop, Microsoft Windows Virtual Desktop, VMware Horizon and Workspot.
Nasuni stores all VDI file data and metadata as object storage on a single cloud platform, supporting industry-standard file-sharing protocols such as SMB (CIFS), NFS, FTP/SFTP and HTTPS. To provide global file services, the platform includes several key components:
Edge Appliance. A lightweight VM deployed to each cloud VDI region. The appliance runs the Nasuni Edge Appliance software, which caches and updates active data and transmits files and file updates to the cloud.
Orchestration Center. Manages file synchronization operations across all Edge Appliances and administers Global File Lock, a service that preserves distributed workflows, prevents data loss from file version conflicts and enables global file collaboration across multiple VDI sites.
The cloud-native global file system stores the VDI file data and metadata in cloud object storage. The file system was designed to scale without constraints on volume, capacity or file size, while providing a global namespace for all the data.
Analytics Connector. Reads UniFS volumes and writes the data to temporary files in native object format so the data can be readily used for business intelligence, AI, machine learning and other advanced analytics.
Management Console. A web-based interface that provides a centralized portal for deploying and managing the Nasuni file infrastructure. The console supports operations such as volume management, data migration, file recovery, user access control, synchronization and file auditing.
The Nasuni cloud VDI ecosystem provides multi-region file sharing that lets customers take advantage of the efficiency and cost benefits that come with cloud object storage. At the same time, the appliances make it possible to deliver essential data close to the virtual desktops in their respective cloud regions, eliminating latency that often accompanies a distributed VDI. Users in each region have direct access to their home directors and shared data and project folders. The platform also offers features such as file versioning, compression, deduplication, on-demand provisioning, automatic data protection and customer-controlled encryption.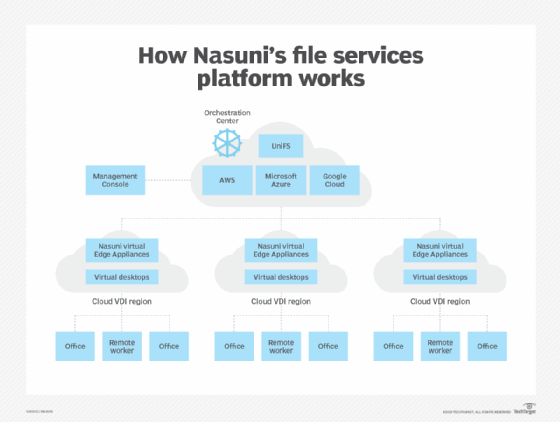 Nasuni vs. Panzura
Nasuni competitors include vendors offering products similar to its own. The most notable is Panzura, which provides a global cloud file system designed for speed, efficiency and security. Panzura, which was recently acquired by a Chicago venture capital firm, uses processes like Nasuni's, storing data as a single authoritative source in the cloud, while caching files locally for quick access. The platform includes the CloudFS distributed file system, global file locking, a global namespace and military-grade encryption.
According to Panzura, its platform provides faster synchronization, better global locking, greater redundancy and higher availability than Nasuni. Panzura also promises superior security, scalability and data management. Nasuni has said its product surpasses Panzura by offering unlimited snapshots per volume and unlimited file and volume sizes. Nasuni also said it provides intelligent metadata management, more extensive logging and auditing, and centralized control of global volumes and shares. In addition, Nasuni guarantees 15-minute disaster recovery in any location.
Despite the vendor claims, customer reviews from sites such as Gartner Peer Insights put the two products on more even footing. Some customers have raised concerns about Nasuni's customer service, in terms of issue resolution, but they appear to be the exception. What's perhaps more important is that Nasuni has made serious inroads into cloud VDI, working with most of the major players. Panzura's VDI efforts primarily center on Workspot deployments in Azure.
Other Nasuni competitors
Nasuni competitors also include storage vendors that extend their platforms into the cloud. For example, Dell EMC has introduced PowerScale unified file and object storage that adds object storage to the original Isilon NAS file system. The new product includes the PowerScale OneFS OS, which bridges the gap between files and objects, and extends Dell EMC storage systems to the public cloud.
Nasuni was designed from the ground up as a vendor-neutral global platform, not as an add-on to an existing system.
Another set of Nasuni competitors comes from cloud providers extending into the data center. For instance, Amazon offers AWS Outposts, a fully managed service that brings AWS infrastructure and services into on-site locations. AWS Outposts enables organizations to store data both on premises and in the cloud, providing a consistent hybrid experience across environments. Amazon plans to deliver a fully managed VMware software-defined infrastructure through the AWS Outposts program.
Nasuni offers an advantage over its competitors. It was designed from the ground up as a vendor-neutral global platform, not as an add-on to an existing system. PowerScale starts with on-premises NAS and builds outward. AWS Outposts starts with a public cloud platform and moves on premises. Both come with the limitations inherent to their particular approaches, making it difficult to extend beyond those environments. More importantly, neither approach addresses the storage challenges that come with distributed VDI.
Nasuni, on the other hand, eliminates the need for on-premises storage. The VDI platform and its data reside in the cloud, with the bulk of that data in object storage. Even if an organization wants to implement VDI at multiple on-premises sites, it can still use Nasuni to address storage challenges. An organization might want to implement a distributed VDI approach based on AWS Outposts, deploying the main VDI site in its data center and implementing smaller sites in AWS regions. It can even use Nasuni to tie the regions together.
Supporting a distributed workforce
Organizations planning to deploy a distributed cloud VDI approach must consider how they implement the storage. Otherwise, they'll end up with disgruntled workers, frustrated administrators, unreliable data and possibly a failed deployment.
A company can, of course, implement multiple independent VDI sites that don't share data or collaborate across regions, but this approach is likely to add little value to the overall business and its operations. An organization with a distributed workforce requires an approach that can effectively accommodate the distributed environment, especially when it comes to data. To this end, a platform such as Nasuni's file services can go a long way in addressing the organization's needs.