Fotolia
Ctera Networks adds Dell and HPE gateway appliance options
Ctera cloud storage gateway appliance portfolio expands with new all-SSD and all-HDD models that enable customers to run multiple applications on the same box.
Ctera Networks is aiming to move its file storage services into the enterprise through new partnerships with Dell and Hewlett Packard Enterprise.
The partnerships, launched in June, allow Ctera to bundle its Enterprise File Services Platform on more-powerful servers with greater storage capacity. Ctera previously sold its branded cloud gateway appliances on generic white box hardware at a maximum raw capacity of 32 TB. The new Ctera HC Series Edge Filers include the HC1200 model offering as much as 96 TB, the HC400 with as much as 32 TB and the HC400E at 16 TB on Dell or HPE servers with 3.5-inch SATA HDDs.
The gateway appliances bundle Ctera's file services that provide users with access to files on premises and transfers colder data to cloud-based, scale-out object storage at the customer site or in public clouds.
The new models include the Petach Tikvah, Israel, company's first all-flash appliances. The HC1200 is equipped with 3.84 TB SATA SSDs and offers a maximum raw capacity of 46.08 TB. The HC400 tops out at 15.36 TB. The all-flash models use HPE hardware with 2.5-inch read-intensive SSDs that carry a three-year warranty.
Ctera Networks doesn't sell appliances with a mix of HDDs and SSDs. The HC400 and HC400E are single rack-unit systems with four drive bays, and the HC1200 is a 2U device with 12 drive bays.
"In the past, we had 32 TB of storage, and it would replace a certain size of NAS device. With this one, we can replace a large series of NAS devices with a single device," Ctera Networks CEO Liran Eshel said.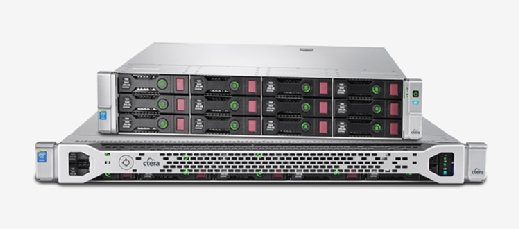 New Ctera Networks appliances enable multiple VMs
The new, more-powerful HC Series Edge Filers will enable customers to run multiple VMware virtual machines (VMs), applications and storage on the same device, Eshel said. The HC Series supports 10 Gigabit Ethernet networking with fiber and copper cabling options.
"Our earlier generation was just a cloud storage gateway. It didn't do other things," Eshel said. "With this version, we actually have convergence -- multiple applications in the same appliance. Basically, we're providing top-of-the-line servers with global support."
The Dell and HPE partnerships will let Ctera Networks offer on-site support within four hours, as opposed to the next-business-day service it provided in the past. Ctera will take the first call, Eshel said, and be responsible for the customer ticket. If it's a hardware issue, Ctera will dispatch partner-affiliated engineers to address the problem.
Using Dell and HPE servers enables worldwide logistics and support, which is especially helpful for users with global operations.
"It was challenging to do that with white box manufacturing," Eshel said.
Software-defined storage vendors require these types of partnerships to sell into the enterprise, said Steven Hill, a senior analyst at 451 Research.
"In spite of the increasingly software-based storage model, we find that many customers still prefer to buy their storage as pre-integrated appliances, often based on hardware from their current vendor of choice," Hill wrote in an e-mail. "This guarantees full hardware compatibility and provides a streamlined path for service and support, as well as compatibility with an existing infrastructure and management platform."
Cloud object storage options
The Ctera product works with on-premises object storage from Caringo, Cloudian, DataDirect Networks, Dell EMC, Hitachi, HPE, IBM, NetApp, Scality and SwiftStack. It also supports Amazon Web Services, Google Cloud Platform, IBM Cloud, Microsoft Azure, Oracle and Verizon public clouds. Ctera has reseller agreements with HPE and IBM.
Eshel said one multinational customer, WPP, has already rolled out the new appliances in production for use with IBM Cloud.
The list price for the new Ctera HC Series starts at $10,000. Ctera also continues to sell its EC Series appliances on white box hardware. Customers have the option to buy the hardware pre-integrated with the Ctera software or purchase virtual gateway software that they can install on server hypervisors on premises or in Amazon or Azure public clouds.