Rawpixel - Fotolia
Are Nutanix products hyper-converged hardware, software or cloud?
Nutanix may still offer branded appliances, but there is a lot more to the hyper-converged infrastructure pioneer's product offerings than that nowadays.
Founded in 2009, Nutanix Inc. helped pioneer the hyper-converged infrastructure market with the 2011 introduction of its appliances that run what is now called Enterprise Cloud. Although it still sells branded Nutanix NX appliances, Nutanix bills itself as a cloud company and has shifted the focus of its business from hardware to software and cloud services over the last couple of years.
Today, Nutanix products includes a range of hyper-converged hardware, software and cloud services. In terms of hardware, it sells branded turnkey Nutanix NX appliances with the company's software stack installed on Supermicro servers. It also partners with OEMs, including Dell EMC and Lenovo that install and rebrand or package Nutanix hyper-converged infrastructure (HCI) software on their own x86 servers. Nutanix also sells its Enterprise Cloud software on Hewlett Packard Enterprise ProLiant DX servers, and Enterprise Cloud is available from HPE as part of its GreenLake services program.
Nutanix's software products include the Enterprise Cloud OS, which features the Acropolis Hyper-Visor. Other Nutanix applications are Acropolis, the hyper-converged foundation of the Enterprise Cloud OS; Prism, HCI management; Flow, software-defined networking; Calm, application orchestration and lifecycle management; and X-Ray, for HCI benchmarking and evaluation.
The company also hosts services on its public cloud, called Xi Cloud Services. These include Xi Beam for multi-cloud optimization, Xi Epoch for cloud application monitoring and troubleshooting, Xi Leap for cloud DR, Xi Frame for cloud-based virtual desktop infrastructures, and Xi IoT for bringing real-time intelligence and analytics to the edge.
The hyper-converged market
Hyper-converged Nutanix products are far from the only game in town nowadays. The HCI vendor landscape is thick with major players -- such as Dell EMC, VMware, Cisco and HPE -- as well as smaller vendors such as Scale Computing, Datrium, Maxta and Pivot3.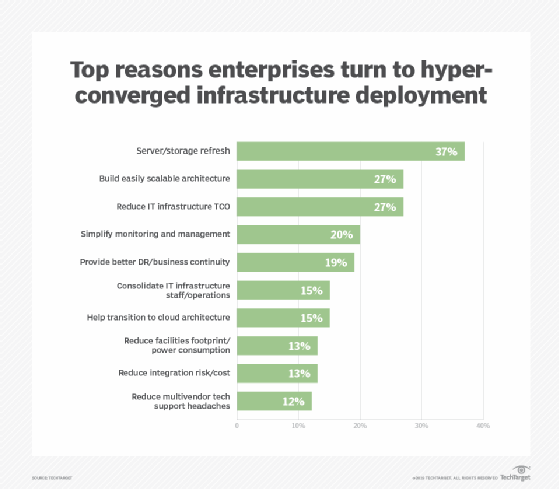 Although Nutanix is no longer the hyper-converged market leader, the vendor consistently still places highly in IDC's Worldwide Quarterly Converged Systems. In IDC's September 2019 report, Nutanix hyper-converged infrastructure came in second behind Dell Technologies in the branded HCI category, with a 14.2% share on earnings of $258.9 million. It also placed second for hyper-converged software, behind Dell EMC subsidiary VMware, with a 28.6% share on $512 million in revenue.
Dig Deeper on Converged infrastructure management
A terabyte comprises more than 1 trillion bytes. Discover how the storage measurement scale was created and where a terabyte stands among other units... Continue Reading
When negotiating server hardware and maintenance agreements with vendors, server customers can threaten to go elsewhere. But how effective is that ... Continue Reading
Successfully countering server vendor sales tactics requires forecasting hardware and maintenance needs. Lacking a solid, consolidated forecast can ... Continue Reading